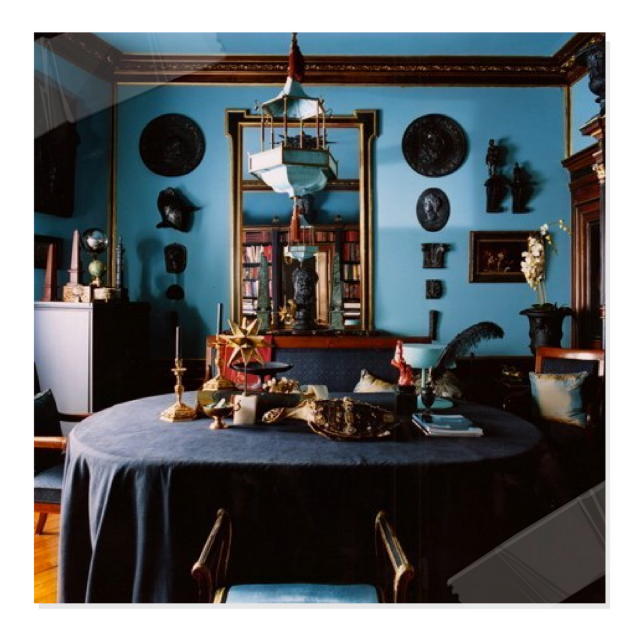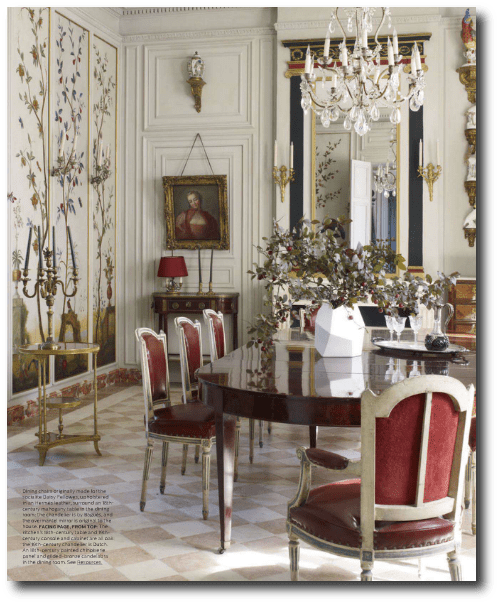 Michel Coorengel Photo Credit April 2013 Elle Decor
Photography by William Waldron
When interior decorator Michel Coorengel and his partner Jean Pierre Calvagrac first met, they discovered a mutual passion for antiques and decoration. Born and raised in Holland, Michel is half Dutch and half Indonesian whereas Jean Pierre is a native of France. "We had both studied law and had similar tastes," explains Michel who started his career working for antiques dealers and decorators during his school holidays.
This 18th-century estate above had fallen to disrepair over the years when designer Michael Coorengel and Jean-Pierre Calvagrac, of Coorengel and Calvagrac, were hired to renovate the estate, which lasted over three and a half years. The pair transformed this estate by selecting age appropriate paint colors, drapery and antique furniture. Through the process the designers stumbled upon a thrilling discovery. Several rooms which had been boarded up and forgotten for decades revealed antiques untouched for years. It was there that they revealed 18th-century painted chinoiserie panels and gilded-bronze candelabras, and so much more. Read more about this at Elle Decor
Here are several more spectacular rooms from this team of designers.
Previous Works
-Louis XVI armchair covered in Verel de Belval silk in drawing room with renaissance walnut table and grey taffeta window hangings, also by Verel de Belval – See Here
-A satin covered Louis XVI canape in front of a wooden sculpture of Saint Joseph in a drawing room with grey taffeta window hangings from Verel de Belval" – See Here
-Three plaster head busts placed on glass columns designed by Coorengel and Calvagrac – See Here
-A restoration daybed or lit de repos covered in red silk satin by Prelle in a blue room, with white columns, gilded wall sconces and lion skin rug with mounted head- See Here
-A pair of vermeil and jade candelabra by Puiforcat on a restoration gueridon with white marble top in blue room with lion rug and red daybed – See Here
-A mahogany Louis Phillip bed and circular table in bedroom with Jansen 1940 bronze and brass chandelier and a wrought iron astrolabe from 'Aero' in NY. A 17C portrait of Louis XVI hangs on the wall. – See Here
-A head bust of Voltaire on a Louis Phillip table along with an astrolabe from Aero, NY. A mink blanket is draped on an 18C chair in front of a marble mantelpiece. – See Here
-A pair of rattan chairs by Jean Michel Frank flank a 1940's plaster column and vase in room with wrought iron table with a mercury glass top and parquet floor- See Here
-A portriat of the Count de Quelen above a Louis XV style desk in room with a white vase in faience and a silk chinese lantern. On the desk is a sterling sillver bowel by Jean Puiforcat – See Here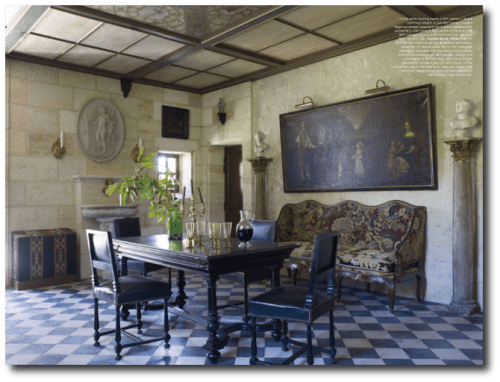 Michel Coorengel Photo Credit April 2013 Elle Decor
Michel Coorengel Photo Credit April 2013 Elle Decor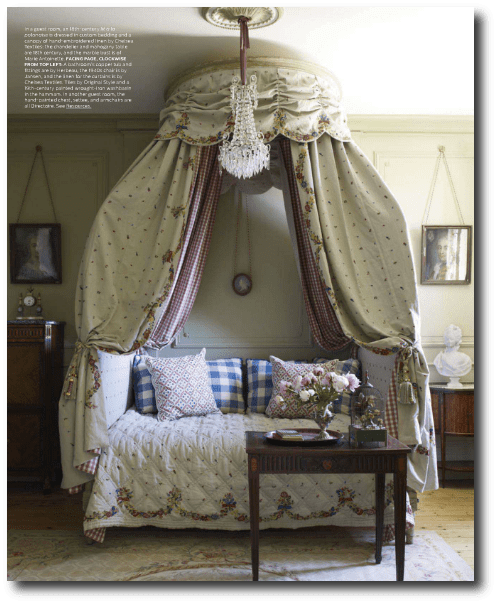 Michel Coorengel Photo Credit April 2013 Elle Decor
Save
Save