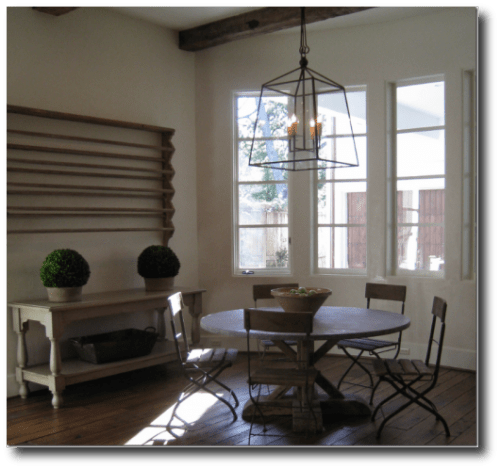 This beautiful picture featured on Greige Design Blog features a stunning example of Provincial decorating done right. As you can see they have a set of classic French folding wood chairs in a dining room.  You can see it works just wonderful.
These classic rustic french table sets don't only have to be for the outdoors only.  Here they have a painted gray / beige sideboard with some manicured boxwood plants with primitive decor such as the wood fruit bowl on the table and the deep tray table sitting inside the sideboard.
This minimal approach to decorating works as only the best of furniture and decor pertaining to what would be found in Provence is featured, while the clutter and modern day decor is removed.
Provence Homes With Iron Furniture
- This outdoor Provence home features fold-able french wood chairs along with a rustic wood table.
-An old world feeling is created in this Provence yard with fold-able metal french chairs.
-In this photo we see painted metal furniture in a French Provence setting.
-In this photo, fold-able wood chairs are painted a bright yellow, a classic Provence paint color.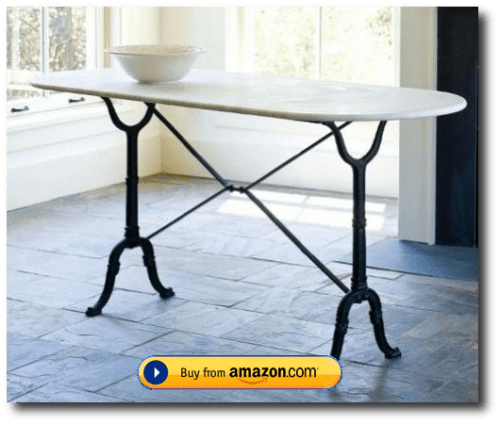 Provence Decorating Ideas- Marble Brasserie Table by America Retold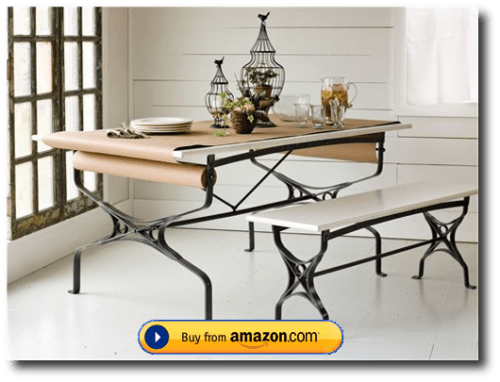 French Rustic Decorating Ideas- Craft Table with Paper Roll Holder by America Retold