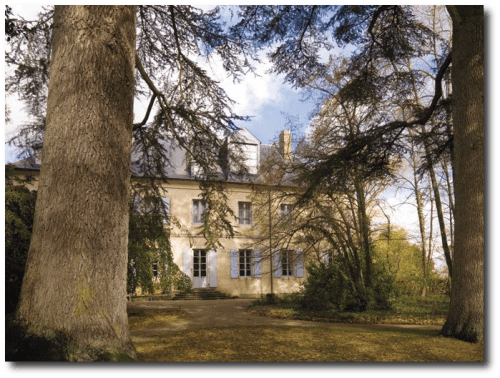 Le Domaine Nohant situated at the heart of Berry France sits a captivating Chateau built at the end of 18th Century. Chateau de Nohant was the home of the brilliant French romantic writer and journalist Lucile Aurore Dupin, otherwise known as George Sand.  Her first independent novel, Indiana, was written  in 1832, she went on to write thirty-seven more novels as well as various plays.
Sand  (1804-1876) was also known for her shocking lifestyle, and well known famous lover, composer Frederic Chopin. Leaving her husband in 1831, she moved to Paris where she sported men's clothing, smoked cigars and had various affairs with men, the most famous being Chopin.
When Napoleon III made  himself Emperor, Sand retired to Nohant, where many summers were spent writing and composing. Frederic Chopin lived at Nohant with Sand, between 1839 and 1847, where he composed the majority of his masterpieces.  Chopin composed some of his most brilliant music in George Sand's family chateau at Nohant.
Art & Decoration originally featured these photos in their magazine.  Today, tours are given through the Chateau and gardens at Nohant.  See Sand's writing nook and actual desk where she composed most of her famous works. Enjoy the chateau's garden—classified by the French Ministry of Culture as a Notable Garden of France, and a forested path that  leads to her family plot where the lady herself is buried.
Amongst all the photos, this picture featuring a carriage in front of entrance of George Sand's manor house in Nohant, France, is the most beautiful. Another view of the dining room shows the esquisite furniture of the home.  We home this classic 18th century home will inspire you with your decorating choices.