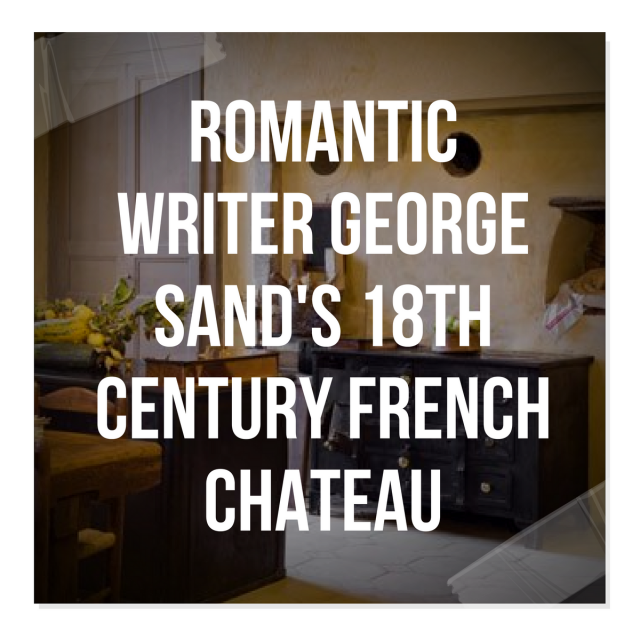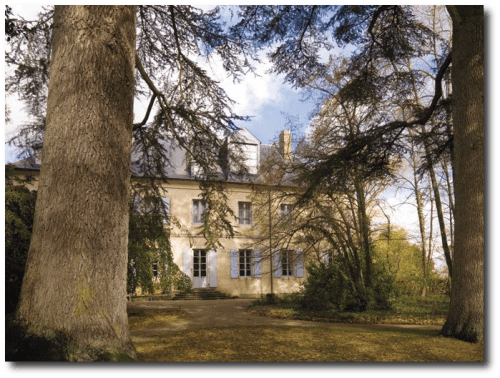 Le Domaine Nohant situated at the heart of Berry France sits a captivating Chateau built at the end of 18th Century. Chateau de Nohant was the home of the brilliant French romantic writer and journalist Lucile Aurore Dupin, otherwise known as George Sand. Her first independent novel, Indiana, was written in 1832, she went on to write thirty-seven more novels as well as various plays.
Sand (1804-1876) was also known for her shocking lifestyle, and well known famous lover, composer Frederic Chopin. Leaving her husband in 1831, she moved to Paris where she sported men's clothing, smoked cigars and had various affairs with men, the most famous being Chopin.
When Napoleon III made himself Emperor, Sand retired to Nohant, where many summers were spent writing and composing. Frederic Chopin lived at Nohant with Sand, between 1839 and 1847, where he composed the majority of his masterpieces. Chopin composed some of his most brilliant music in George Sand's family chateau at Nohant.
Art & Decoration originally featured these photos in their magazine. Today, tours are given through the Chateau and gardens at Nohant. See Sand's writing nook and actual desk where she composed most of her famous works. Enjoy the chateau's garden—classified by the French Ministry of Culture as a Notable Garden of France, and a forested path that leads to her family plot where the lady herself is buried.
Amongst all the photos, this picture featuring a carriage in front of entrance of George Sand's manor house in Nohant, France, is the most beautiful. Another view of the dining room shows the esquisite furniture of the home. We home this classic 18th century home will inspire you with your decorating choices.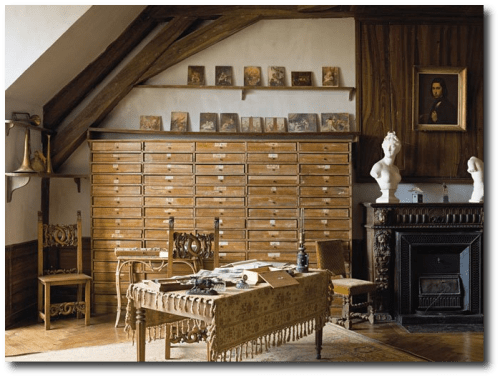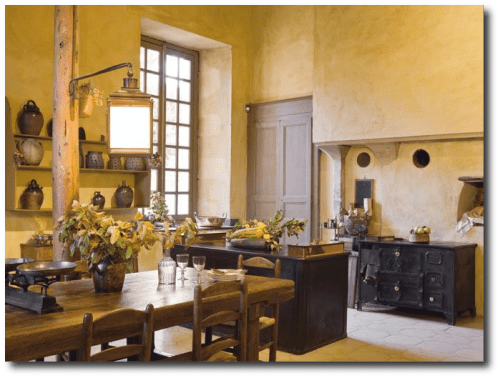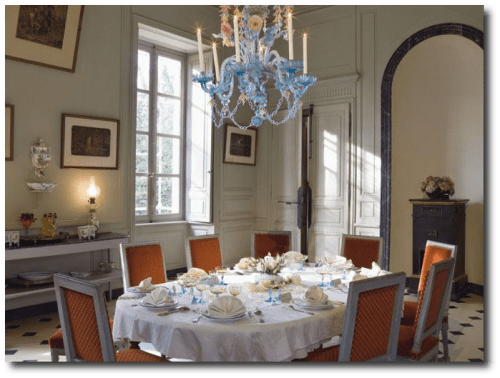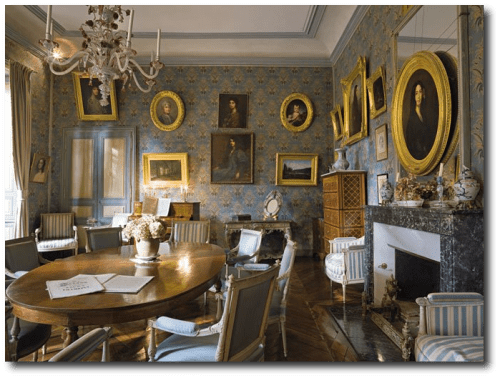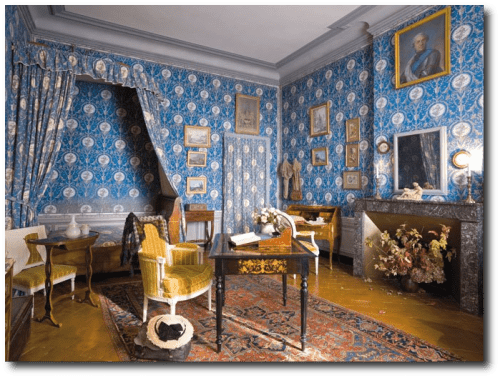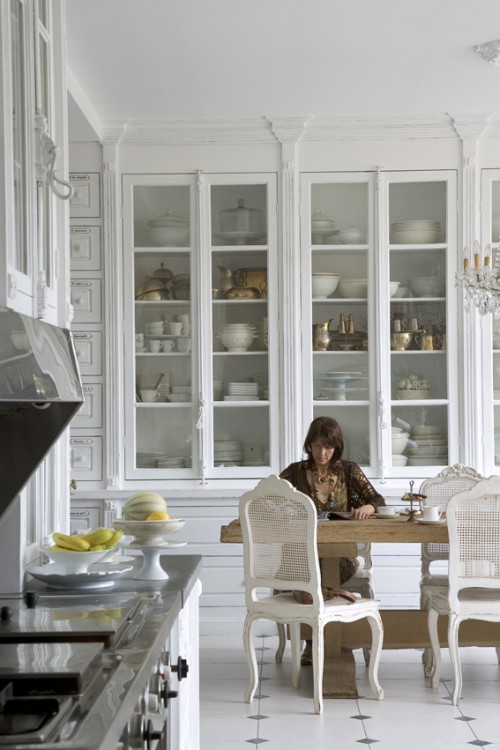 French Provincial Furniture Ideas From Photographer Bieke Claessen
The kitchen walls in a traditional French home are often made from brick or stone. Consider troweling some plaster on the walls, or consider making your own

stone out of plaster

for pennies which can save you thousands when you plan on re-decorating.

Dry herbs can be displayed in the kitchen and at the same time fills the air with their smell.

Iron has always played an important look in the rustic countryside of France. Consider adding decor with metal elements, such as baskets which can hold linen napkins, faux fruit, or extra silverware. The table is an important part of Provence styled decorating.

Painted furniture mixed with raw wood will you complete the look.
Here are some of my favorite picks:
The Noah Dining chair will fit gracefully in a home that has a classic and soft aesthetic. If features a cane back that has been brought back to life and a beautifully tufted seat cushions for comfort. This chair features a cane back, and a lose seat cushion – Sells for $429
The Napoleon collection faithfully captures the romantic feel of vintage, painted furniture from the French countryside. Featuring gently curved frames made of solid hardwood, brightly colored then rubbed down on the edges. Adds a soft splash of vibrancy to any setting. The Louvre arm and dining chairs are accented with a cane back. The chair is made of kiln dried hardwoods , and constructed using Chinese Joinery . Webbing placed in the seat for support, and hand-painted and hand-distressed for that special French appeal. New, sells this Louvre dining chair for $299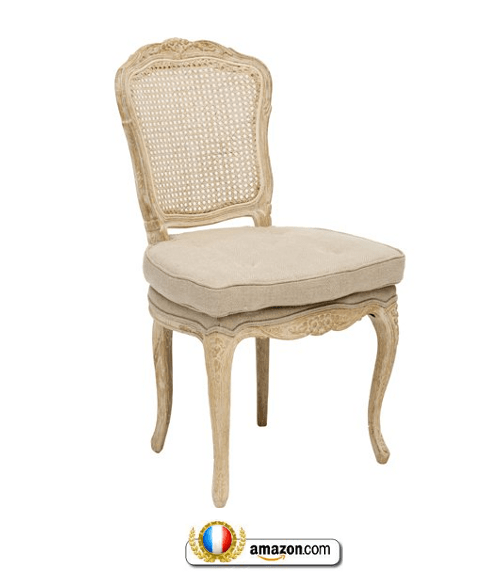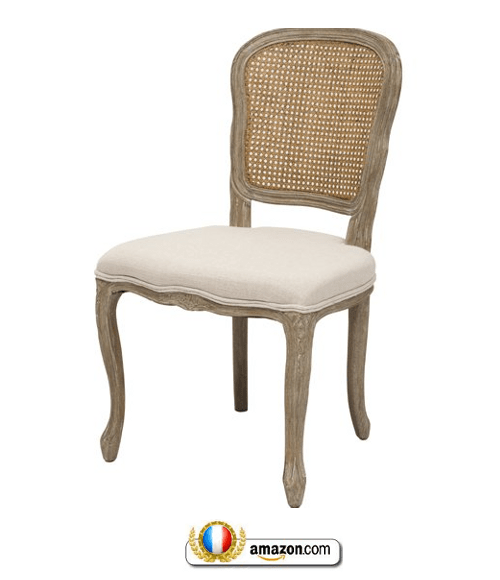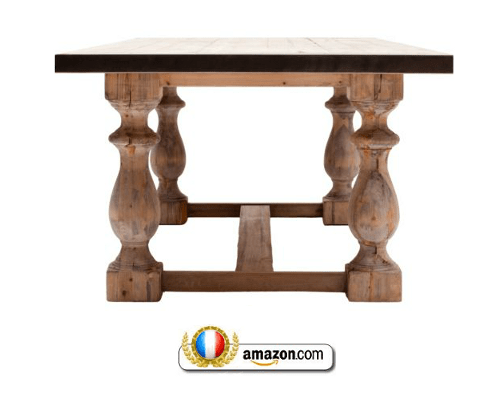 The Baltic dining table features a natural rectangular surface and an elaborate based. It would make any dining area stand out because of it's beautiful natural elements. The table features a Kiln-dried hardwood frame. The finishes are hand applied and sanded repeatedly. The top of the table is coated with a lacquer top coat or wax. New sells this for $1,499
The most important room in the house is the kitchen and the same is said for the French Provencal look. The kitchen is where most of the entertaining is done in the home, so it makes sense to invest in quality furnishings where you spend hours of your time.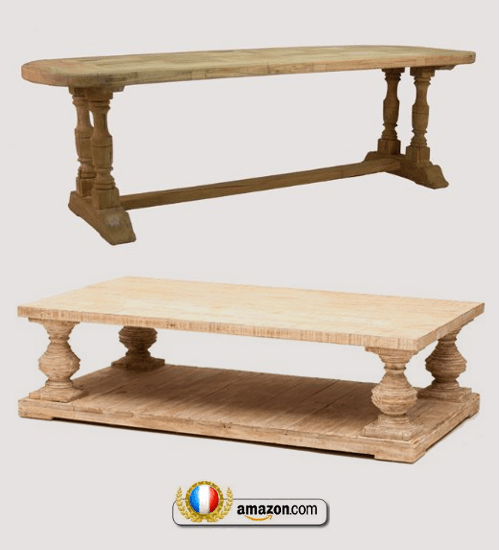 Le Havre Dining Table-Elm Wood: W98.5 x H30 x D35.5 $2,949
Reclaimed Lumber Coffee Table $1,499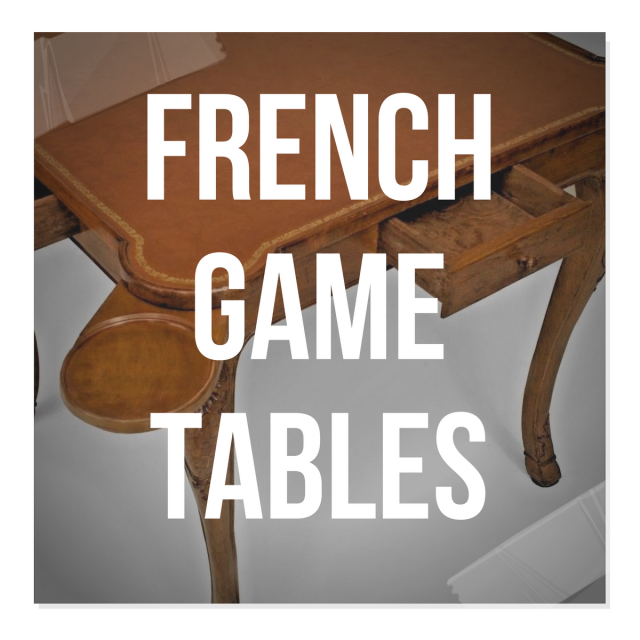 French Provincial Louis XV Style Game Table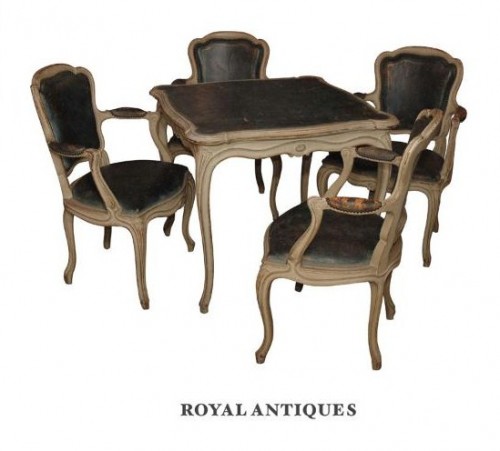 Antique French Louis XVI Style Painted Blue Leather Game Table With Four Armchairs
When you think of game tables today, the first thing that comes to mind for most people are pool tables, ping pong tables, and hockey tables. Before the modern invention of the television, a family would play games together. A game table was a very practical piece of furniture in the home, and was used daily.
Antique game tables are smaller than regular tables because they were designed with the intention of 2 people playing a game together. Larger game tables can accommodate 4 players, and sometimes more. Here is an exceptional example of a burl wood poker table that can hold 6 players.
Some of the most beautiful french tables often have precious mother of pearl, ebony and wood inlay combined with bronze decorative hardware that adorned the feet and mounting corner hardware on the legs.
Many game tables have a removable chess board on one side, and the table design on the other. Other tables have a chess board on one side and a backgammon board on the other side. Small drawers are often built in for storing game pieces. Some designs actually have drink holders that pull out from the sides.
You can expect French Napoleon III period tables from the 1860's to be painted in black lacquer or cream with gilt bronze hardware. They often have tapered fluted legs compared to Louis XV tables. French game tables make great additions to your living room. Station these tables against a window and add two comfortable bergere chairs, and you may be surprised to learn that you use it more than you think.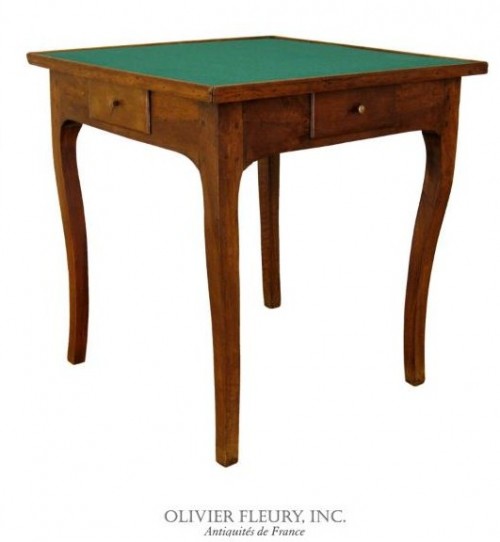 French Country Louis XV Game Table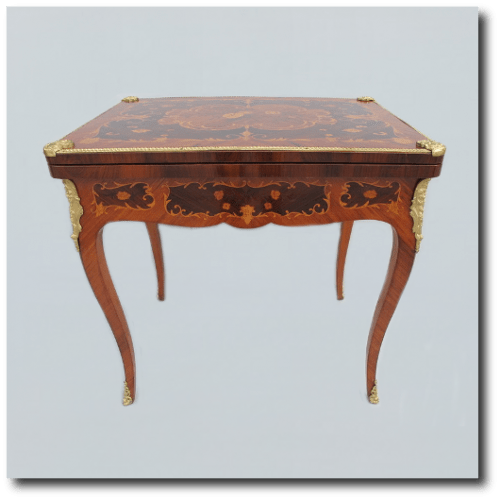 Antiques Super is selling an antique French Louis XV inlaid mahogany game table. This beautiful game table is made in solid veneered mahogany and rosewood in the French Louis XVI style. This table has terrific inlaid and bronze details. Antiques Super is selling this table for $1,325.00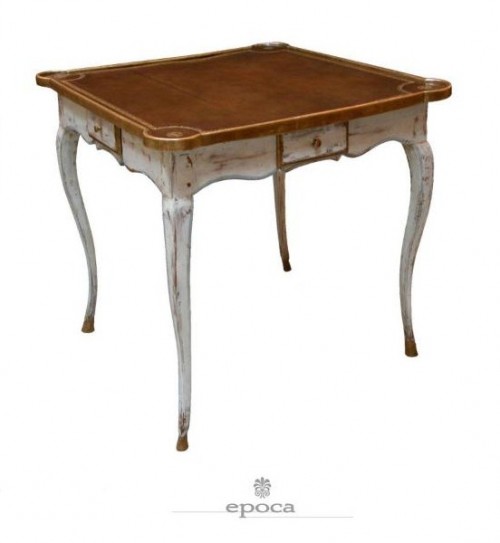 French Provincial Rococo White Painted Game Table– A charming French provincial rococo white painted and parcel-gilt leather-top game table; the square russet-colored leather top with hand-tooled gilt decoration; above a scalloped apron fitted with 4 drawers; raised on graceful cabriole legs ending in hoof feet
Save