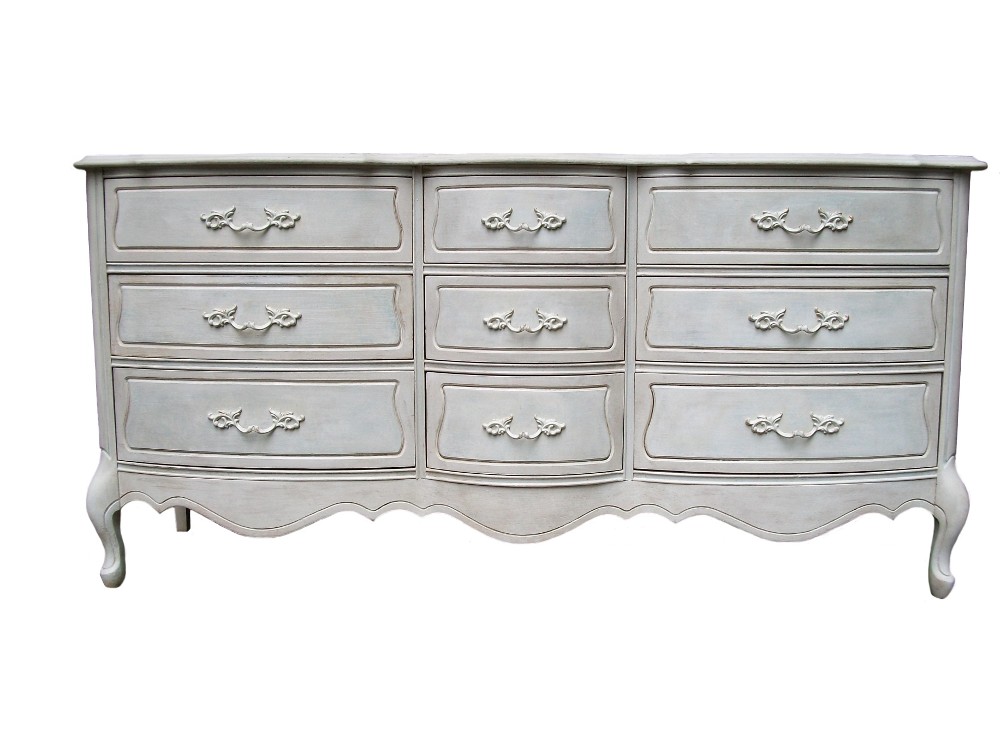 White-washing is basically applying glaze mixed with white paint to the surface of your wood furniture, giving your piece a two-tone effect.
The two tone effect is basically where the wood shows through the paint finish. You can achieve this result by liming, which can be picked up at your local hardware store, or paint alone can achieve this finish.
This effect ONLY works when you have unfinished wood which enables the paint to soak into the furniture.
White-washing can also work with oil based paint in combination with paint thinner. If you are working with vintage French Provincial you might run into a stumbling block like I did, where you have a really hard white melamine paint that is baked on. If you have patience you could strip off the paint.
Every dresser is different, some manufacture paint finishes are relatively easy to remove, while others are very difficult. If you have a white french provincial dresser that has a white finish, check out what I did with my painted french dresser:
I had a white dresser so I decided to fake the appearance of a white painted piece which was distressed showing the wood underneath. What I did to mine was started with a orange oil paint, and layered on color with slight distressing in between to produce a finish that looked to have layers of blues and creams and beiges to the finish.You can also achieve this look by mixing water based paint with glaze BUT, for most of my pieces I prefer to work with oil paint, rather than with latex, so this article discusses OIL rather than latex paint.
I would highly recommend Rust-Oleum's oil paint in satin or flat finishes. Rust-Oleum's satin oil dark taupe is one of the most frequent colors I use when I paint furniture.
Using a faux washing technique with soft butter yellow satin oil paint is one of the best colors to use on top of dark taupe. Additional oil colors such as the butter yellow can be purchased from specialty paint stores that tint oil paint. I use this technique on a lot of my projects. I have come to know that my local Home Depot paint store no longer carries this color. Here it is on Amazon.
Rust-Oleum 241238 Satin Enamels Spray, Dark Taupe, 12-Ounce
The other color which works well is Rust-Oleum's color Fossil in latex . Again using white-washing techniques, Rust-Oleum's oil flat paint tinted with an off white works extremely well in creating a washed Swedish finish.
Rust-Oleum American Accents Spray, Satin Fossil
I would suggest Sherwin Williams for oil paints, and you also can get virtually any color with Behr's Paint and Primer in one.
Here are a few of my staples: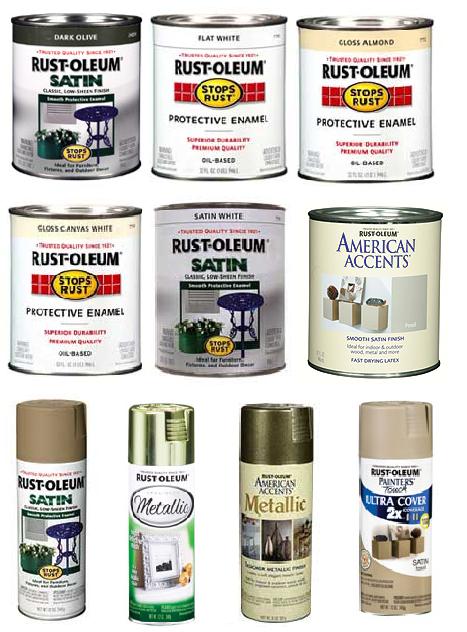 If you are working with latex paint a glaze can go a long way toward adding depth to your furniture.
Ralph Lauren Faux Technique Glaze
If you are working with oil, translucent finishes can be achieved by simply working with paint thinner and stippling it on to your furniture just like you would with glaze.
Ralph Lauren Faux Technique Glaze
Many french provincial reproduction furniture pieces have such durable finishes that they are almost impossible to chip, which is an excellent quality to have. If you are looking for a french dresser, and you want to make it over using a white washed appearance, I would highly suggest working with a dresser that has just a wood finish and no paint.
Typical white french provincial furniture pieces are often found with rock hard enamel paint. The challenge with these white finishes is they are especially hard to strip.
Many vintage manufactures have taken the enamel finish and combined them with chemicals such as melamine paint and baked them in large ovens, which gave them rock hard solid paint finishes. Stripping these finishes is next to impossible.
So what do you do if your original paint is white?
The dresser I painted was solid wood, but also had an original white finish, so I had to duplicate the look of wood with a coat of orange paint, so that when I distressed the furniture, it would give the appearance of some depth to the paint finish.
The next layer is an off white beige color, which I was able then to distress showing the orange.
After the distressing, I used a white oil paint diluted with thinner and dabbled it onto the dresser giving it a little bit of a textured look. Additional white washes were applied to give it an overall white effect. I did about 7 layers of additional washes until the entire piece was finished. Here was the transformation.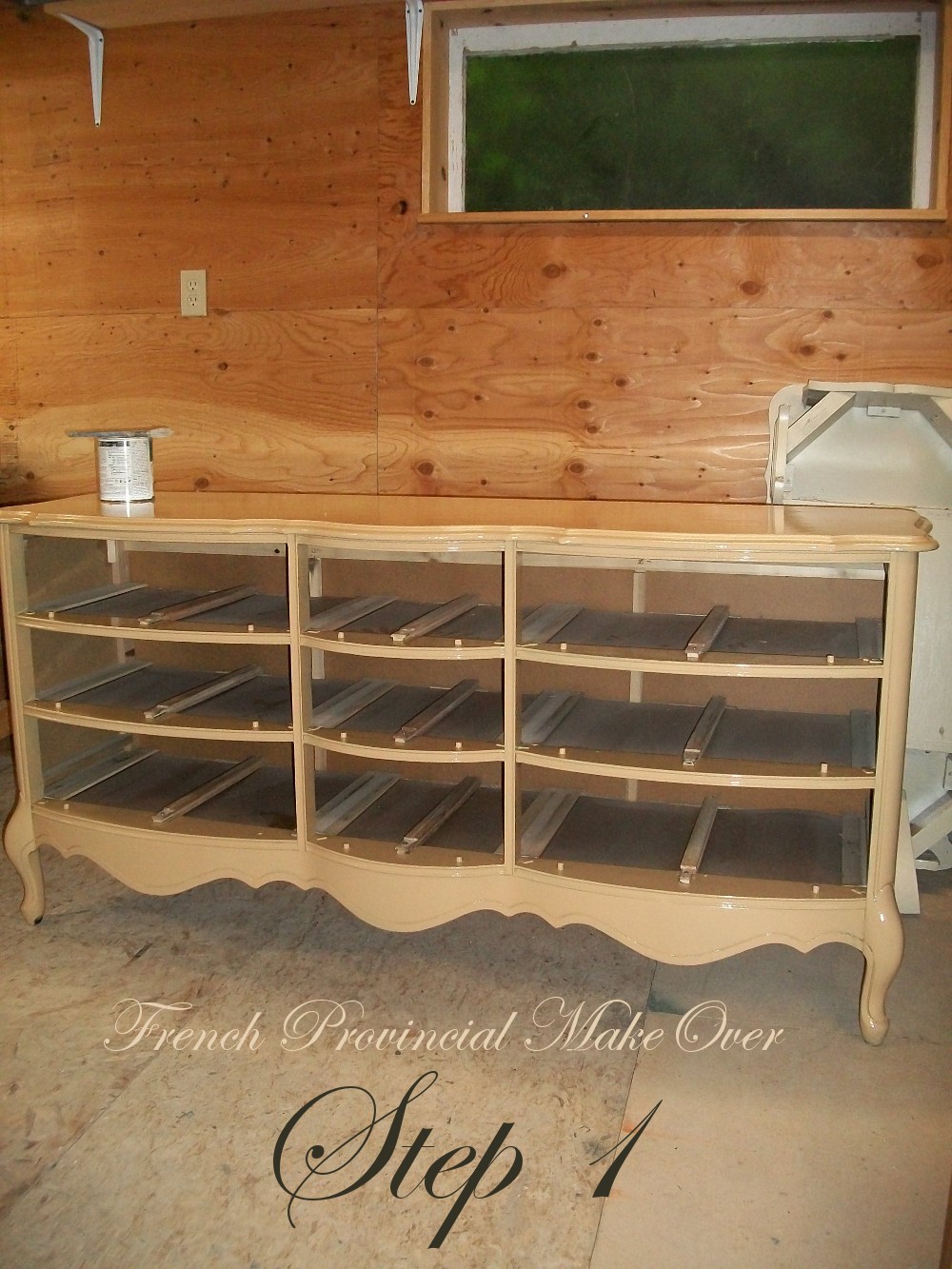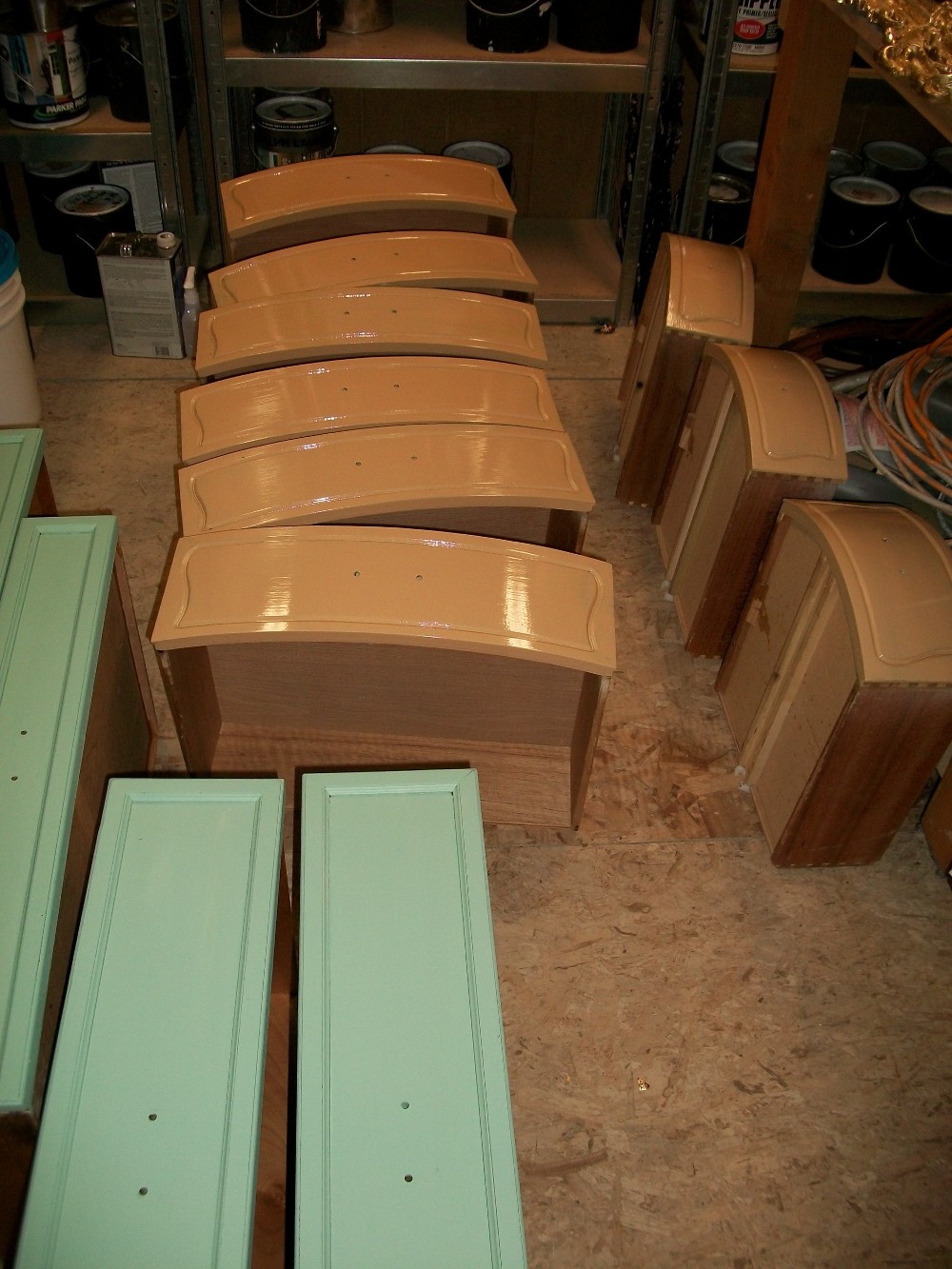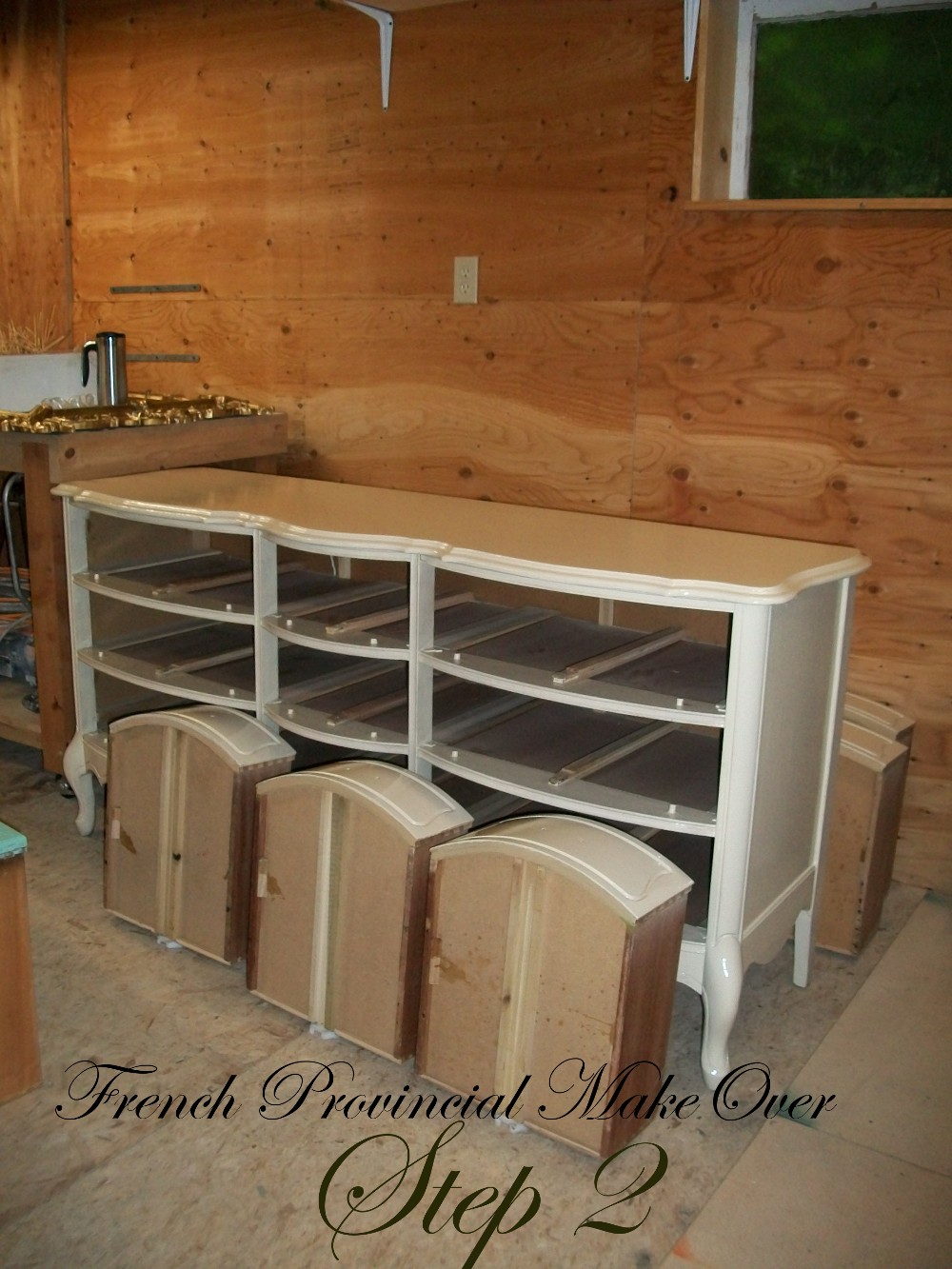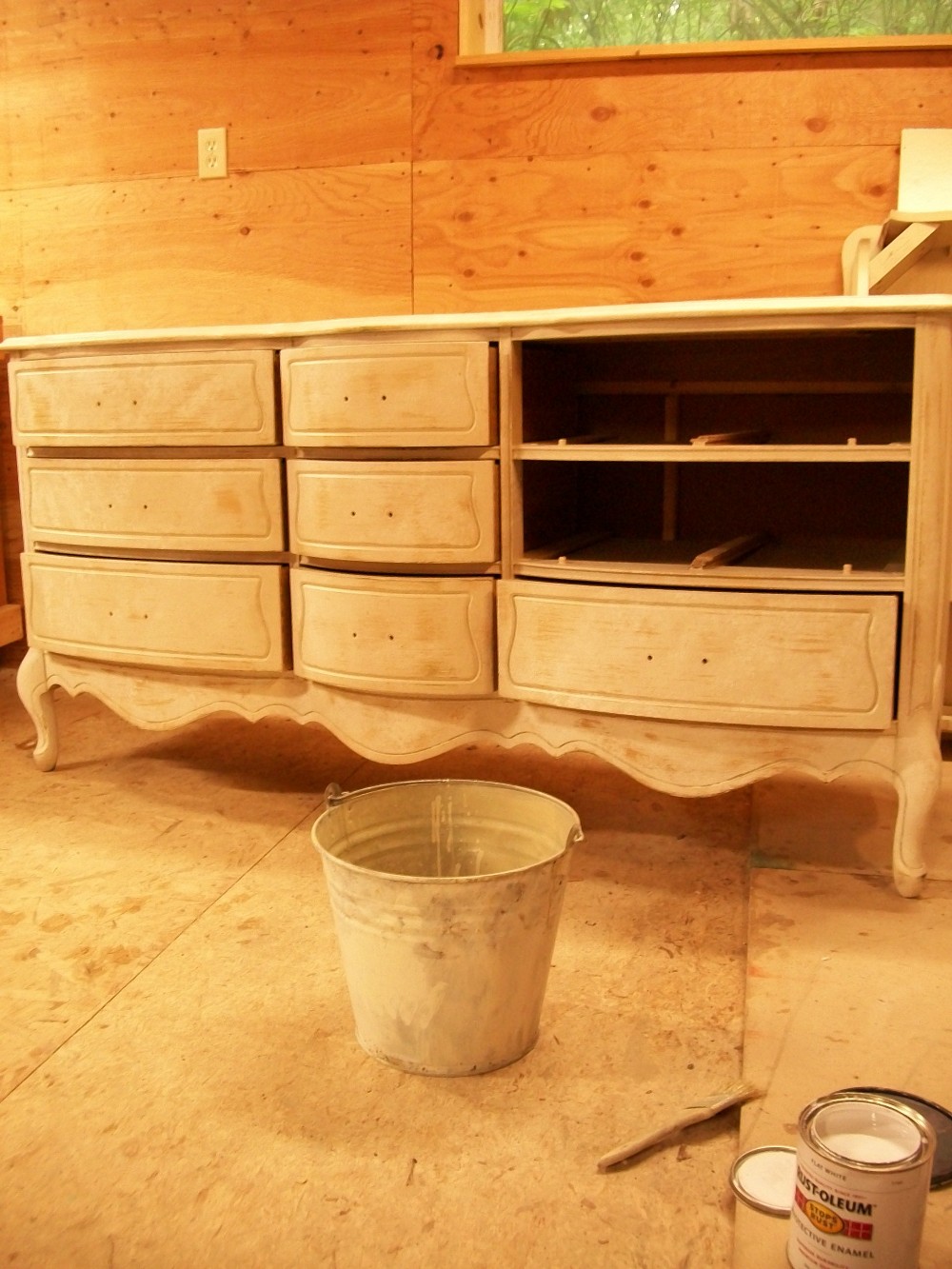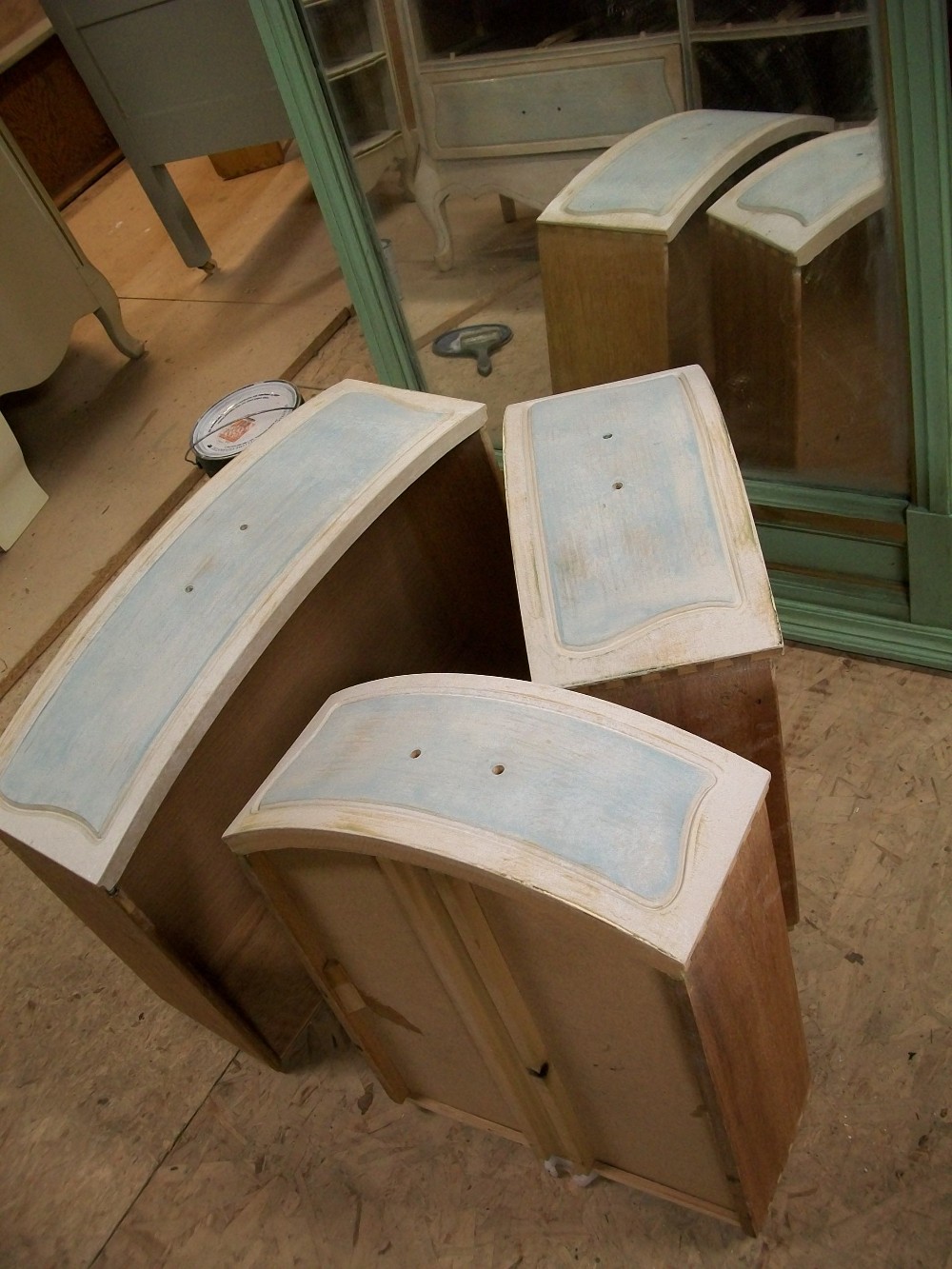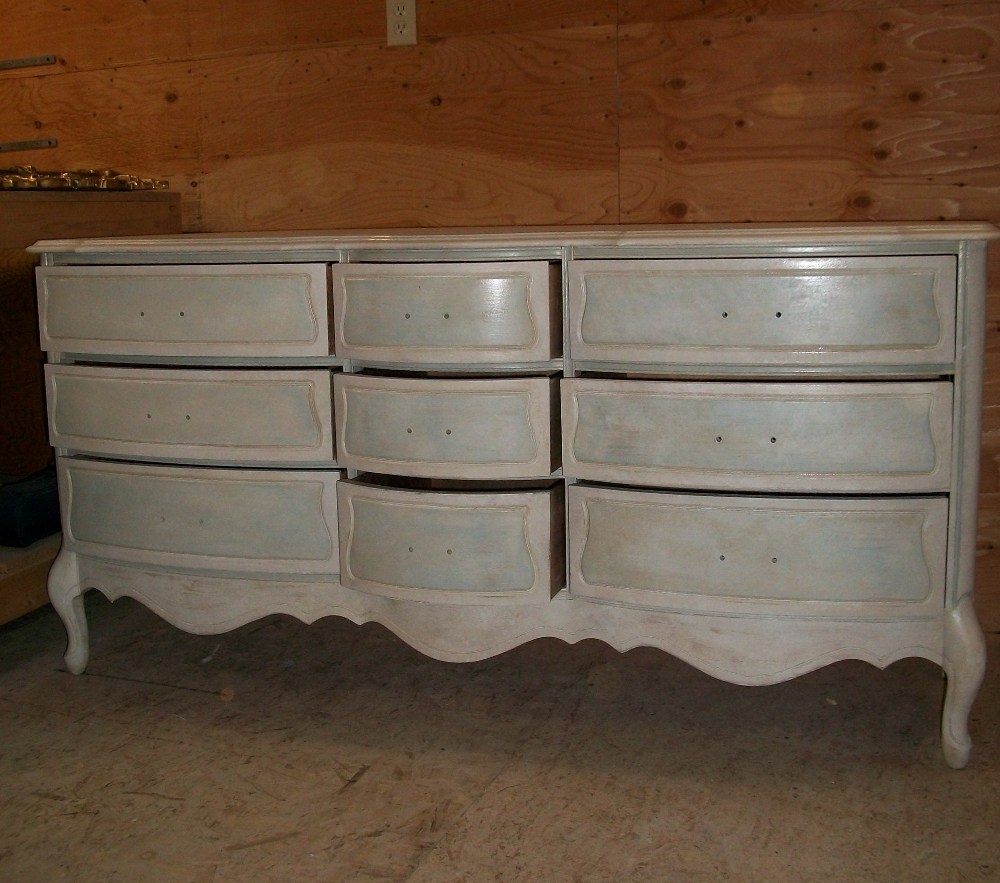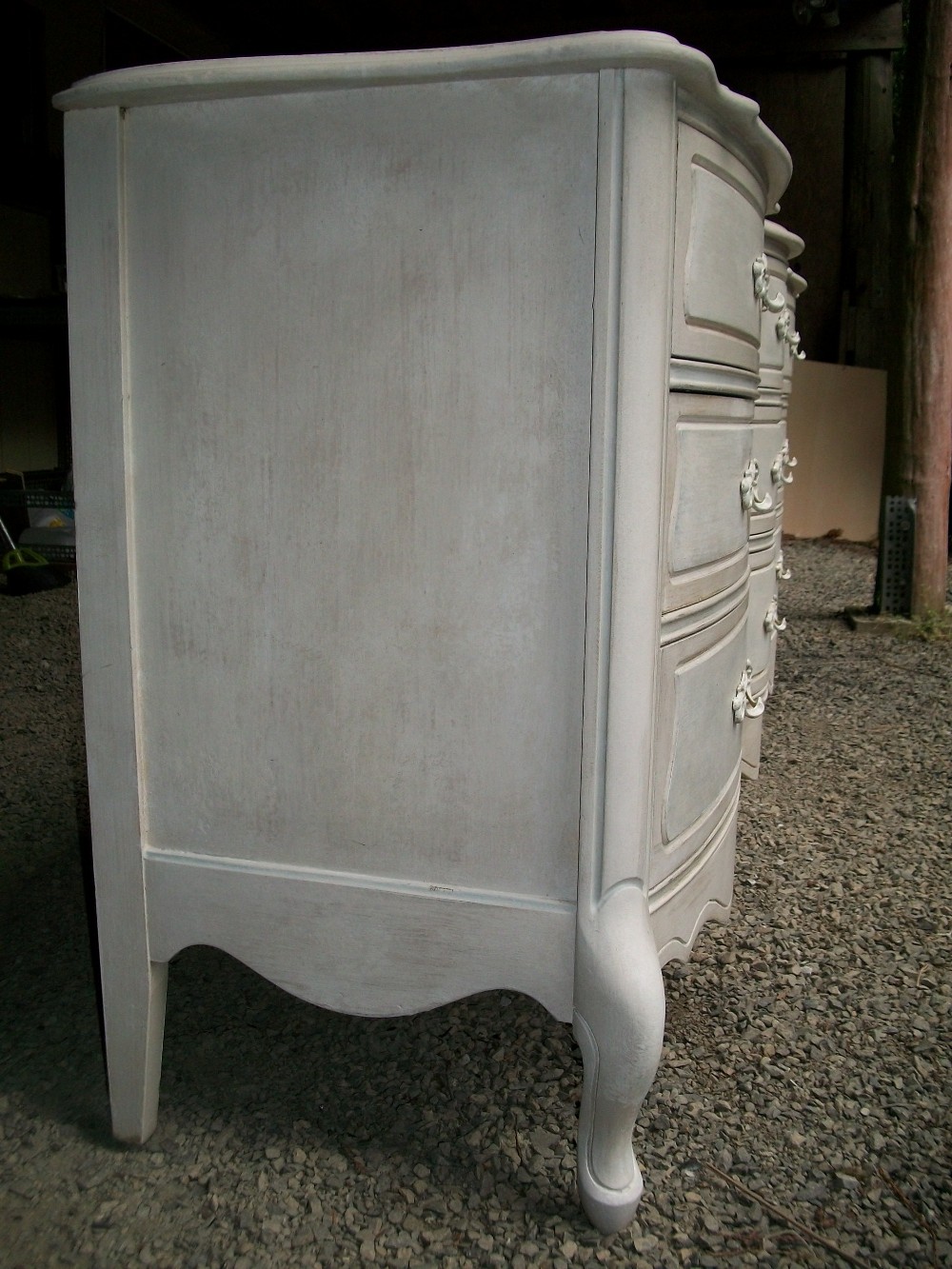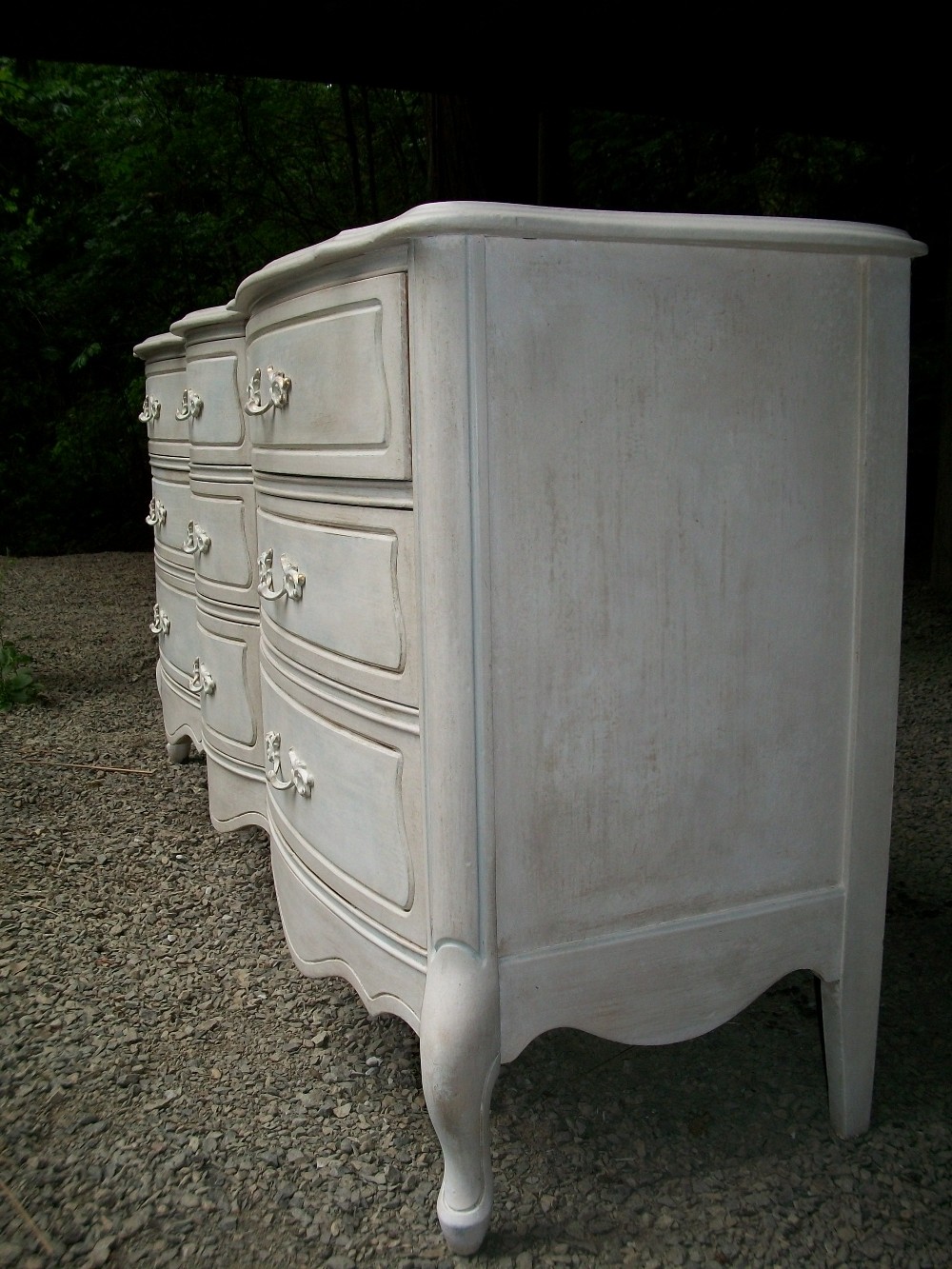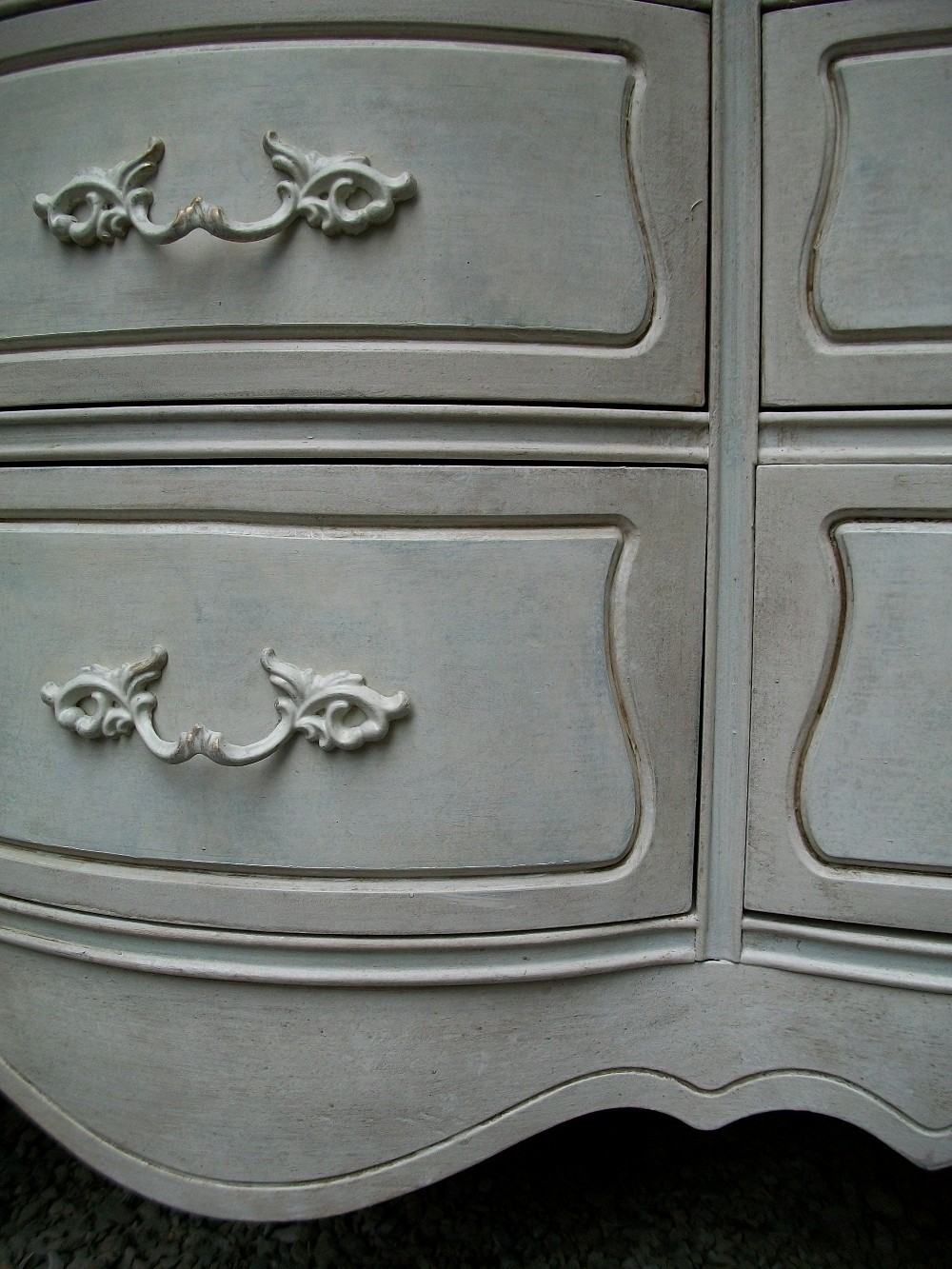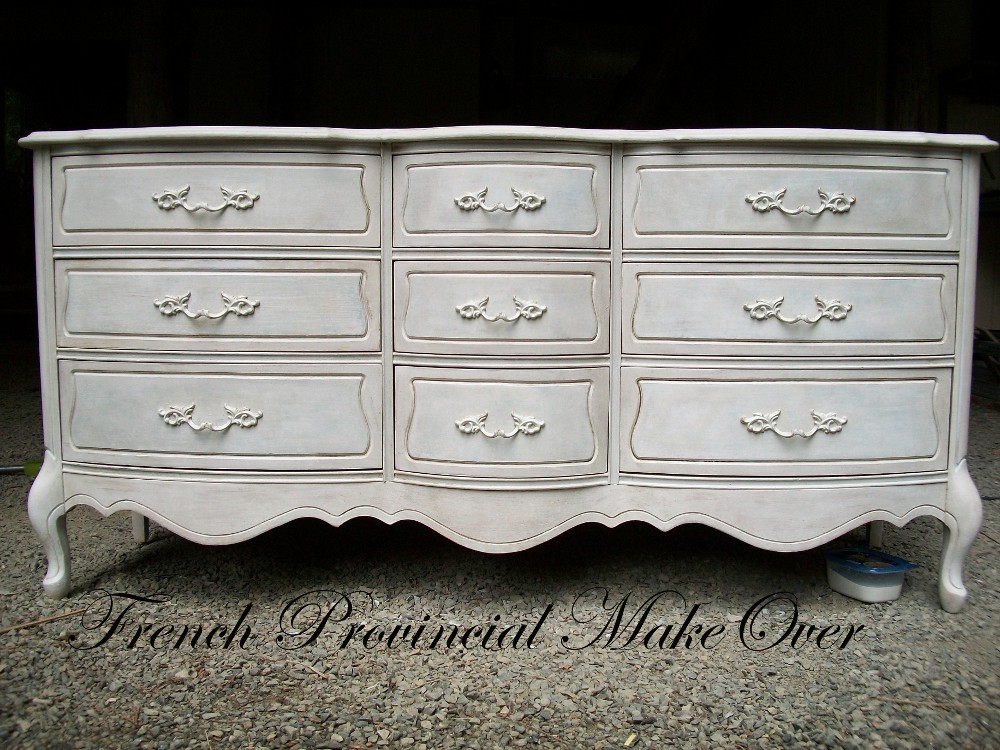 Save
Save
Save