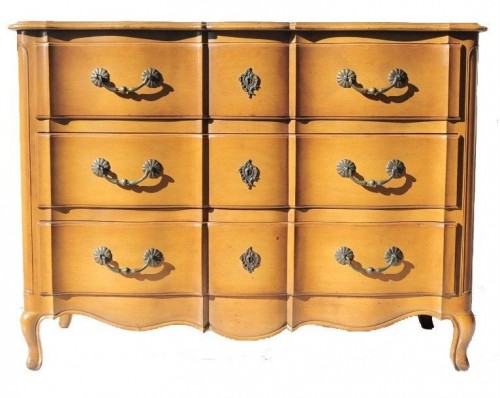 1950s French Provincial Commode by Cassard Chateau Romano NYC – Quality Is Key On Ebay
Vintage French Provincial furniture can look fabulous when it is re-finished.  Chances are you have seen these pieces at thrift stores, garage sales, on craigslist and kijiji that with a little improvement, these pieces can look old and worn to fit into a Provincial decorating theme.
Here are a couple tips to pulling off this look:
1.)  Inspect Before You Buy-
There are styles and brands that are not worth the money.  Whether you purchase second hand furniture on Craigslist, or a garage/estate sale, open up drawers in cabinets, sit in chairs and lean on tables.
Hardwood furniture will allow you to do more with the piece than something with MDF.  You can strip down wood furniture and leave it raw, and pair it with iron hardware, typically seen in French interiors.
Hardwoods such as oak and maple are some of the strongest furniture. Decide if the piece is solid wood, or compressed wood.  Factor that in when making an offer on the furniture.
Even a low quality piece can be transformed, so decide where it is going, and what you plan on doing with it before you invest your hard earned cash.  Laminate and veneer furniture can be beautiful, so don't discount a piece just because it isn't solid wood.
Depending on if you plan on stripping, or painting the piece will also determine if the piece will work for the project and placement in your home.
2.  Consider Reupholstering A French Sofa, Chair Or Settee
When looking at french upholstered pieces, consider what they may look like with new fabric.  I have seen sofas as low as $50 dollars, and when you factor in upholstery, you could get the look you want for under $500 dollars.  Investigate the businesses in your area which can either make slipcovers, or give a sofa or settee a brand new look with new fabric.
Vintage furniture has been made with better workmanship and quality products years ago. Instead of passing over an old Louis XV chair at a antique store, think of the potential with it having brand new heavy linen, and distressing applied to it's frame.
3.  Metal Furniture Happens To Be A Staple Of French Provincial Style
Wrought iron tables, benches, shelves, and accessories are one of the foundational looks in Provence style. When you stumble across second hand metal furniture,  think of the potential as opposed to how it looks.  Rust can look terrific in an old world home, so if the piece is rusty, and old, it may work out to your advantage.  Metal furniture looks terrific outside, and works great when paired with stone for your interior.
4.  Re-Purpose With An Open Mind
Twin beds can be re-purposed into long benches, or made into a sofa for the patio.  A dresser can be turned into sink for the bathroom.  A long table can be chopped down to be an island for the kitchen.
Look at the bones to see if you can re-purpose it into something else.  Investigate the local wood carpenters in your area to pull off a design that may be a little bit more complicated.
5.  Strip Furniture For A Raw Look
There is nothing more sophisticated than looking at the beauty of wood.  Strip your furniture down to the bare bones, and work with old iron hardware and furniture ormolu to add an upscale French feel.  Heavily distress your pieces by creating dents and dings with heavy iron chains and hammers.  Work with wax or dead flat varnish to seal your wood for a matte appearance.
6.  Dulling Down Brightly Painted Furniture
To achieve that old world appearance, work with brown glaze.  Applying a coat of glaze, can dull down any brighter paint color making it appear more antique than freshly painted. Glaze often comes in a clear mixture which you can tint by adding regular paint to the mix. Brown produces the look of dirt which can make it appear as though the chest is several years old.
How To Glaze:
Buy your glaze in a quart or gallon size, and only pour out the amount I need for a project into a different plastic container. Simply mix in a quart container 75% glaze and %25 percent paint, or less. Brush on the glaze on your dresser, and simply remove with a damp WHITE face cloth a few moments later. After it dries your piece of furniture will have that antique appeal.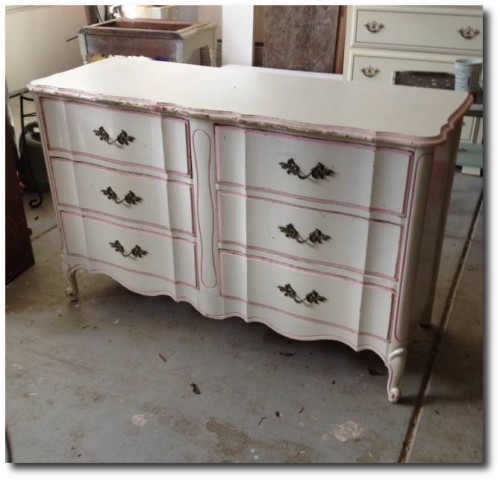 Ashley Welch's French Provincial Dresser
A little bit of sanding, and this dresser could have a beautiful rustic effect.  The pink details are either from priming, or possibly hand painted.  The peeling paint give this dresser the old look we all love.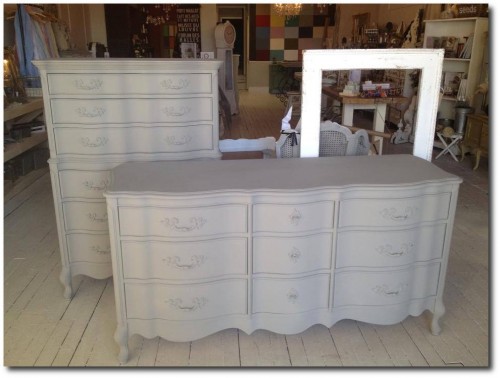 Annie Sloan Painted Provence Dressers From Diamonds & Toads
Classic gray can be the perfect color to improve vintage pieces.  Here you see the handles also painted in the same color.  These pieces could nicely fit into any chateau in France.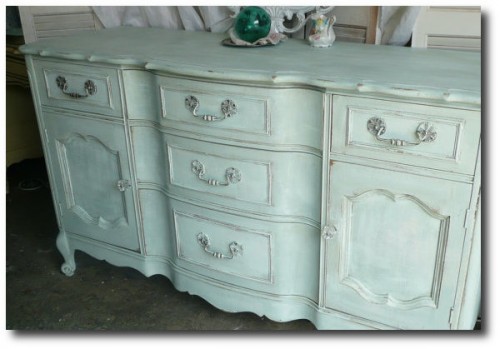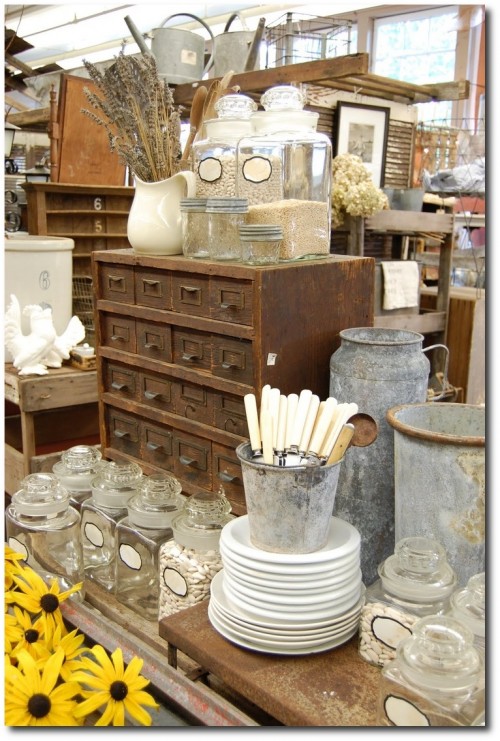 White Dishware, Zinc Buckets, Raw Wood French Provence Style- Seen On Isabellang.blogspot.com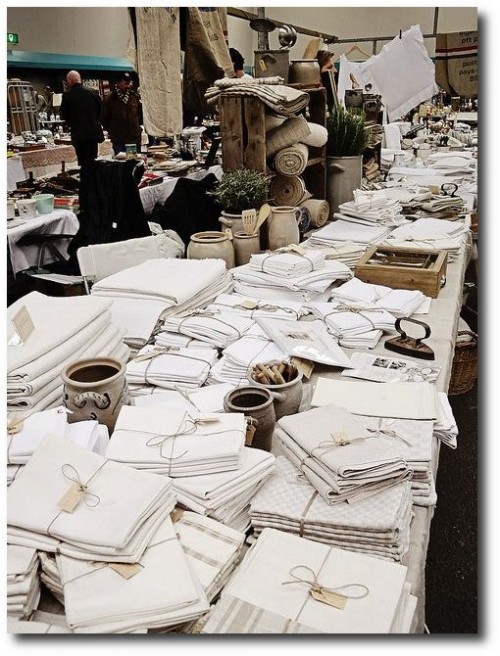 Gorgeous photo of antique linens – via Alex Wijnen flickr.com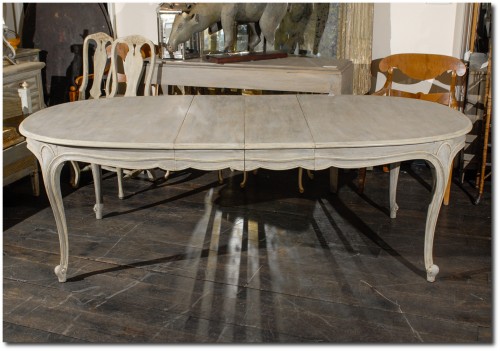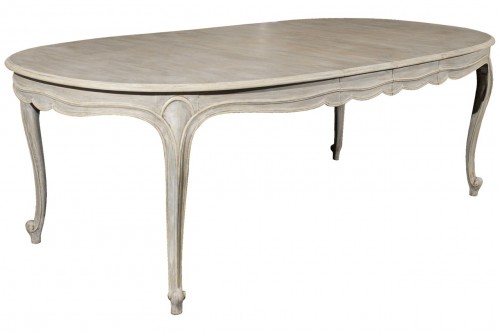 A vintage French table is given a special paint finish to make it appear old. 
American Custom Painted Table  A. Tyner Antiques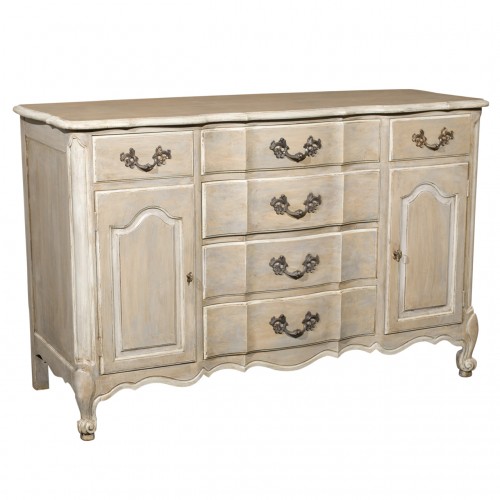 Another beautiful paint finish by A. Tyner Antiques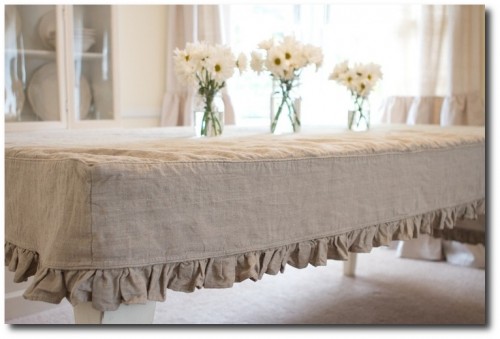 Fitted Table Cloth From Tablecloth  Ruffled Linens On etsy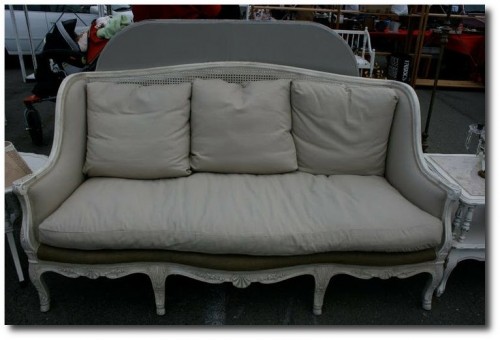 French Provincial Sofa  Seen On Vignette Design Blog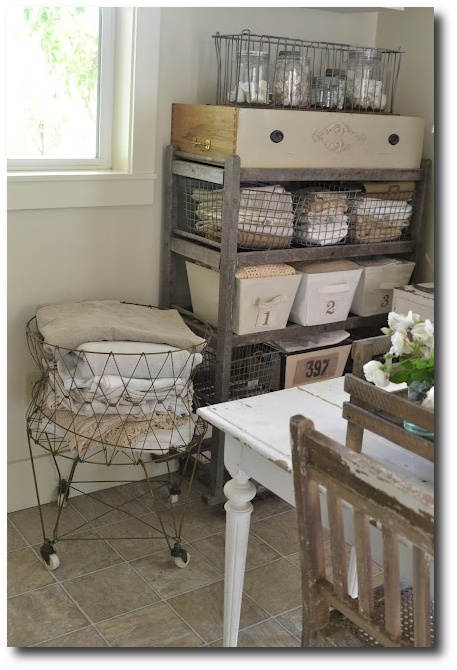 Decorating With Wire and Raw Wood
fadedcharmcottage.blogspot.com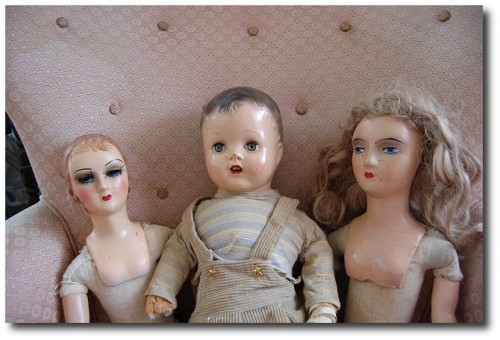 Flea Market Antique Dolls- flickriver.com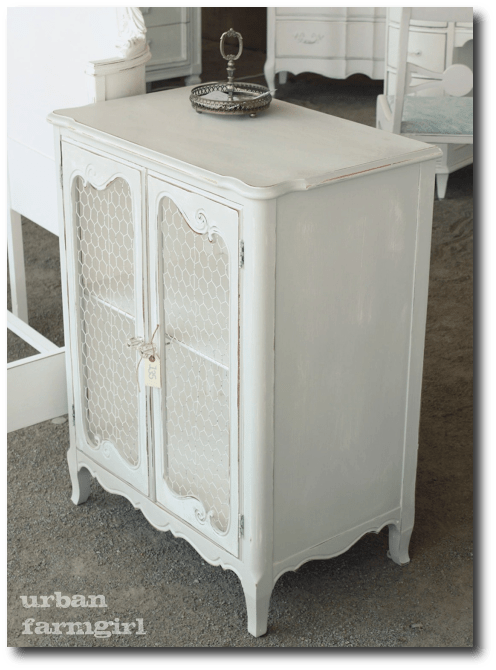 Replacing doors with chicken wire is one way of adding an old world feel to a vintage piece. 
This cabinet was re-finished by Urban Farmgirl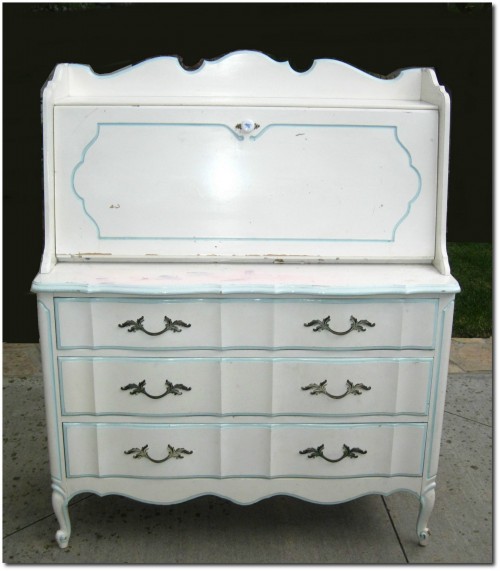 Vintage French Provincial Dixie Drop Leaf White From Ebay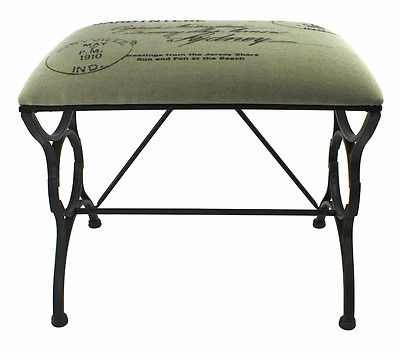 Turn old iron sewing tables into dining room tables, or upholster the sewing machine benches
Upholstered Fabric Metal Bench – US $119.95 On Ebay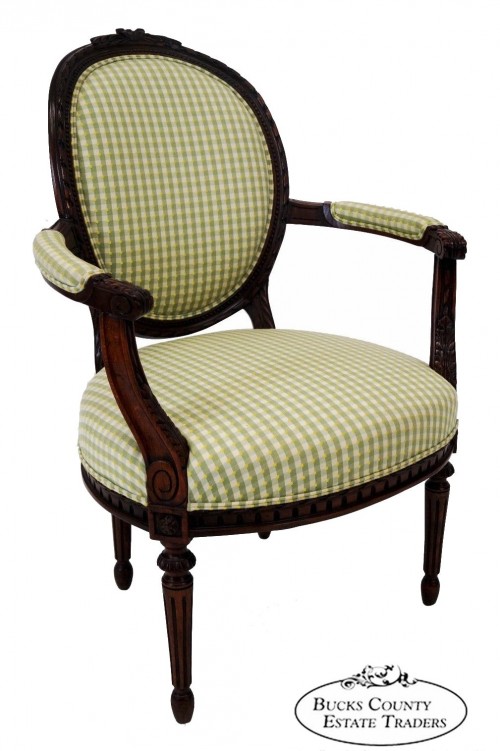 French Louis XVI Style Carved Arm Chair $395 On Ebay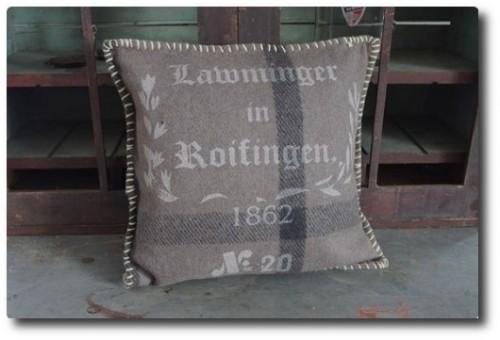 Grain Sack Graphic Woolen Pillows From Pink Pig on esty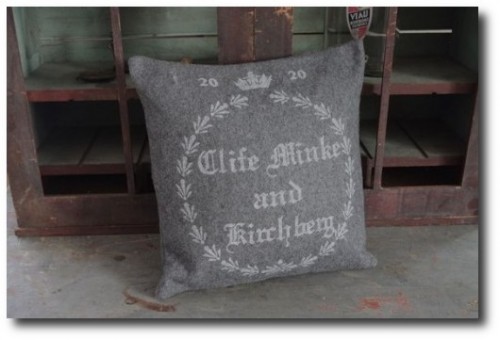 Grain Sack Graphic Woolen Pillows From Pink Pig on esty
Stencils are the perfect way of adding depth to your french accessories. The possibilites are endless.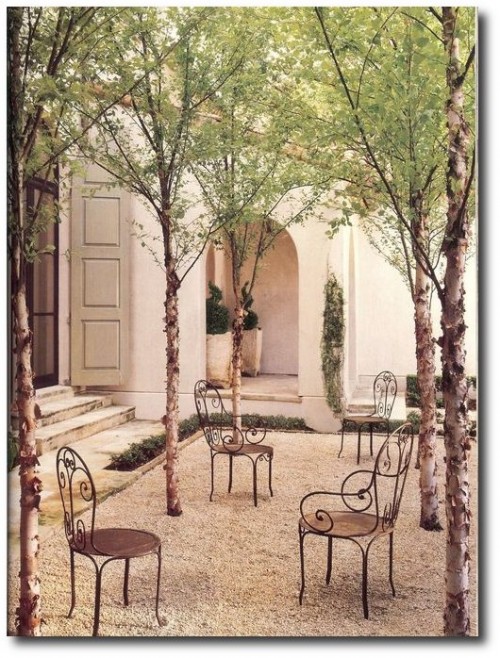 Iron Patio Furniture Seen In Veranda Magazine – April 2010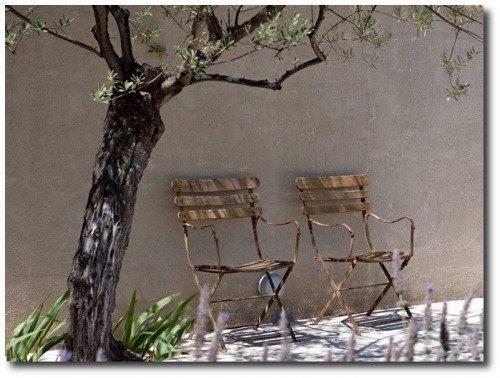 Go with raw wood- Campagne decoration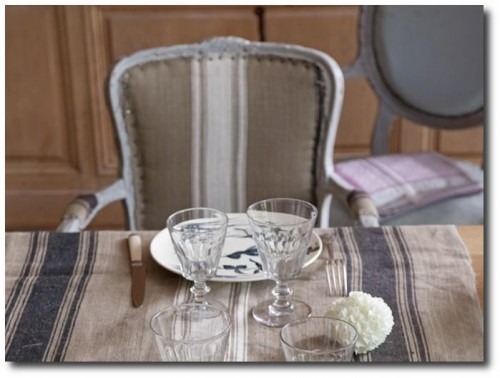 Upholster With Vintage Linen Fabrics – Campagne decoration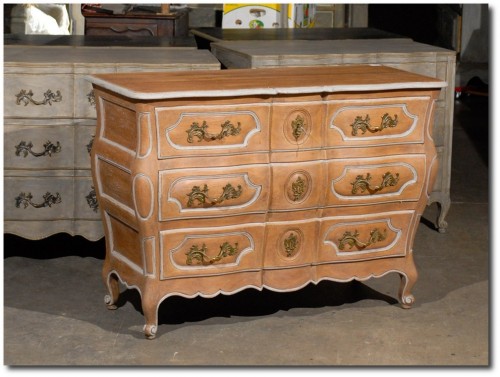 French Chest – A. Tyner Antiques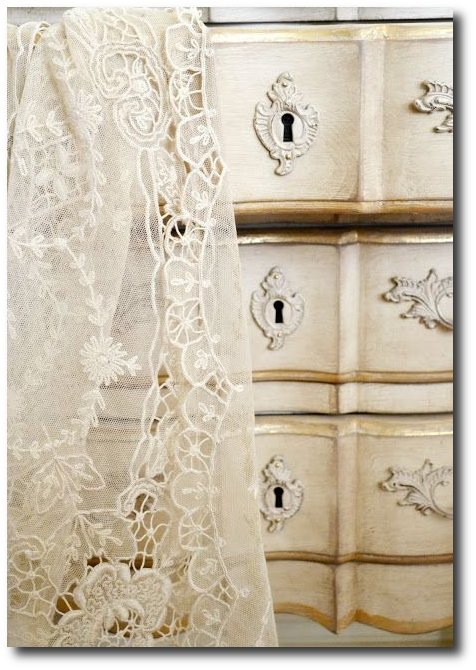 Raw French Furniture and White Washed Hardware jenneliserose.blogspot.com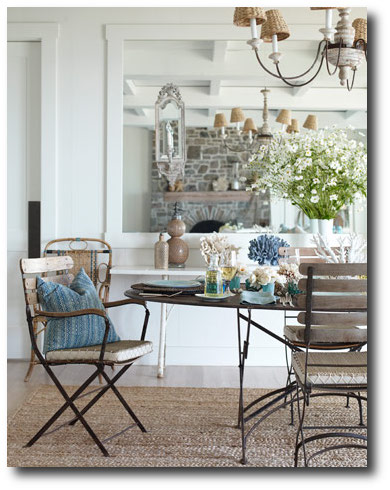 Cafe Chairs Used Inside- Designer Carolyn Espley-Miller- House Beautiful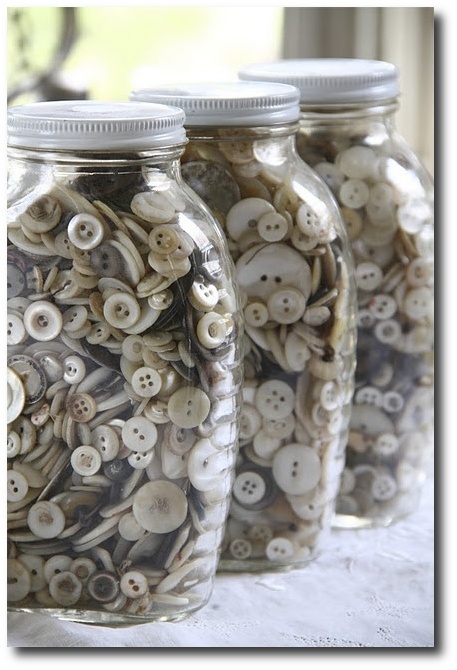 An inexpensive way to decorate- collect white based buttons and store them in glass jars. 
Decorating With Buttons – Provence Accessory Ideas elizabethhousestlouis.blogspot.com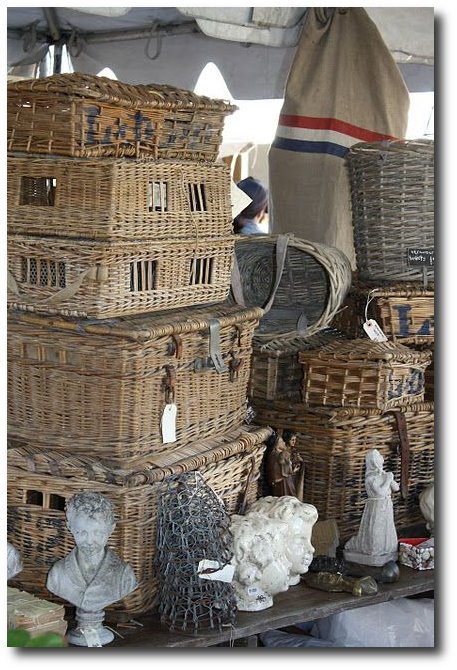 French Style Baskets-  Atelier De Campagne Antiques
atelierdecampagneantiques.blogspot.com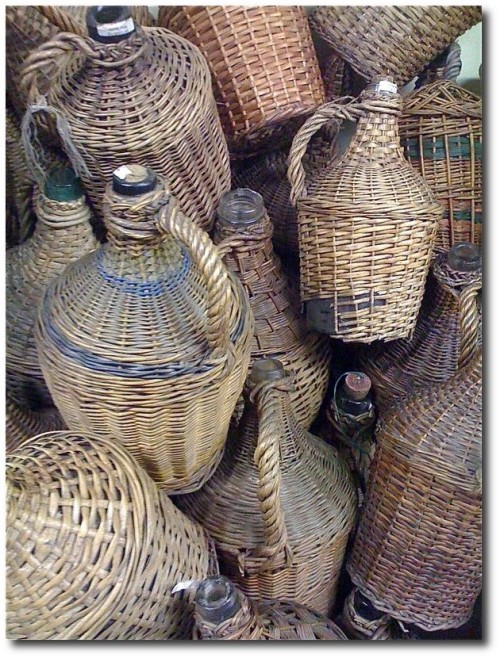 Decorating With Wicker- A Classic French Look – Pinterest
Vintage Dress Form – browndresswithwhitedots.tumblr.com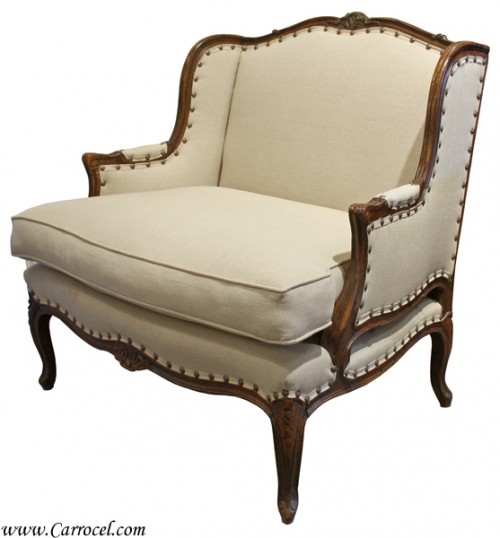 French Country Bergere Living Room Chair From Carrocel Restorations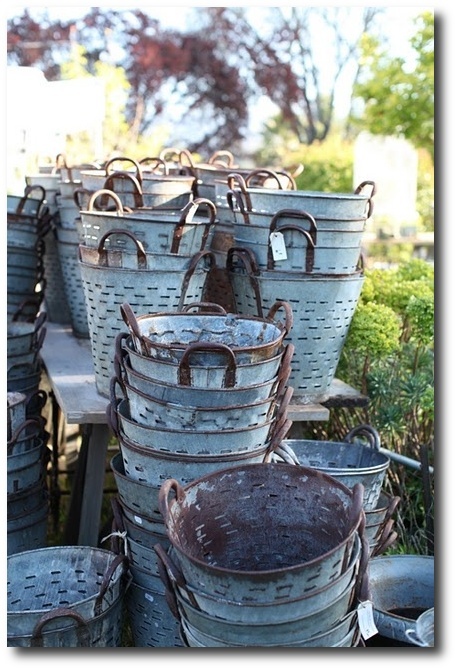 Provence Decorating- Grape Buckets – dreamywhites.blogspot.com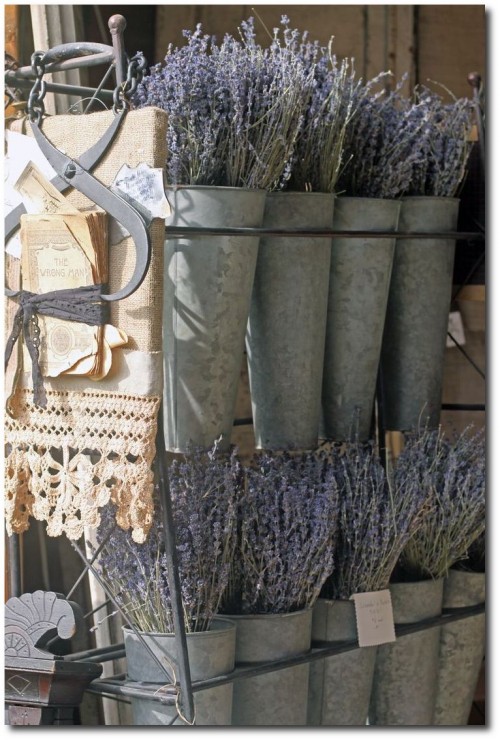 French Flower Buckets In Zinc- raisedincotton.typepad.com
Save