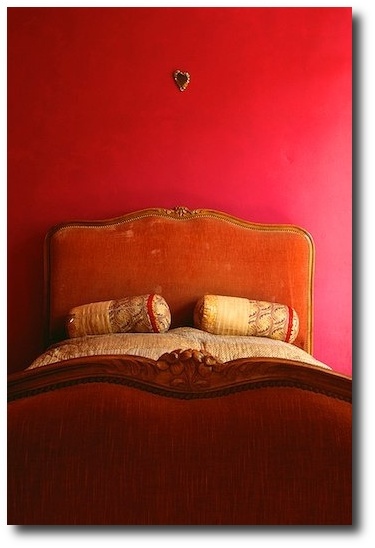 French Headboard Featured on Bob Vila
Buying a French bed is a timeless furniture choice.  Classic French beds have been around for centuries, and are still as much popular as the French style is featured and popularized in the higher end interior design magazines.
French antique beds are normally made from sturdy wooden frames and are often delicately carved which makes them both interesting and elegant.  The workmanship that goes into a carved bed takes patience and skill in order to get the precision and detail which can make them quite a bit more expensive.
Many antique French beds are made from a variety of woods, depending on their particular country and location.  Some of the most common woods found are mahogany, walnut or Black wood.
Often seen in the rococo beds, the footboards are also delicately carved, which makes them highly coveted.  A common signature to French furniture is the curvature of the legs of the furniture.  You will see the circular feet on many footboards, chairs, and chests.
There are a number of great styles when it comes to antique French beds, but if you are on a tight budget and you really want the look of a French home, why not go for the reproduction French provincial beds of the 50's and 60's? Many of the beds were made to mimic the antique Louis styles but on lower end scale. The 1960's French provincial furniture is pretty easy to find, and relatively inexpensive in price.
1. Painting- One way of recreating the antique looks is to paint the frame of the bed. There are three main French styles you can paint.
A) Classic Gold is a very traditional French look. Gold works with every single upholstery as it acts like a neutral, so you are free to choose a variety of fabrics, as gold goes with everything. One very simple way of painting your piece gold is to spray it gold, letting it dry and gold leafing it for a realistic sheen of actual gold. Tips on leafing can be found here. Once the leaf has dried, you can rub on gray and with a damp cloth wipe the excess paint off which will stick in the cracks.
B) Classic cream is always a beautiful French choice. Be sure to get a creamy white with a green undertone. Once your paint has dried, add a brown glaze to add to the antique feel of aged furniture. You can buy glaze at your local home hardware store, or home depot, or Here – Wm Zinsser 04201 Blend & Glaze Decorative Painting Liquid
C) Swedish Grays are always an upscale French look. It is often a grown up style because it is not found on new furniture, but classic antiques. You can get that antique feel with gray and finish it off with a yellow wash. I have tried most of all colors with French furniture, and a cornflower yellow works the best over gray. Like the steps above, (after your gray has dried) paint on the yellow, (doing small sections) and wipe it off using a damp cloth. The muted yellow should give your piece the feel of a white wash but leaving the gray color intact.
2. Upholstery – You can create the rich looks of higher end antique French beds by simply buying the curvy headboard that was popular in the 60's and upholster them with rich French fabrics. Classic antique French patterns were floral and landscape scenes. It is a relatively easy process to upholster a bed frame, so don't feel overwhelmed.
You will need 4 major things to complete the task. 1. Batting 2. Fabric 3. A Stapler 4. Nail head trim.
The batting can be found at your local sewing fabric store. Ideally you want to find a flat foam padding, or cotton felt. You can always stuff inside the flat felt if it isn't fluffy enough, but you will always have a smooth surface when it comes time to upholster. You do not need an industrial upholstery stapler, but they cost just as much as your basic stapler, (check below for links)  . A t-150 will work just fine, which can be purchased at your local hardware store for 20 dollars.   (I have been using a T-150 for years, and haven't bought a electrical upholtery gun, but after seeing how cheap they are, I might order one!)
When it comes to finishing off your project, I would highly suggest getting nail head trim which you apply with a real nail every 3rd nail head. It gives you a nicer and cleaner appearance, and saves a lot of energy of lining up each nail so it is perfectly straight and in line with the rest. You can buy 30 feet for around the 7-15 dollar mark from Nails to You on ebay.  With that said, you can have your stunning French bed with fractions of the cost of an antique.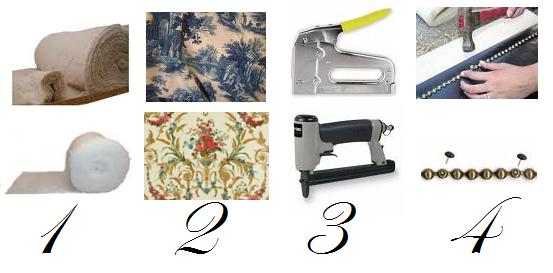 Hitachi N3804AB3 1 1/2-Inch 18-Gauge Narrow Crown Finish Stapler
Surebonder 9600 Pneumatic Fine Wire Staple Gun with Carrying Case
Arrow Fastener T25P Wire Staple Gun

Cotton Batting Medium Grade Roll Natural

Hillman Fasteners 122682 Upholstery Nail (Pack of 6)
Today with the convenience of ebay, you can shop around for antiques from all across the nation (and world) from the comfort of your home. Many antique dealers are now listing their inventory online which has made it easier to locate the antique you are after. With all the antiques in one location and the option of comparison shopping, it has made the prices honest, in addition to healthy competition to get the consumers business. Always go with a seller with a strong reputation of positive feedback. Be sure to get shipping quotes before committing to the bid to buy.