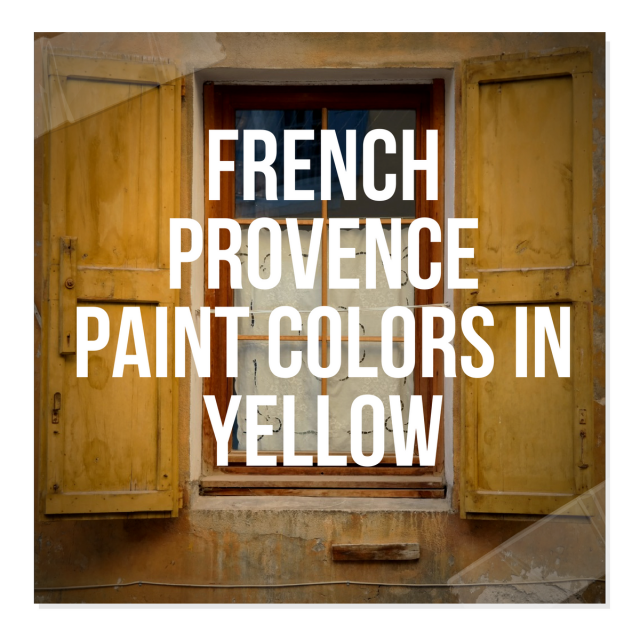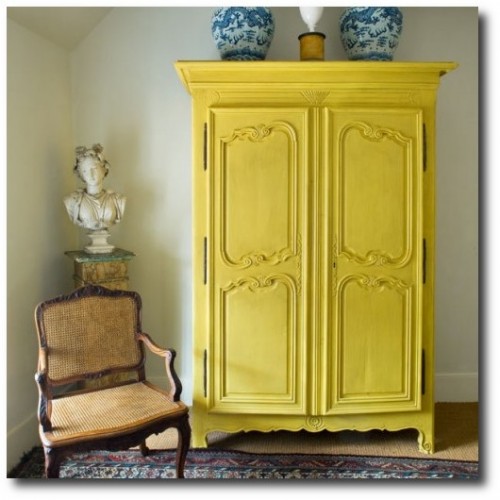 GAP interiors featured Anne Fowler's stunning French styled home who, after five years living in Gers, which is located in the Midi Pyrenees region of France moved back home to Cotswolds UK. Her partner, Alan Lloyd and herself restored a three-storey Cotswold stone building into the home of their dreams. The home which had formerly been a stationery shop became their own oasis.
In one of the bedr00ms sits a painted antique french armoire in a brilliant yellow. Yellow is one of the most popular historical colors that are seen in classic French countryside decorating. All Provencal looks are inspired by the landscape of France, so when you think of decorating;…. think of the middle of summer, and you will always hit the mark.
The people at the time, and still today are captivated by the French countryside, and so much that they want to bring the outdoors inside. Saturated colors such as green, blue, purples and yellow and golds are of Provence taste. Yellow sunflowers, and massive fields of yellow colza flowers are seen in Toulouse, in the south of France must have been what sparked the taste in the yellow paint colors we see all over Provence.
Ochre was a popular coloring in France during the time of the French Empire, and many French citizens living in foreign colonies would import a great deal of ochre clay from France to make their new lands feel like home. Today the color of yellow is still one of the most popular colors to decorate with, along side blue, purple and green.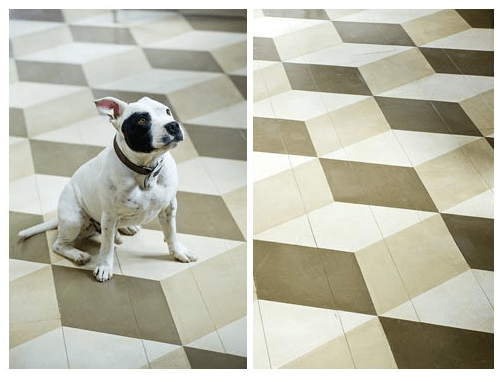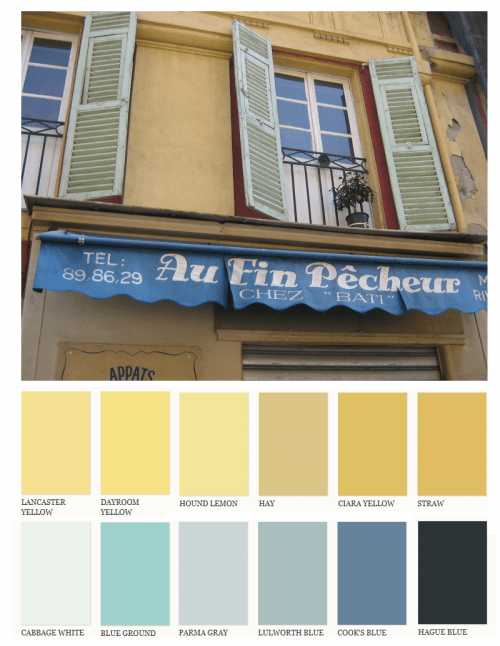 How To Decorate With Yellow:
1. Use Muted Yellows with A Combination of Blues.
Corey Amaro took pictures around Provence, (which she lives) and found many shades of blue and yellow. In this photograph above we find a muted yellow as the base color, with light colored pastel blue shutters and brighter deeper saturated blue found in the awning.
Use a lighter muted yellow on your walls. Choose a dulled down yellow and accent it with mustard yellow. Rusty brown can be used in your hardware, potting containers, and old world rusted out lamps. Use a rusty old urn and feature moss green toned plants for a very old world appearance.
Textured walls with textured plaster often found at your local hardware store will give you the presence of a stone and plaster appearance often seen in France.
Add in the light blue color with your painted furniture, or upholstery. Using the color scheme of the the muted yellow as your base, you can then focus on bringing the the array of muted blues into your home. Base your entire living room set around the lighter shades of blue and perhaps add in a few throw pillows in the brighter saturated ocean blues will give a nice balance to your home. Following the scheme of these three color tones will give a beautiful French Provence look to your home.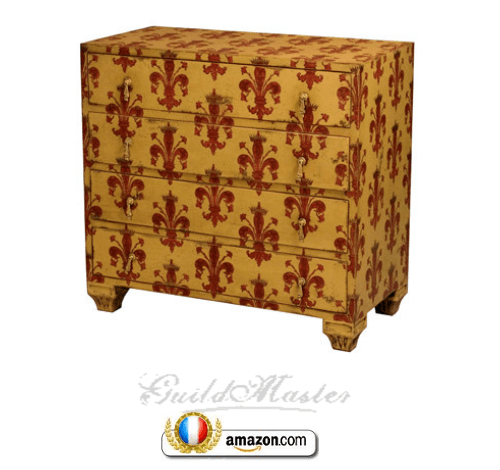 The Parma Chest features a signature acorn with fleur de Lis motif. The overall design features a ochre yellow with woodlands red fleur de Lis motif finished on a four drawer parma chest. The chest also features pendant hardware and measures 33″H x 18″D x 36″W. This chest gives all the looks of classic Provence painted furniture. Guild Master sells it for $1,167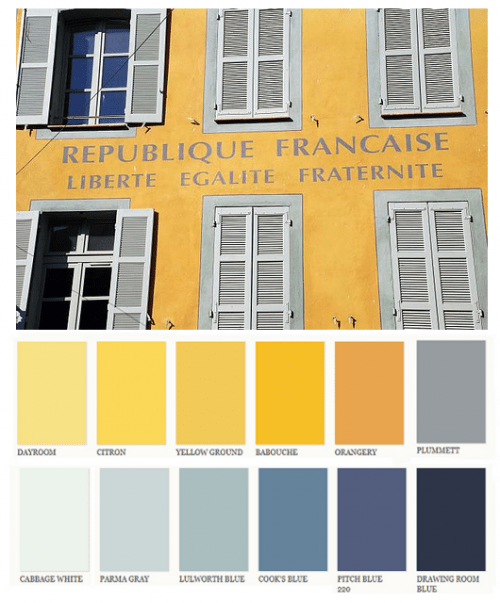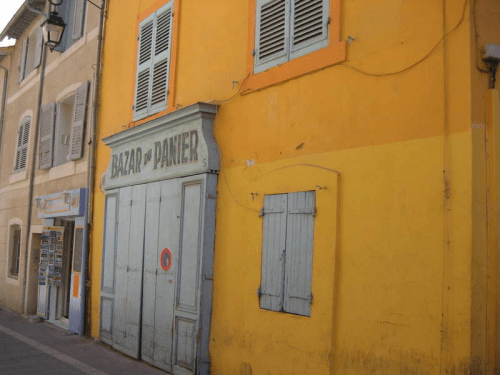 1. Use Brighter Toned Yellows with Muted Blue Accent Colors.
Again in this photograph we see the same color scheme but reversed. Brighter tones of saturated yellows are paired with muted blues. Paint the walls a bright yellow, and add in lighter blue painted french furniture. In this scheme paint colors include light and bright blues, muted greens, true reds and yellows and soft shades of these colors.
-Consider growing bright red poppies in your garden. The garden strawberry was first bred in Brittany, France, in the 1750s. Consider displaying faux strawberries , crab apples or green Grannie apples in apothecary jars.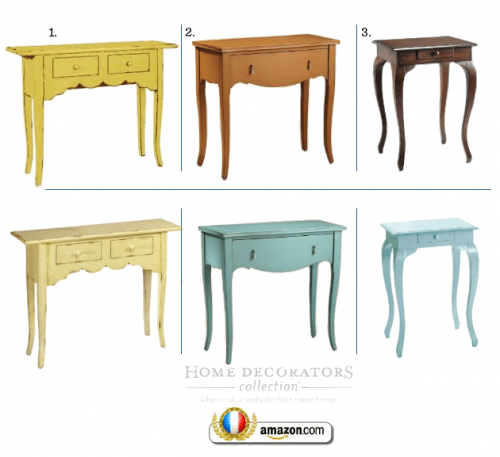 1 Emily Console Table $199– Add French-inspired flair to your home decor with the Emily Console Table. Expertly crafted from wood in an antiqued finish, this no-fuss table features storage and is the perfect way to display your home accents. Crafted of wood for years of lasting beauty.
2 Ashley Painted Console Table $103 Unquestionably stylish, the Ashley Painted Console Table goes hand-in-hand with most all types of furniture. Place the console table behind your sofa with lamps or use it in an entryway to colorfully welcome guests to your home. Available in two colors. Quality construction for long-lasting use and beauty. 32.5″Hx33.5″W
3 .Louisa Accent Table -Take your decor in a fun new direction with the unique styling of the Louisa Complements the French Provence home decor styles. Actual size is 30.25″Hx21.5″W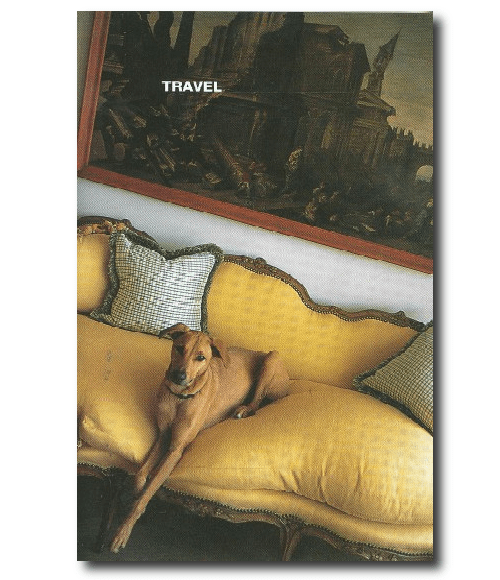 Provence Furniture is often left in its natural state, or painted for a country feel. Provence styled upholstered chairs featured linens and natural comfortable fabrics that you could put your feet up in. Farmhouse tables were functional for preparing dinners and had smooth tops from the years of use. Dining chairs were designed to be beautiful yet functional. Homes had a distressed appearance showing good times over the years.
Provence style is an upscale romantic version of relaxed country living. Furniture is comfortable, and interiors are not stuffy and formal, but relaxed and casual. Furniture that was seen in Versailles was duplicated for the country but in relaxed fabrics.
Collecting Louis XV styled furniture will go a long way to create this look for your home. Seating should be soft and comfortable. While many people opt for plain linen fabrics others invest in the classic floral patterns found in traditional France.
[pdf-embedder url="http://thefrenchprovincialfurniture.com/wp-content/uploads/2012/03/paintedfurnitureonline.com-Canary-and-Mustard-Yellow-Painted-Furniture.pdf" title="paintedfurnitureonline.com-Canary and Mustard Yellow Painted Furniture"]
[pdf-embedder url="http://thefrenchprovincialfurniture.com/wp-content/uploads/2012/03/paintedfurnitureonline.com-Pretty-Pink-And-Yellow-Painted-Furniture.pdf" title="paintedfurnitureonline.com-Pretty Pink And Yellow Painted Furniture"][pdf-embedder url="http://thefrenchprovincialfurniture.com/wp-content/uploads/2012/03/theempirefurniture.com-4-Ways-To-Decorate-Around-Yellow-Interior-Color-Schemes.pdf" title="theempirefurniture.com-4 Ways To Decorate Around Yellow Interior Color Schemes"]
Save