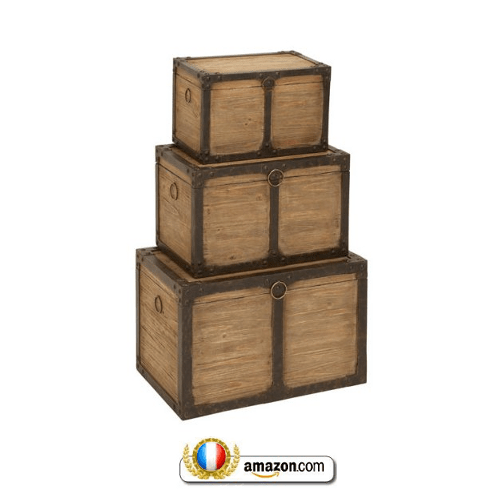 Exclusive Decor sells a set of three beautiful trunks for $179. These trunks look quite a bit more antique than the others. These trunks are made from wood and metal making them more durable. The set of three measure 23″, 19″, 16″W
Don't discount a vintage trunk the next time you run across one in an antique or second hand store. Decorating with trunks presents limitless opportunities around your home.
There has been countless times where I have run across great looking rustic slatted wood trunks with old fashioned leather straps and have regretted not buying them.
Trunks can improve the look in any part of your home. Stack them in your closets, use them in the living room, or in the kids rooms for their toys. Consider even using them out in the garage to store excess tools, improving the look in the garage.
Some trunks are more valuable than others. While some trunks can be found locally for under 20 dollars, others sell for hundreds of dollars.
If you are looking for a special trunk, consider scouting on ebay for something vintage with detail.
Often times these trunks aren't overly expensive. Ebay has a number of spectacular trunks which are very affordable, making it possible to collect a few to stack up tall on a small feature wall.
The brass hardware, and leather straps adds detail to the trunk and is something to look for in a trunk.
Stacking Trunks- Some Ideas For Decorating With Trunks
Many times you can get trunks cheap enough that you can paint the details the color that coordinates with your interior.
Consider a stack of trunks in two tone colors. For Example – consider painting 3 trunks in a blue color range, say peacock, navy, and cobalt blue, and an orange trunk on top to break up the colors. Work with the color wheel to determine the colors.
Consider faux painting your trunks. Buy an overhead projector and copy a pattern on to overhead projector paper and paint on a geometrical pattern that appeals to you.
Make your walk in closet extra grand by setting one aside a wall for a stack of old trunks. They make excellent storage while at the same time looking fabulous.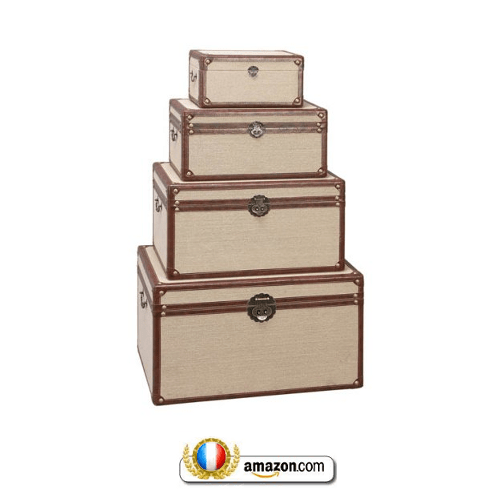 Exclusive Decor sells a very steam lined set of trunks with burlap and leather details. If you are wanting a set of trunks that have classic shape and form without any fussy details, these trunks are for you. Get a set of 8 and stack them to the ceiling. Exclusive sells them for $179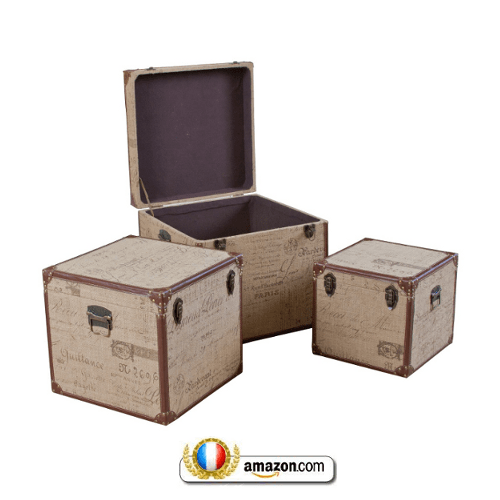 Great Deal Furniture also sells this wonderful set of three decorative trunks. They are also made of a canvas material with decorative printed motifs giving it a very rustic feel. They sell this set of three only for $74.00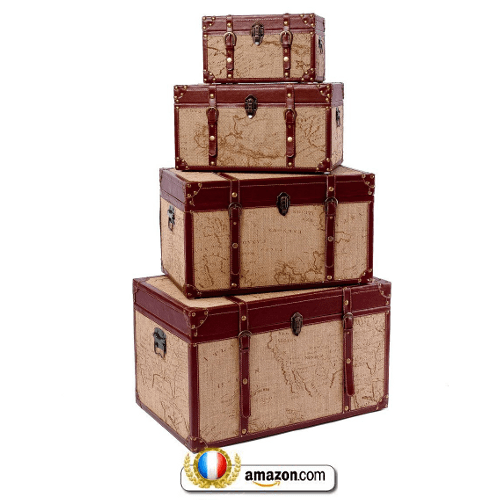 Great Deal Furniture sells a set of four trunks for $115. Their rustic map trunks provide a simple yet stylish solution to storage needs around the house. Accessorize any room with our trunks unique design while providing storage space for any loose items around the house. Each of the four trunk also has easy to open latches and convenient handles for caring.
What makes their trunks so attractive is the red leather material, which adds so much detail to the overall look. The material looks to be a heavy burlap. This trunk is very attractive!
Bombay Jewel sells a set of three decorative storage trunks for $114. These wooden trunks work well as an attractive item in any room of your place. They are not only an ideal storage options but are also perfect to enhance your overall home decor.
hersite.info-How Vintage Waterfall Dressers Could Be Re-Purposed

More Inspiration!
hersite.info-9 Pieces Of Designer Advice On Interiors

More Inspiration!
hersite.info-17 Selections From Eron Johnson Antiques

More Inspiration!
cabinethardwareideas.com-4 Popular Furniture Hardware Styles

Save