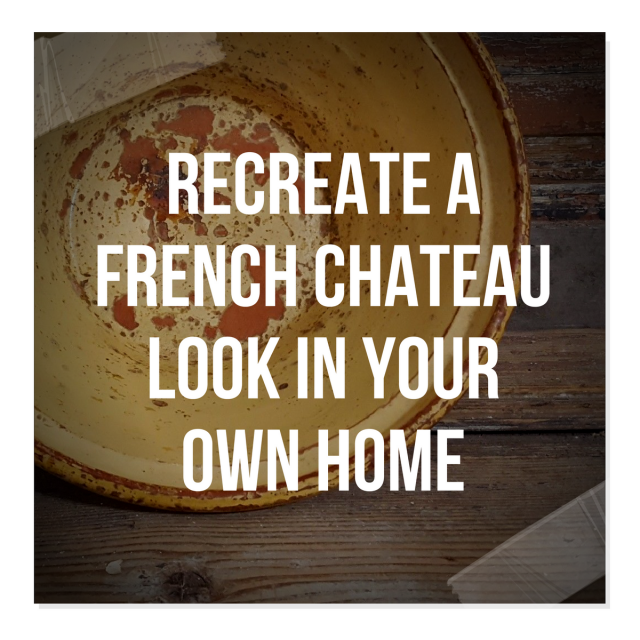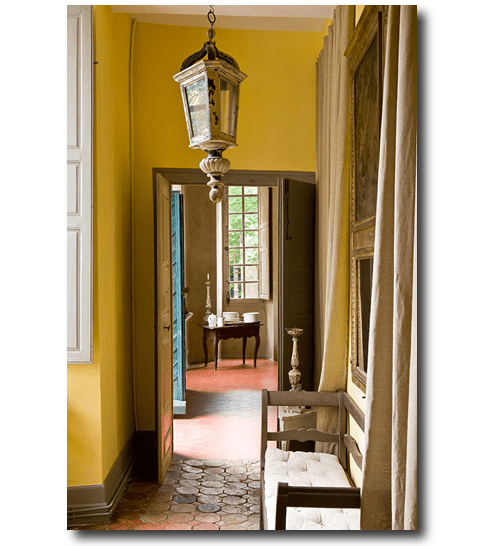 Here we see a new picture of the hallway from a different angle. Bright yellow has always been a staple color for country French decorating. Look how the trim is painted in a greenish gray tone. White is used on the shutters while the walls feature a deep hue of yellow. Linen drapes hang on the wall, where an antique bench sits with a white cushion.
Borrow some of these Provence elements of this home for yourself.
If you are looking for great set of candlesticks, check out Jack's Candle Stands from IMAX.
The candlesticks are made of turned aluminum and finished in black sheen. The candlesticks have a wonderful footed design with incredible shape. The set of three feature graduating sizes, and would look terrific paired together for an impacting statement. The dimensions of the candlesticks are 14-20H x 4.75-5.25D and have been discounted to $96 dollars from $175.
Candlesticks sold in sets should always be positioned together for a dramatic statement. Place them on a bed stand ,console table or any where you need a punch of design. Add ornate candle sticks in your home to get that primitive feel amongst your modern conveniences.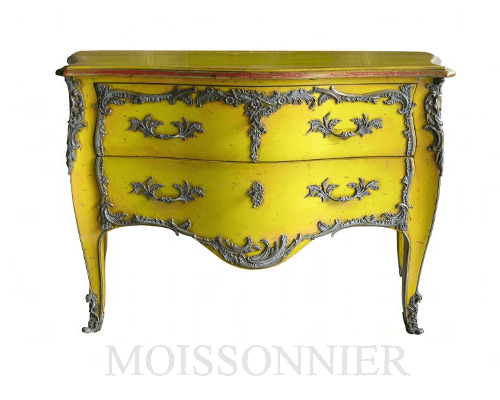 Commode – Moissonnier Furniture
Other Provence Decor Considerations:
-Buy this set for only $90 Dollars! 3Pc finial set – stone grey & gold leaf
-Thus Foreside prosecco pitcher, certainly looks Provincial! By Foreside $34
-Make floral arrangements from this lovely set of three round bowl with Feet – Antique Silver Finish $30. Use it as a candy bowl or to dress up your bathroom. Store soaps or face cloths for guests.
-America Retold sells a set of 6 dish with cloche Set For $87
-America Retold sells this trophy centerpiece perfect for the center of the table.
– Decorate with this lovely planter which features and antique style garden chicken wire cloche for $32
-The Apollo pedestal is a great distressed stand perfect for an over-sized urn. Sit it in front of a mirror or a window or at the end of a hallway. This stand sells for $259
-This Lester Iron Glass Bar Cart is the perfect cart to display your dishware that is too nice to sit behind cabinet doors. Stack your white table ware and wine glasses on for the perfect display of all your silver and glass accessories.
-Buy this Copperplated Revere Bowl for a centerpiece for $53.00
-Currey and Company Provencial White 4 Light Chandelier sells for $985 Currey and Company has a number of alternatives in this same style.
-These dentiled Platinum Chargers have a period flare. This set of 4 sells for $23.60. It is easy to collect, when the price point is so affordable!
-This medium metal cloche makes a great decorating piece for a counter or bathroom bookshelf. It is for sale for $30
-This terrific console table has so much potential. It can be painted and distressed to match your interior. It features terrific detail and is one of the nicest demilunes on Amazon. Universal Lighting And Decor sells this table for $329
-Decorate the outside of your home with this painted old fashioned watering can, sold for $53
-Imax sells this set of 5 candle-holders that have great painted patina for just over $100. Imax also sells this set of 5 candle-holder set in rustic wood for $138. Split them up into different rooms of your home.
-Hang this mini pot holder above your kitchen sink. It has a metal finish, which fits perfectly into the Provincial decorating scheme. It is only $20 dollars
-You will adore this lovely set of mini lion bowls. The set of 6 sells for $10.99
-This topiary two tier large planter is a great planter to line up in a row outside your home. This great planter sells for $40 dollars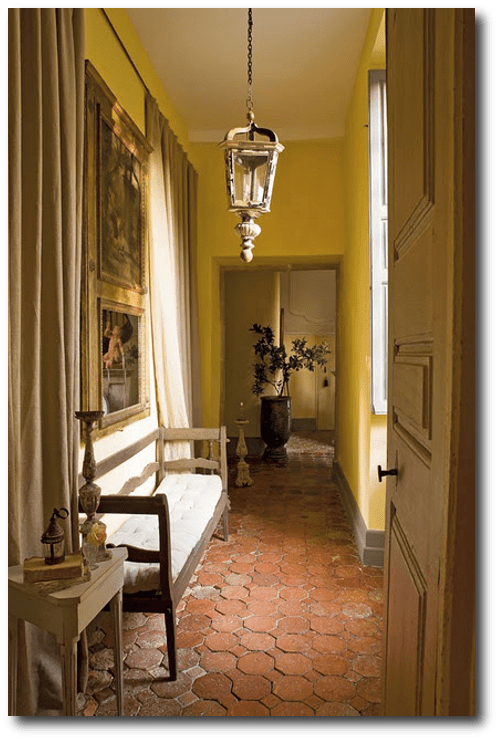 Rustic Provence Decorating Ideas- Mr Aurélien Deleuze and his wife, Pascale Own This Captivating Chateau in France
In this photograph, you can see a closer look at the Pavé French terra cotta tile floors with a distinct classic Provencal appearance. Pave Tile Blog, located in Massachusetts, were the first to develop old world French and Italian terracotta tile flooring collections from old world designs. It is surprising to know that the natural color of fired terra cottta is not naturally brown. Brown terra cotta tile is usually a result after a treatment of either wax, oil or stain.
They mention that many Americans are very predictable, when they order stone flooring. They often stick to a neutral range of beige, cream and gray colors, while Europeans fully embrace the rich earthy colors.
Why is that?
America is a very young country, and much of our architecture is fairly new. This can be said for most of the country, with exception the east coast where the earliest settled areas have a primitive British colonial heritage with respect to architecture and decorating.
Compare that to Europe. Europe is much older and the architecture can be seen as very colorful and vibrant. I have a passion for Swedish interiors particularly because of the painted finishes. This pinterest board has over 100 pins of different painted buildings featuring the most beautiful period colors. Take for example Switzerland, which borders France is rich in color. In this picture you have roof tops with hues of red, and lovely tones of yellow. In this picture of Austria, you see brighter tones of red, and light power blue in the architecture.
It can be said that when a culture is surrounded by strong colors, they also feel comfortable decorating around those same tones. People who lived in the countryside of France often decorated with the colors they saw in their backyard. Yellow sunflowers, purple Lilac, and the greenery were tones they felt inspired by.
I believe the reason why the western culture chooses more earth tones is the architecture is based around the same color ranges. If you look anywhere in America, the color palette is pretty modern. Concrete roads are gray and beige and architecture is modern rather than antique which you see in Europe. As a person ventures into the country, more painted homes appear in various shades.
See additional photos at Gilles Trillard's Website , Property's website: Magie des Lieux. If you like this article, please leave a comment, and pin it on facebook and pinterest, and come again!
How To Recreate A 17th Century French Provence Chateau Look In Your Own Home – Part 3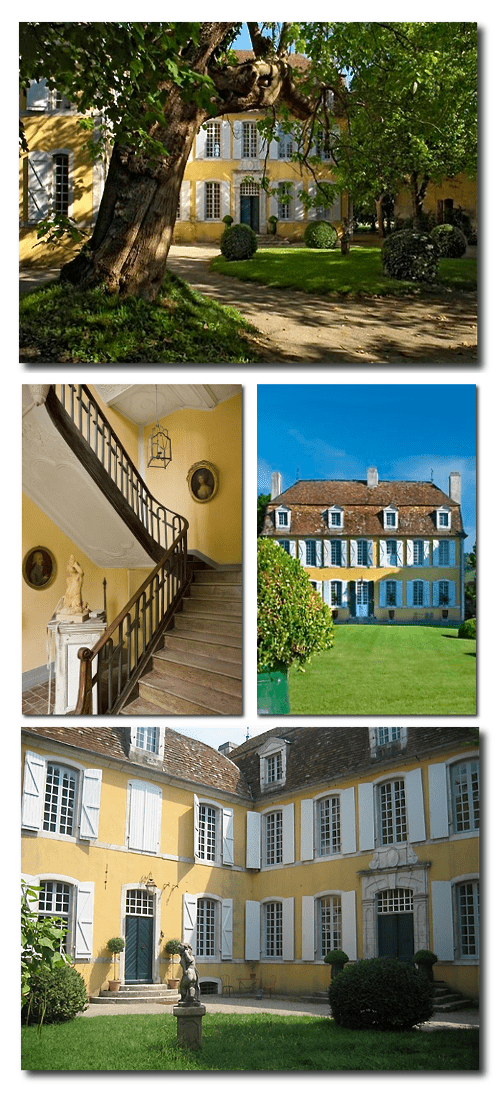 Save