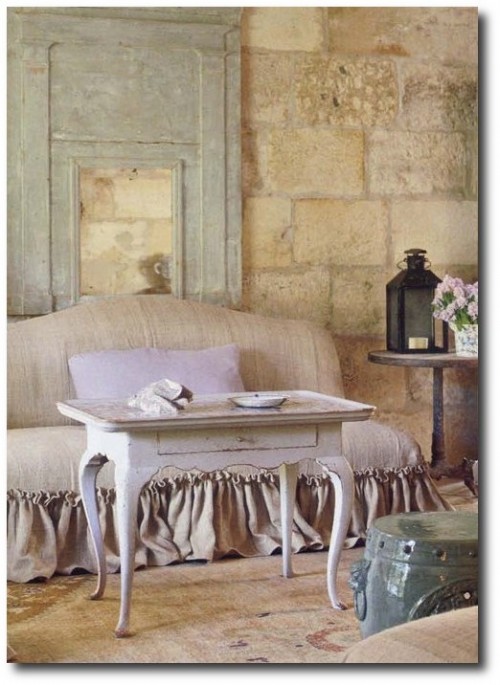 Pam Pierce has single-handedly brought back the popularity of slipcovers, as her interiors bring forth the charm of the old world European interiors to center stage once again. Slipcovers have always played a key role in her interior designs. Linen ruffles and gatherings in dark olive, and oatmeal are paired with stone floors, re-claimed wood tables, white washed wood furniture, and time aged painted decor. Pierce tends to use natural materials like stucco, limestone, reclaimed beams, and sea-grass to create a sense of warmth and history. Her designs also incorporate architectural salvage such as reclaimed antique doors, and iron to create an aged European feel.
Decorators and homeowners have realized the possibilities that slipcovers offer a home. Slip-covers are not only decorative, but practical. At one time, slipcovers served the means of protecting upholstered furniture from the dust of summer months, although they have evolved over the years, from just large sheets which covered furniture, to be tailored to fit the shape of sofas and chairs, even having decorative pleating, ruffles and embroidery.
3 Ways To Borrow Pam Pierce's Slipcover Looks:
1. Use The Same Material On All Of Your Furniture
Get the look of a set for less, by slip-covering all of your furniture in the room with the same material. Unite several pieces of furniture out of the same bolt of material. Buying matching sets of vintage or antique furniture can be rare and costly. Create the look of a set by using the same material on all the pieces. Create drapery out of the same material to unite the room. Several ebay sellers offer bolts of fabric, which can be shipped to your home without having to drive from store to store.
2. Choose Natural Fabrics
Heavy linen, and cotton canvas have been popular as natural slipcover choices. French tickings can give a natural look, while at the same time, isn't plain to look at. Consider using unbleached muslin, which can be dyed in soft shades of blue, green, or yellow. Gingham, simple checks and stripes lend a sophisticated touch to a Provence styled home. Stripes, patterns, florals hide dirt well, and are easier to launder. Checks, stripes and florals work hand in hand. Consider using 2 or three fabrics together in a room to create interest.
3. Go The Extra Mile With Detailed Slipcovers
Gathers, and wide flat box-pleats add interest to the bottom of slipcovers. These details can be used just below the seat of the chair, on a line with the seat frame. This style works particularly well with French chairs, as the legs themselves are decorative in themselves that they do not need to be concealed. Consider pairing down the accessories and furniture in your room, and opt for longer gathers, which puddle on the floor. Work this idea in larger rooms, where the furniture itself is the main focal point.
Additional Links:
– Drop Cloth Slip Cover Tutorial-beneathmyheart.net
-How To Make A Club Chair Slipcover- lisaroy.ca
-DIY Ottoman Slip Cover-dittledattle.blogspot.com
-How To Sew Double Cord Welting –littlegreennotebook.blogspot.com
-Upholstery Adhesive – Beacon Magna-Tac 809 –littlegreennotebook.blogspot.com
-How to Make a Sofa Slipcover- makethingsforhome.blogspot.com
-How To Bleach Drop Cloth- myjoyinthejourney.blogspot.com
-Slip Cover Tutorial – 6 Part Video Series- missmustardseed.com
-How To Make A Chair Slipcover- honeybearlane.com
-Wing Back Slipcover- thebrickpathstudio.blogspot.com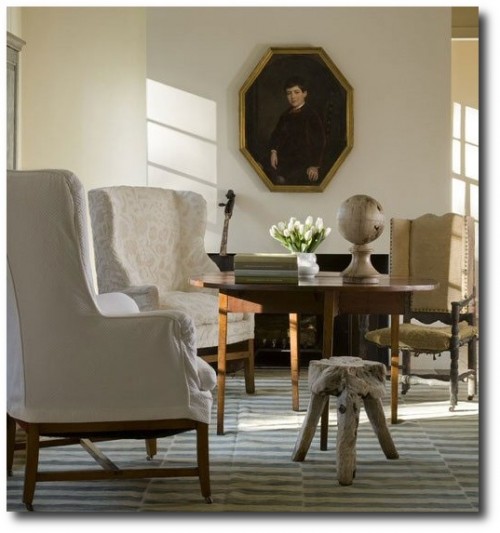 Save