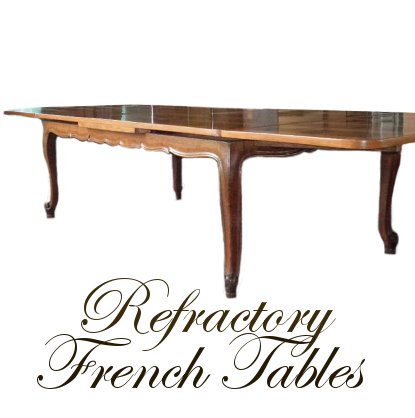 Some of the most rare french provincial tables are the refractory French Provincial leaf tables.
They are quite uncommon and innovative in their design, but hardly new.
Some of the earliest examples of refractory tables date back to 1600.  Refractory tables have leaves hidden under the table and when pulled out, rise to the existing table top.  In some designs, both leaves meet in the center of the table and can be flipped over which serve as the leaves.
Refractory leaf tables are often seen as an extra thick table top, in comparison to the tables with removable leaves which involve physically pulling the apart the table from each end.
These tables have additional leaves apart from the table and require manually inserting the table leaves into the middle section to extend the table.
Over the years of reselling vintage french provincial tables, I rarely came across a french table which still had the original leaves.  Most people over the years have forgotten to donate the leaves, or somehow the leaves were misplaced as they moved from one house to the next.  One advantage of a refractory french table is the physical table has the leaves already in place. This beautiful design is rare in a french style, and simply one of the most stunning designs that are available.