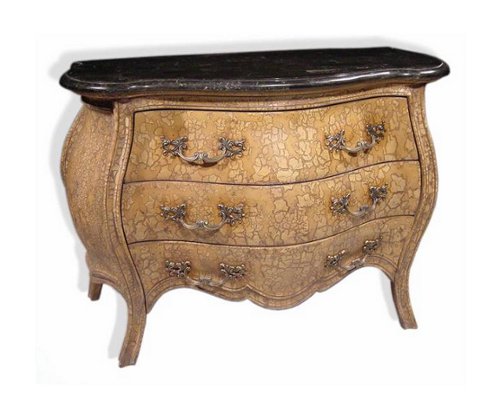 Many people love aged furniture finishes which are often naturally changed from ever changing weather exposure, and distressed from being handled over time.
Finding the just right furniture style with naturally worn paint can be next to impossible.  There are a number of faux finishes that can give the look of a naturally aged appearance; one of those being crackle paint.  You can take an ordinary piece of furniture and transform it with a few faux painting techniques that could give the beauty of a genuine antique.
The number one mistake most people make when using crackle paint is ONLY using the crackle finish without pairing it with other faux painting technique such as glazing and distressing.
This beautiful bombe crackle finished chest is from Interiors Online.  As you can see this mastered finish has glazing around the handles which highlights an aged appearance.  Look at the overall base color and crackle color.  They are almost identical, which is truly the best way to crackle finish a piece of furniture.  Add on top of that glazed oil paint  was added to highlight the beauty of the curvature of this fine bombe style.
Another huge mistake is using a modern colored paint such as white, crackling the piece of furniture, and calling it done.  Brightly colored white paint is a dead give away that the piece has been newly painted, and is not an old piece.
Crackle should only be combined with antiques, (OR an antique style, either color or shape)  if you are going after a genuine look.  Crackle paint should always be combined with a off-white, a beige, gray or a color which is a historical paint color, and then dulled by either brown stain (Minwax Polyshade in Antique Walnut), or brown glaze  (brown paint mixed with glaze) to give it a slightly used aged look.   Do NOT use a metallic glaze.  Metallic glaze is another dead give away it is newly finished, and fantasy than antique.
Another mistake is using crackle all over the piece of furniture, (unless you are a professional and are skilled at combining other techniques).  I have made this mistake and the finish turns out quite messy and lumpy.
Crackle paint is sometimes very hard to paint over because it can lump together in the process.  Going back over the finish messes up the chemical process of crackling that often times less crackle is more in the long run.
Crackling an entire dresser can give a very busy appearance.  Try a number of pieces before using crackle over an entire piece. I would highly suggest going over your finish with the same overall color in some areas to make it less busy, and adding a glaze or a brown stain which will highlight the crackle in a subdue way.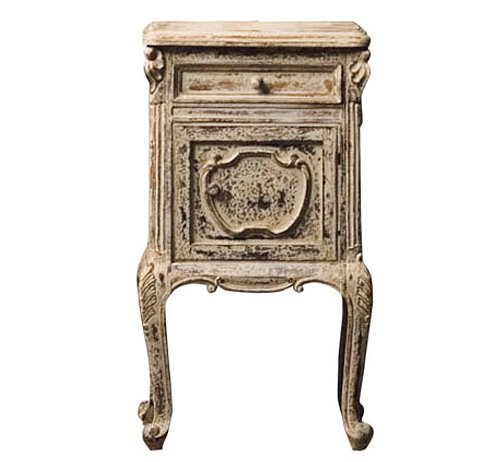 Vagabond Vintage From Mothology.com Featured in Home Beautiful
The beauty of a crackle finish is that it can conceal problem areas.  If you're considering stripping a piece of furniture down to it's original wood finish, you could consider sanding it quite well, and crackling in the problem areas.
A) Before painting, be sure to sand your french provincial furniture.  If you have a natural wood french provincial dresser you may want to sand it well, and not prime it.  After the crackle finish has dried you can distress it, and then move on to glazing the entire piece.
B) If you have an already white french provincial dresser, prime it first using an oil based primer, such as Rustoleum's Black or Brown flat Oil based paint.
Techique 1- Using Regular Glue.
Step 1- Sand your furniture, (prime if necessary) and apply your base coat.  (Your (water based) base coat of  paint will be the color that shows through your crackle finish)
Step 2- Once your base coat is dry, apply a semi thick layer of Elmers glue.  You can dilute the glue to make it easier to work.  Let the glue dry almost all the way, then apply your top paint color which is mixed with Elmers glue.  The paint ratio to glue should be 2 to 1.  2 cups of paint to 1 cup of glue.  Let the paint dry, and within 48 hours you should have a beautiful crackle finish.
Another variation of this finish is to paint a base coat, let it dry, paint on glue, and let it dry until it is tacky, (more than 1 hour, but not more than 2 or 3) and paint on your top coat.  If it doesn't crackle, the glue is too dry.
Several tips I have used:
– Use a brush, not a roller to apply the glue
– Applying the glue thick than thin, which gives a better crackled appearance.  Experiment with more glue which is supposed to produce wider cracks.
-When painting the glue, use random brush strokes so the cracks don't come out in the same direction.
– Try not to work on vertical finishes.  Turn your furniture piece over one step at a time and apply the glue and let it dry.  This technique can be time consuming, but worth the trouble to get an even finish.  Working on vertical surfaces can cause the glue to run together in a gloppy mess.
Technique 2- Porcelain Crackle Glaze
Porcelain crackle glaze is a bit different. Porcelain crackle is supposed to replicate old china which has aged over time.  Ideally this finish looks the nicest on vases, lamps and statues which would be made of porcelain.
The first coat is painted, crackle is applied, and dried, and glaze is then rubbed onto the finish revealing the very small cracked details.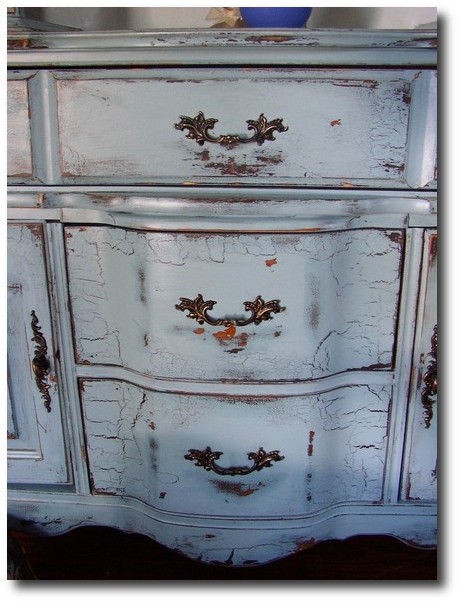 This amazingly charming BASSETT french country buffet available from Artisan8 on esty comes with a detatchable hutch.   Hand-crafted distressed look  involving a 6-layer paint application for a one-of-a-kind piece. Architecturally detailed and slightly elevated by four french-styled legs.