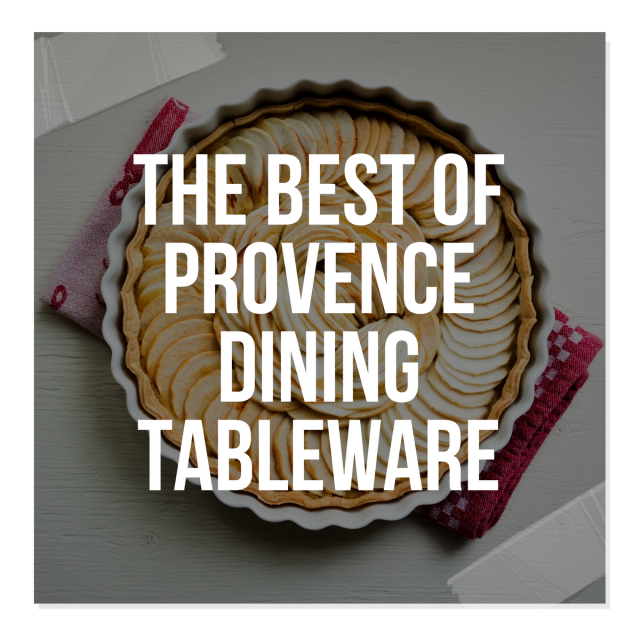 Grange is known for their hand-finished furniture, which is also available in a range of colours which reflects the Provence style.
France is the world's number one tourist destination, and known to be one of the most beautiful places of the world. One of the most visited regions is the area of southeast France known as Provence. The south of France region of Provence is internationally renowned for its scenery, artists, and beautiful architecture showing a colorful history.
Provence has been known for its renowned for its herbs and its aromas. Some of the best soaps, and beauty products come from France. In the springtime, the countryside releases the fragrances of thyme, rosemary and lavender. In the spring the apple and cherry trees are in full bloom, while in the autumn, the grape harvest is underway and the vines are just beginning to take on their fall colors.
Among the beauty of France, and unique boutiques that offer endless shopping, France is known for their cuisine. Herbs, Garlic, olives and fresh garden vegetables serve the base of many flavorsome dishes offered in the south of France. During any time of the year you can enjoy gourmet food and fine wines which the region of Provence France is well known for. Encounter a wide range of restaurants in the region, ranging from sidewalk cafes to award winning cuisine level of dining.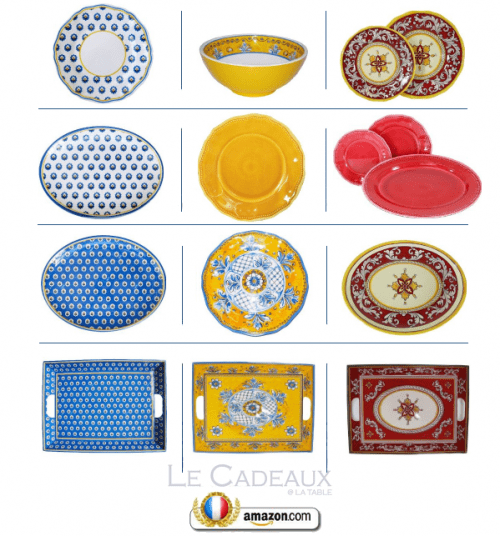 Pick from a number of different Provence sets from the acclaimed Le Cadeaux brand known for their colorful patterns that have a distinct old world French style.
Column 1
1. Le Cadeaux Fleur de Provence 16pc Set–8 salad + 8 dinner plates $209
2.Le Cadeaux Fleur de Provence Blue 12InchPlatter $16.99
3.Le Cadeaux Fleur de Provence Blue Background 12InchPlatter $24.99
4.Le Cadeaux Fleur de Provence Tray $34.99
Le Cadeaux Fleur de Provence Blue 16 Piece Set $209
12 Piece Le Cadeaux Break Resistant Drinkware Serving Set, Blue $89
Column 2
1.Benidorm – Le Cadeaux Melamine Cereal Bowl $12.49
2.Benidorm – Le Cadeaux Melamine Solid Plate Set of 4 $61.99
3.Benidorm – Le Cadeaux 16pc Set-8 salad + 8 dinner plates $209
4.Benidorm – Le Cadeaux Dinnerware Tray $34.99
Benidorm – Le Cadeaux Melamine Clip Set $32.99
Benidorm – Le Cadeaux Melamine Salad Bowl $28.99
Column 3
1.Malaga Red – Le Cadeaux Dinnerware 16pc Set-8 salad + 8 dinner plates $209
2.Malaga Red – Le Cadeaux Dinnerware 12InchPlatter $16.99
3.Le Cadeaux Triple Weight 9 Piece Dinnerware Set, Solid RED $149
4.Malaga Red – Le Cadeaux Dinnerware Tray $34.99
12 Piece Le Cadeaux Break Resistant Drinkware Serving Set, Red $89
Malaga Red – Le Cadeaux Dinnerware Cereal Bowl $12.99
Le Cadeaux Triple Weight 9 Piece Dinnerware Set, Solid Green $149
Drink Ware Sets:
1.12 Piece Le Cadeaux Break Resistant Drinkware Serving Set, $89
2.12 Piece Le Cadeaux Break Resistant Drinkware Serving Set, Yellow $89
3 12 Piece Le Cadeaux Break Resistant Drinkware Serving Set, $89
[pdf-embedder url="http://thefrenchprovincialfurniture.com/wp-content/uploads/2012/03/hersite.info-One-Book-I-Cannot-Do-Without-Katrin-Cargill-On-HOW-To-Sew-Slipcovers-And-Drapery.pdf" title="hersite.info-One Book I Cannot Do Without- Katrin Cargill On HOW To Sew Slipcovers And Drapery"][pdf-embedder url="http://thefrenchprovincialfurniture.com/wp-content/uploads/2012/03/hersite.info-How-To-Pull-Off-Axel-Vervoordts-Spectacular-Porcelain-Room-For-Your-Home-1.pdf" title="hersite.info-How To Pull Off Axel Vervoordts Spectacular Porcelain Room For Your Home (1)"][pdf-embedder url="http://thefrenchprovincialfurniture.com/wp-content/uploads/2012/03/thewhitedresser.com-White-Home-Decorated-With-Antiques.pdf" title="thewhitedresser.com-White Home Decorated With Antiques"]
Save