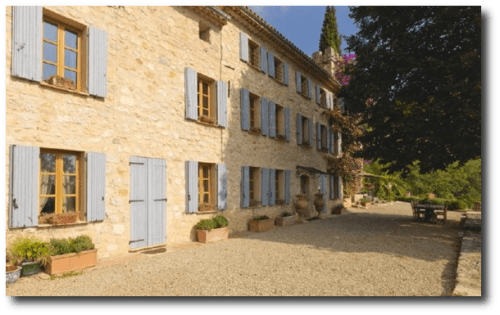 The current owner of this castle must sell as he is moving to Hong Kong. Just five years ago, he found the property in terrible shape, fell in love with it, and painstakingly restored it back to its previous glory. All five bedroom suites, several living rooms feature working fireplaces, a study, and hobby room are all in pristine condition. The owner even used reclaimed materials from other French chateaux to be sure that no "foreign" or inappropriate materials interfered with the building's integrity.
The property even has modern luxuries such as a pool and pool house. In addition a wine cellar, caretaker's cottage and parking for ten cars makes this property an interesting business investment. The original castle dates back to the early 18th century but its gardens surrounded by olive and fruit trees and rose bushes.
The price is €5,900,000. Details at estatenetfrance.com.
About Le Bar-sur-Loup
Le Bar-sur-Loup (City of Oranges) is an enchanting old village which is restored with the old houses clustered around the 13th-century chàteau and church in the center. The narrow village streets below the chàteau are still very medieval, with many covered passages ("abris") where houses now fill the space above the streets.
The Château (which is privately owned and cannot be visited) was probably built from the 10th-13th centuries. The present construction is from the 14th-16th centuries, although it was pillaged and partially burned in 1792.
Save