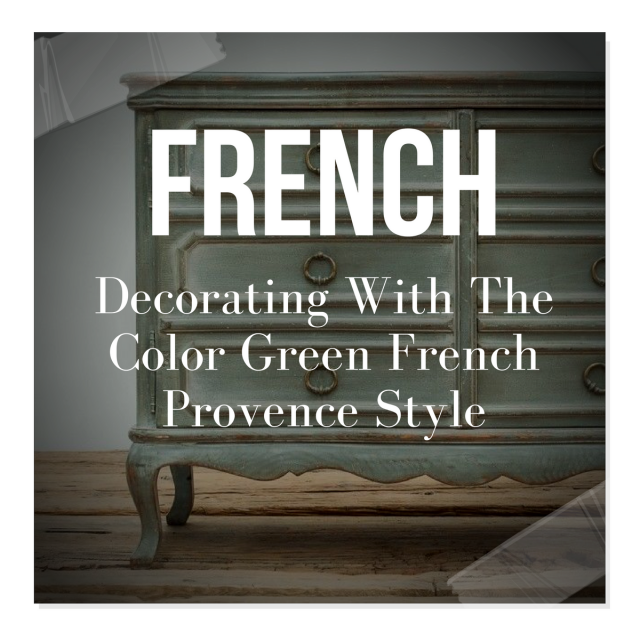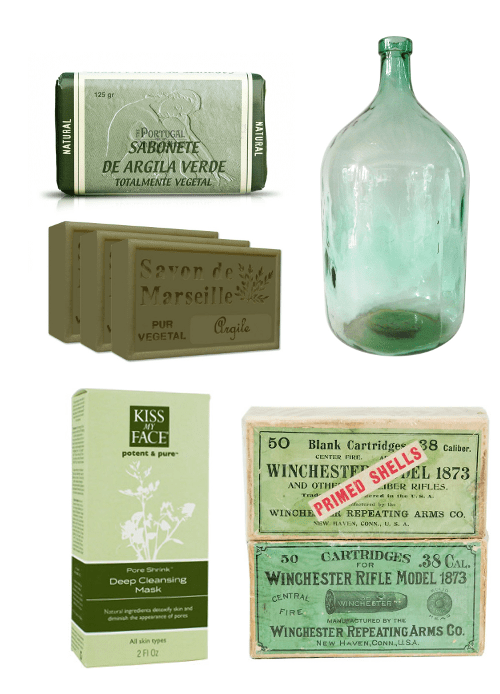 Color Inspiration from here, , here, here, and here
There are so many ways to decorate with green, where do you start?   One starting point is to find a shade that you love.   Borrow color combination ideas from vintage packaging.  French packaging often pairs together colors that just work with one another.
Here are just a few of the colors that are found in France……
– Artichoke – the color of fresh uncooked artichoke.
– Fern Green is a vivid shade of green that resembles ferns. Fern green was used in 1902.
–Laurel green is a medium light hue of greenish gray, first used as a color in 1705.
–Myrtle green, represents the color of the leaves of the Myrtle plant, first used as a color in 1835
–Teal is a dark cyan color that is seen on the neck of a duck.  – Colors From Wikipedia
How To Decorate With Shades of Green
– Add In Green Foliage – Don't forget the blossoms, says Nicole Sforza. "Consider green (or greenish) flowers. Forsythia branches, which bloom yellow before sprouting bright green leaves, look great on the console. The Billy buttons, arranged in a light green vase on the table, can last up to two weeks. Also try Lenten roses, which have soft green flowers and foliage." Real Simple Magazine
– Use Muted Shades of Green– In this link, Martha Stewart shows off 24 of the best rooms decorated around green that were originally featured in her magazines over the years.  In all the pictures, one common trait exists, – she uses old world colors that are muted.
– Pair Natural Wood With Lighter Blues and Green Painted Walls Natural Wood Tones– Stephanie Hoppen says "sandy beiges, and limewash finishes balance barely-there blue rooms. And don't forget about paint finishes. Chalky flat finishes are warm, while shiny blues will give a bit of a chill"
– Use Muted Softer Colors In Main Rooms, And Brighter Ones In Less Used Rooms– Sasha Emerson, an interior designer says  "When choosing a blue hue, consider how often you're in the room. For example, don't choose a very bold blue for a living room — you might tire of the color. Save it for a den or a playroom and pick a more serene tone for central living spaces"
– Cooler Tones Can Work With Glass or Mirrors -Stephanie Hoppen says "Frosty blues are elegant with soft creams and shiny accents such as glass. Take the chill off icy colors by teaming them with warm browns, reds, or oranges"
– Pair Jewel Tones Together -Jennifer Flanders says, "The color emerald is synonymous with wealth, prosperity and luxury, so I think it naturally works with other colors that evoke the same air of richness and elegance.  Many other jewel tones mix well with emerald green, but in particular I love this color with deep blues and shimmery golds."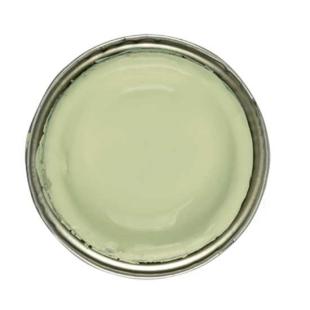 Color Combinations- Real Simple Magazine gives us 4 color combinations.
Pair together moss green and soft blue.  Think about colors that play off nature.  The soft colors found in trees, and sky.  You can go bolder with both colors, or really soft subtle shades in the ligher hues.
Sea Foam Green and Chocolate.  Think about darker floors, with painted green distressed furniture.  Chocolate walls, with lighter green accessories.  Sea-foam wall colors, with darker rustic WOOD accessories.
Consider the classic Rugby- Kelly green and bright white. Go for a bit of a bold contrast with the brilliant Kelly green and white as an accent.
Pair together lime green and soft pink.  These two colors can give a soft appearance.  Consider filling an over-sized glass vase with pink cherry blossoms.
 Home Beautiful's Color Selections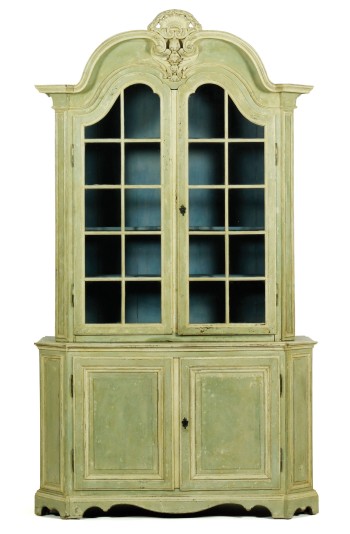 The Oprah Winfrey Collection
Check out my favorite pieces from Oprah's collection here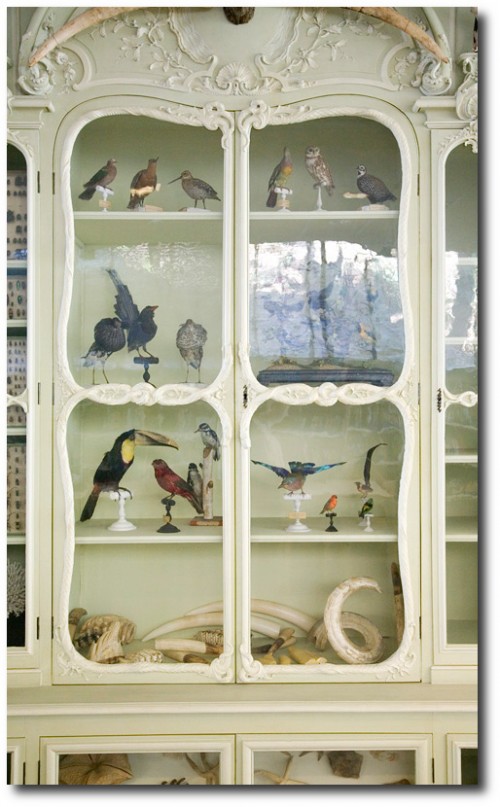 Cabinet Bonnier de La Mosson
Joseph Bonnier de la Mosson (1702 – 1744), was a French aristocrat who loved science and began collecting exotic insects, snakes, shells and birds. These wooden cases were acquired in 1744 when they were auctioned off following the death of Joseph Bonnier de la Maison, whom was an extremely knowledgeable amateur scientist and connoisseur of art.
They were installed in the King's Garden Room. Inside these five units made from Dutch wood decorated with serpents a collection of preserved ["dried"] animals. In 1935, the cabinets were disassembled, and were installed permanently in the the Museum of Natural History in the Jardin des Plantes central library in 1979. They are considered an "Historic Monument."
Borrow this look for yourself, by painting your French furniture a muted shade of light green, and use a shade of white paint to bring out the carved features in your french furniture….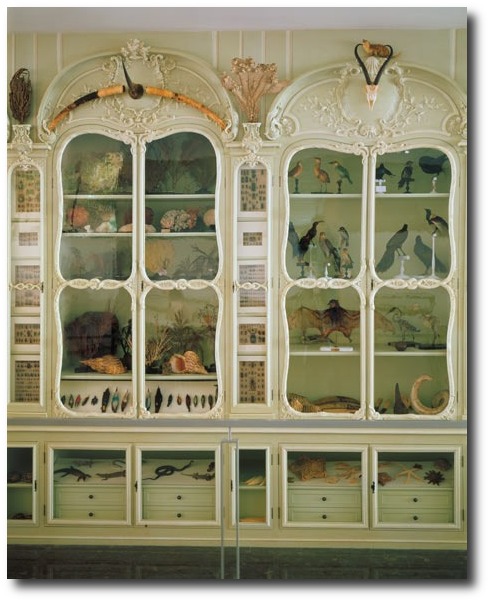 Cabinet Bonnier de La Mosson Source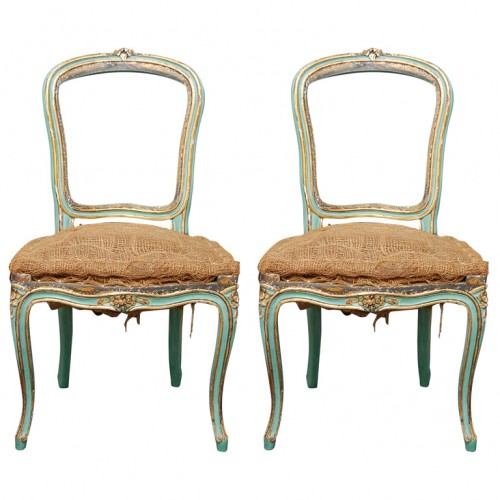 Pair of Turquoise Louis XV Chairs Timothy Corrigan Antiques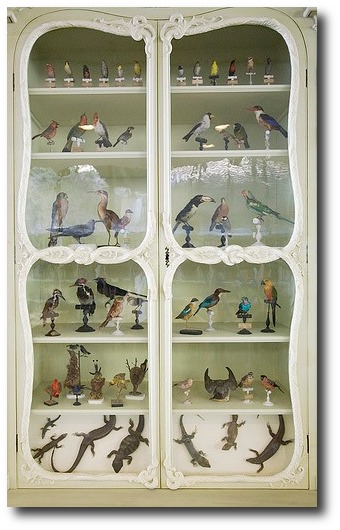 Cabinet Bonnier de La Mosson Source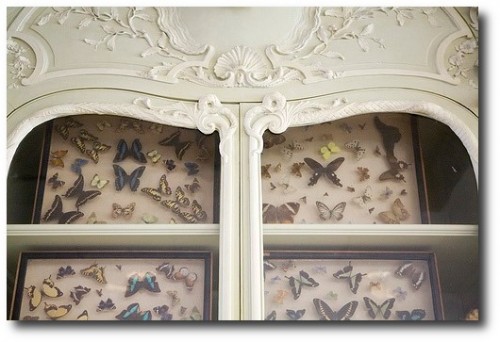 Cabinet Bonnier de La Mosson Source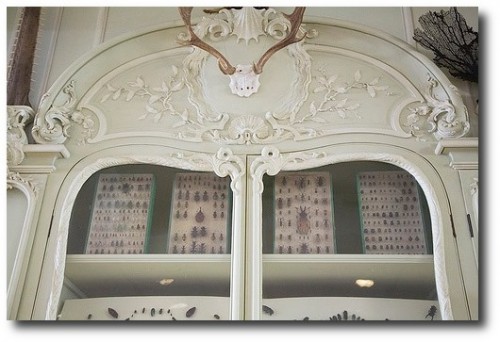 Cabinet Bonnier de La Mosson Source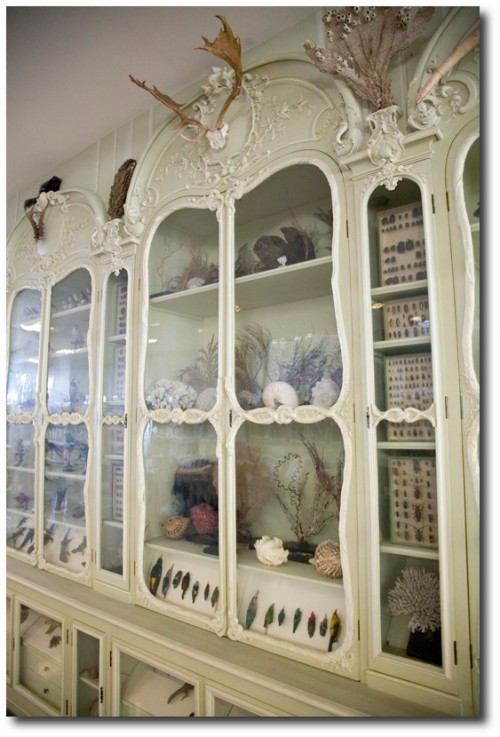 Cabinet Bonnier de La Mosson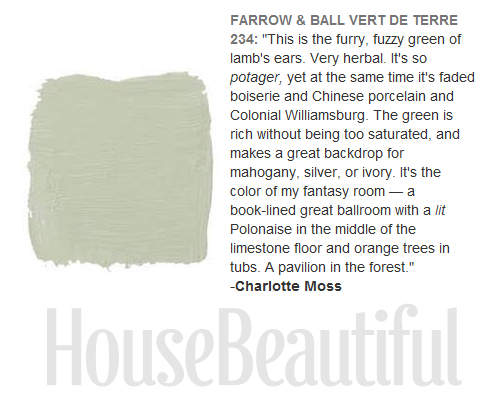 Home Beautiful's Color Selections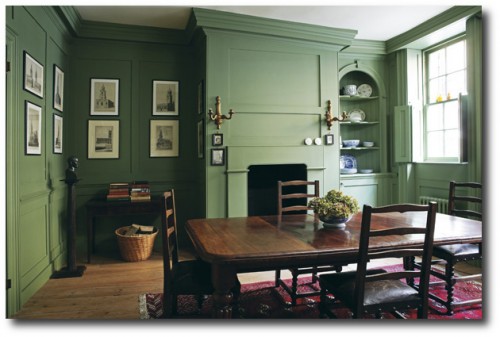 Farrow & Ball: Calke Green on walls.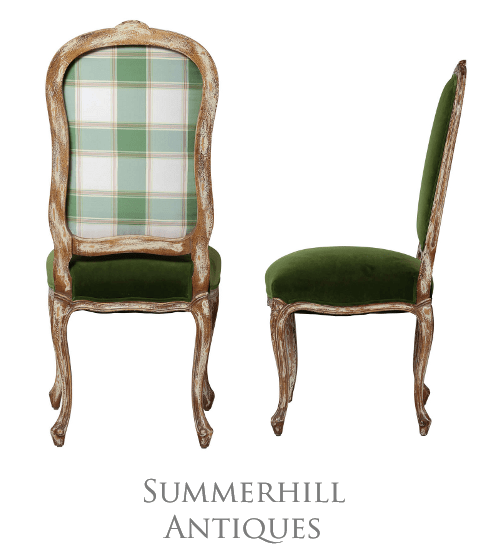 Late 1800s carved wood frame Louis XV style chairs. Remnants of old paint showing distressed wood finish. Newly upholstered in sage green velvet backed in silk taffeta. Summerhill Antiques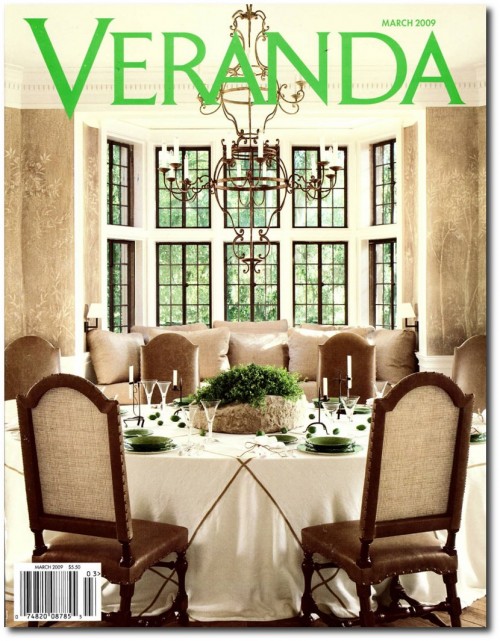 Veranda Magazine, March 2009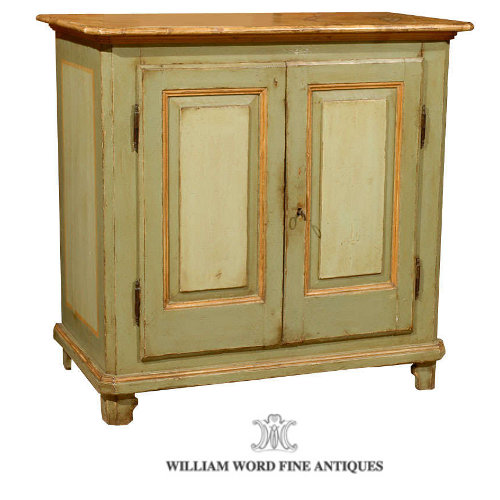 French Green Painted Buffet- William Word Fine Antiques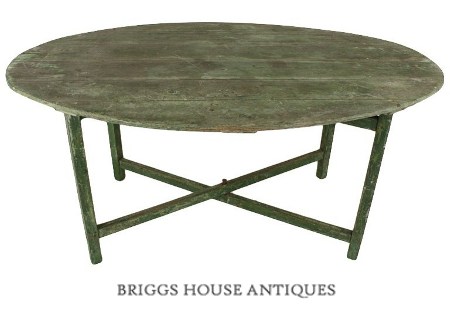 Delightful, lots of old green paint still showing, this oval table is for an upscale country house, makes a great breakfast or lunch table. Briggs House Antiques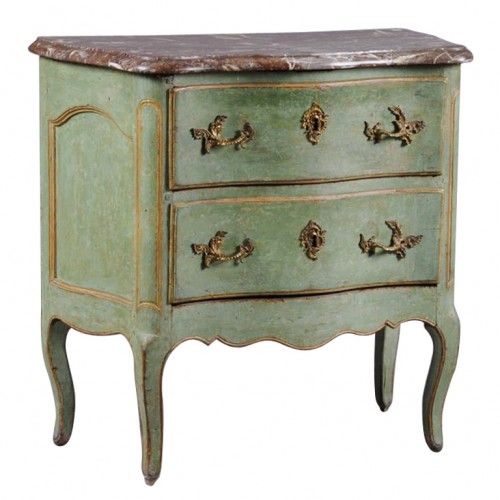 A Fine Louis XV Painted and Parcel-Gilt Commode Bermingham and Co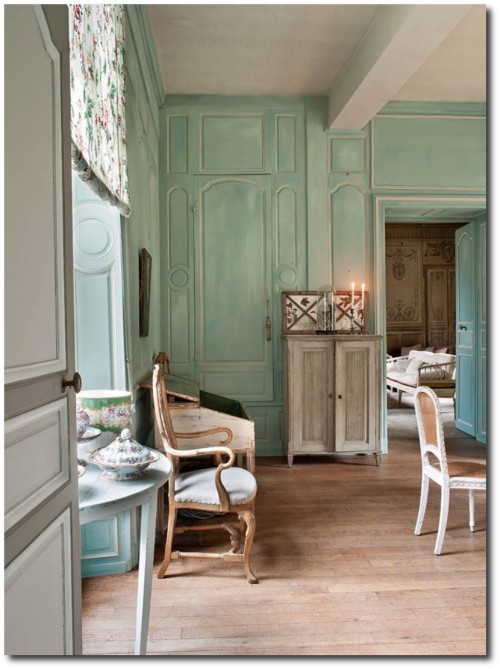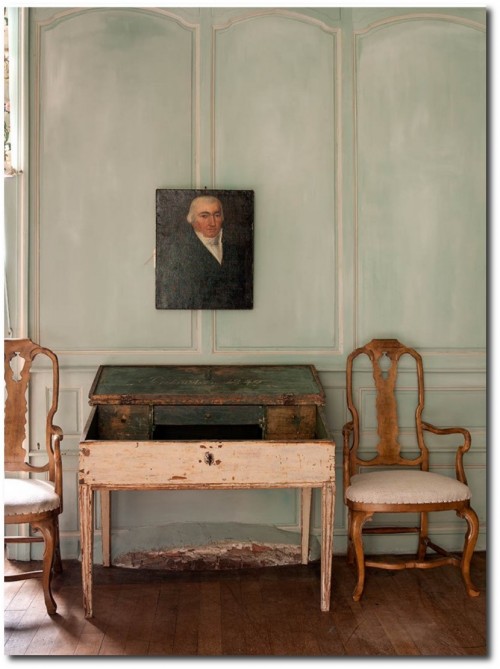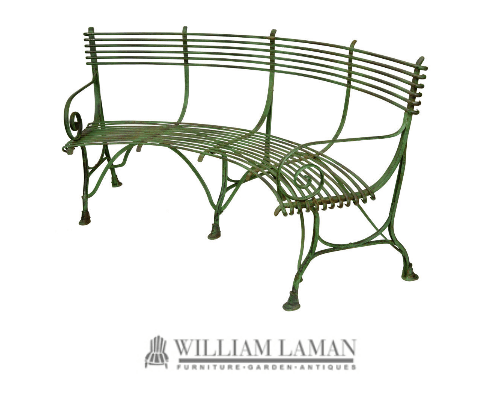 Curved French Garden Bench – William Laman Furniture.Garden.Antiques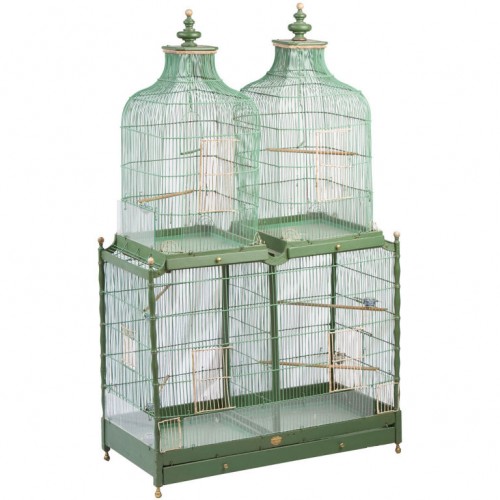 Large French 19th Century Wire Birdcage. George Subkoff Antiques, Inc.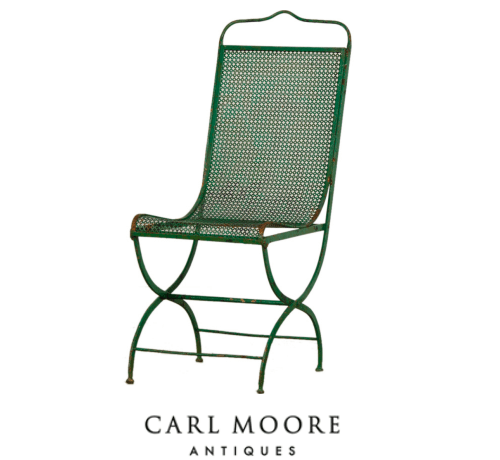 "A vibrant green sheet iron garden chair from the Belle Epoque period in France c.1890. The beautiful iron frame has a curvaceous profile from any angle as it was designed to be seen from any direction when placed on a terrace or in a garden. Please look at the solid iron that makes up the entire frame and the contrast with the perforated sheet iron that stretches between the frame to make the seat and back. Because this chair was made to be outside it was important that the flat surfaces be pierced to enable water to run off easily. The pattern of the perforation is a symmetrical arrangement of four leaf clovers interspersed with circles. This variation in scale seen in the pattern gives the chair an additional level of visual interest as it appears to change whether seen from far away or up close. The beautiful painted finish is in the original vibrant green color as seen by the areas where the paint has rubbed off and the iron has oxidized. This is an original chair rescued from a derelict garden in the south of France that is now ready to bring fresh life to an interior or exterior space."
Vibrant Green Iron Garden Chair from France c.1890, Carl Moore Antiques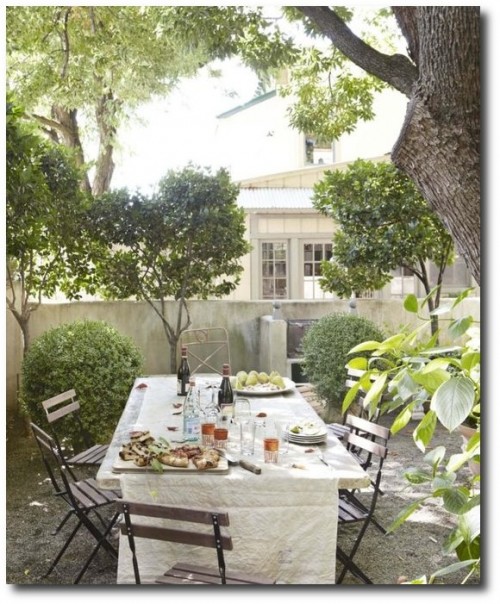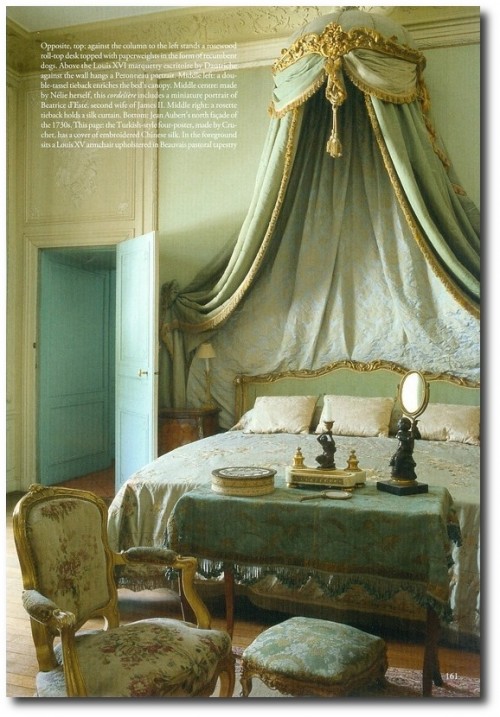 Private apartment at Chateau de Chales, established as a Paris museum in 1875 by Nelie Jacquemart in the Louis XVI empress style. World of Interiors Sept 2011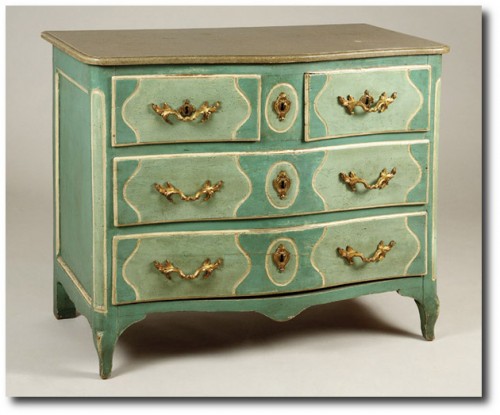 Provincial Louis XV Blue Painted Commode From David Easton Home Auction Highlights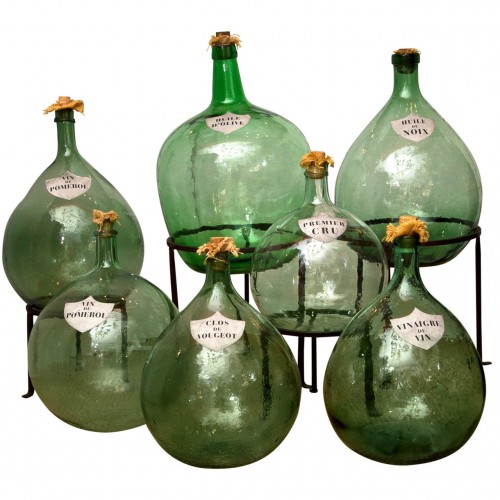 A Collection of French Green Glass Demijohns, Blithewold Home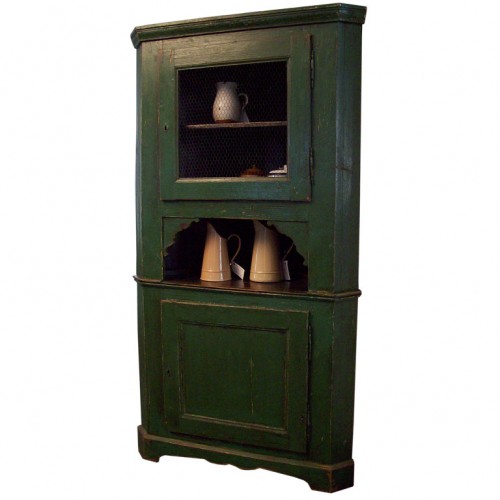 Antique French Green Corner Cupboard- Briggs House Antiques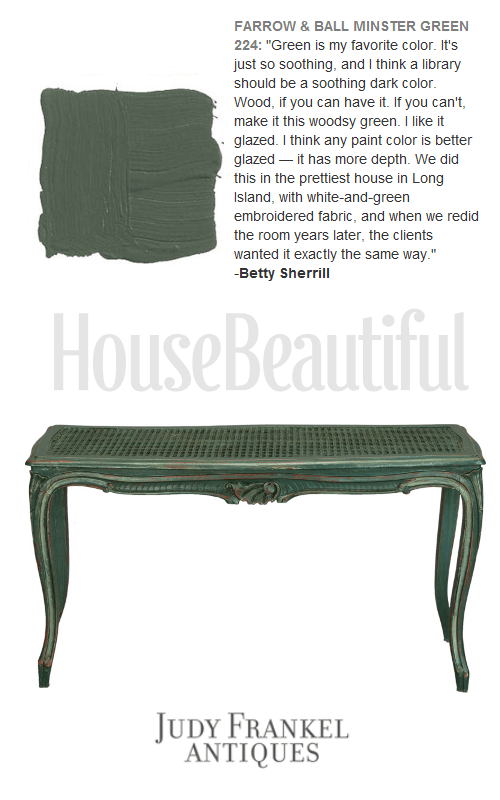 French Green Caned Bench.  Judy Frankel Antiques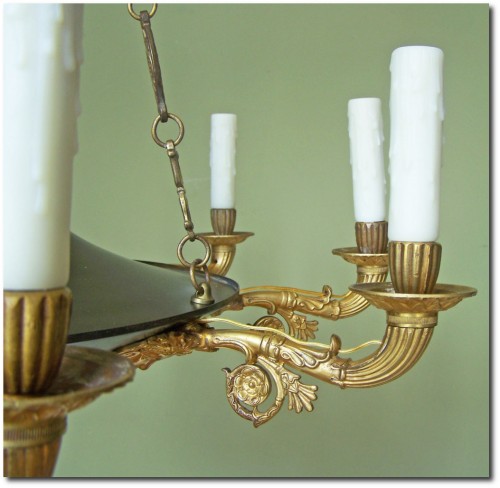 French Empire D'Ore Bronze Nine Arm Chandelier –David Skinner Antiques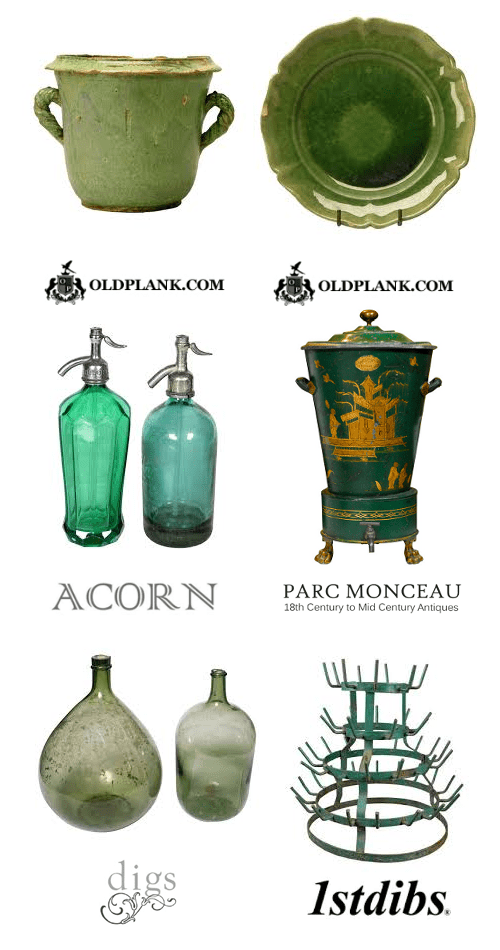 French glazed earthenware plate, Old Plank Antiques
Handmade French green earthenware urn, Old Plank Antiques
Two Green French Vintage Seltzer Bottles, Acorn
19thC French Green Chinoiserie Tole Hot Water Urn, Parc Monceau Antiques, Ltd
Green Glass French Bon Bons, DIGS
Country French Antique Green Iron Bottle Drying Rack, Unknown Dealer
Petit Trianon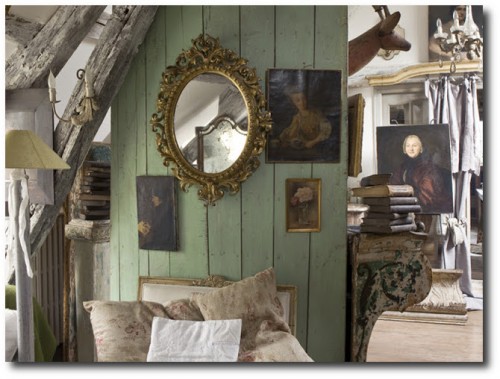 Gilles Trillard Campaigne Decoration Magazine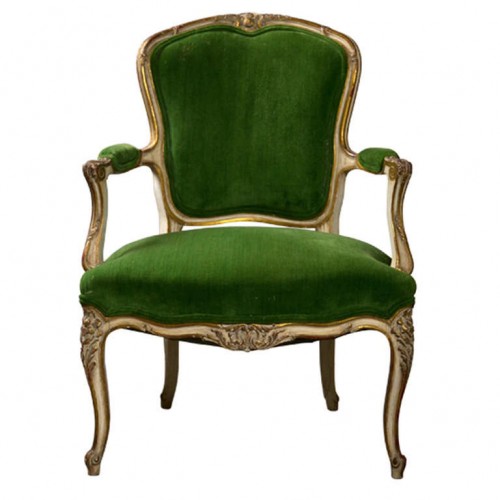 French Armchair –Greenwich Living Antiques & Design Center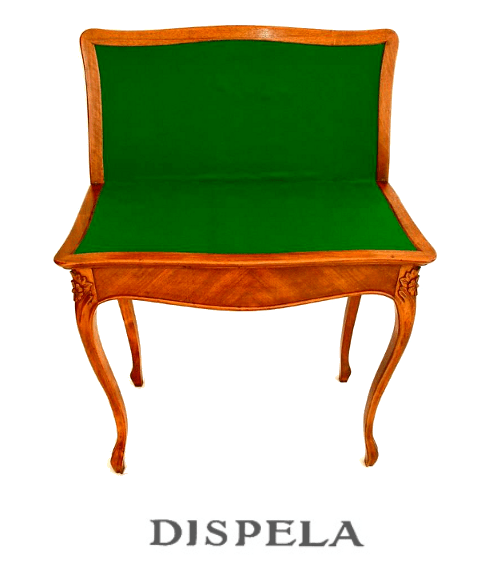 19 Th Century French Louis Xiii Style Game –Dispela Antiques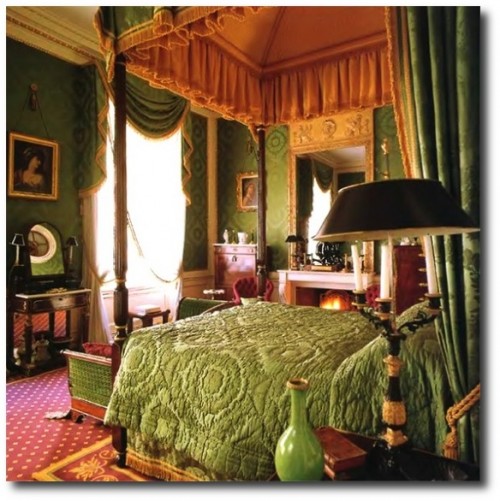 Victorian Apartment Interior Design in France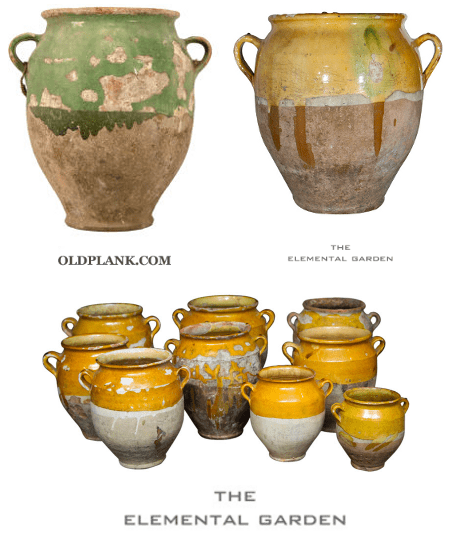 Gorgeous demi-glazed terracotta handled confit pot from Provence-The Elemental Garden, LLC
Original Antique French Confit Pot with Rare Green Glaze- Old Plank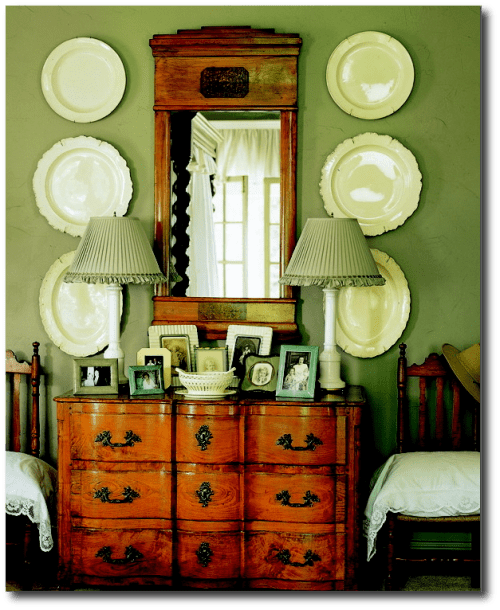 Dan Carithers- Creamware Collections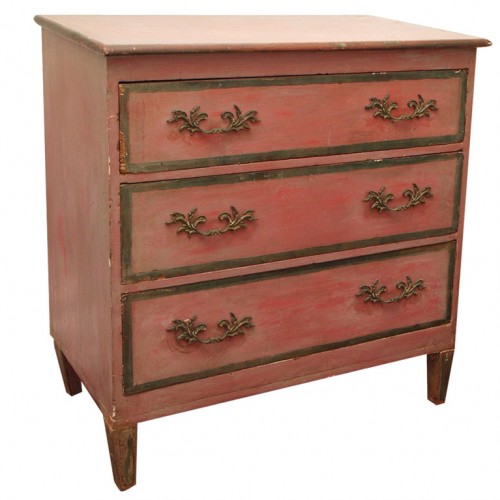 Antique French Deep Pink Dresser or Commode disegno Karina Gentinetta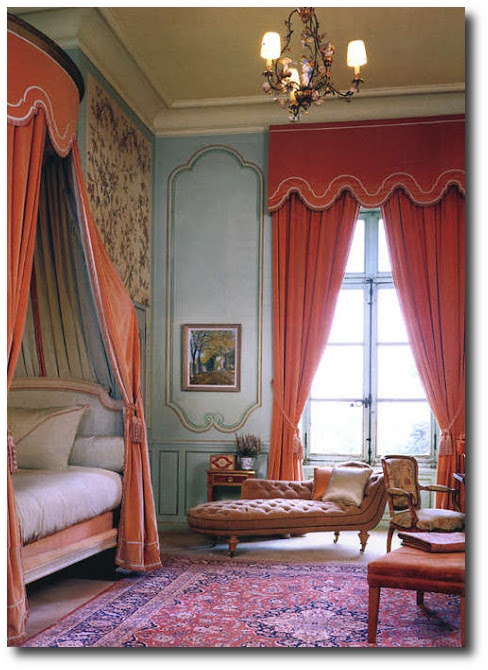 Timothy Corrigan: Top Interior Designer