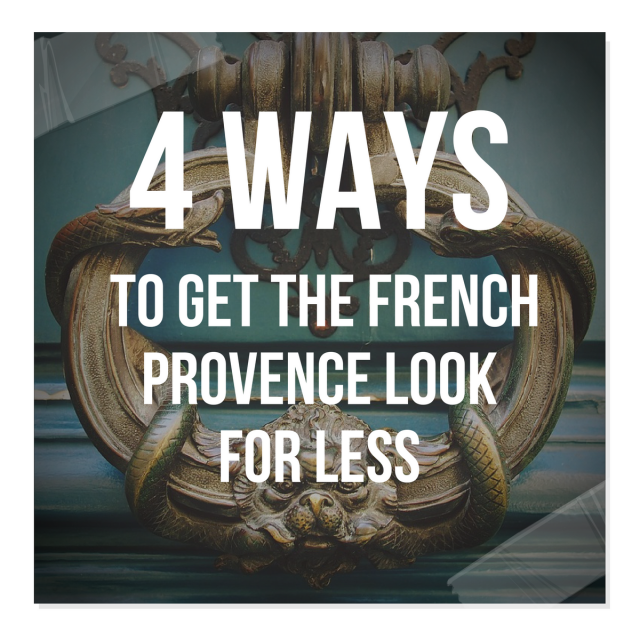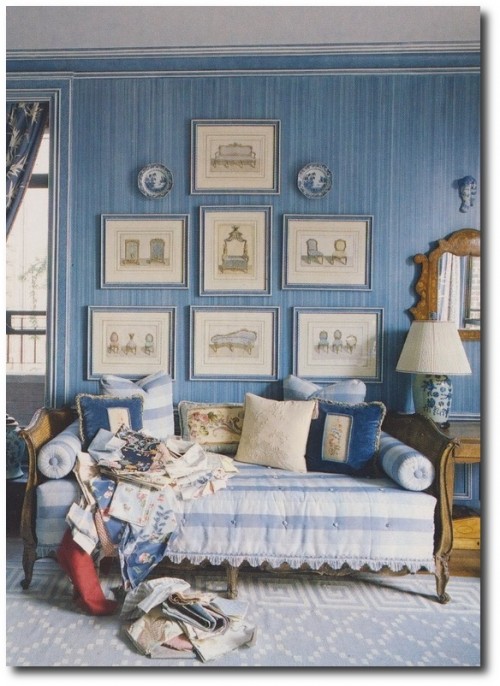 French Style Featured On The Essence Of Frenchness

Creating the Provencal country style in your home starts with the right colors, furnishings and decor. Here are some of the main must-haves to create this relaxed, elegant French Country decorating style.
1. Go Bold With The Wall Colors
A home can be instantly transformed with color. A color palette will govern all the other decorating considerations for your home.
French Provence style has always been known for their vibrant color choices. The color palette has always been governed by the colors found in the flowers and landscape, so it is no wonder why vibrant blues, purples and greens have always been dominant colors in the Provence home.
You may want a muted palette with warm elegant furnishings, such as raw aged wicker, neutral ticking for upholstery, stone and raw wood to take the focal interest. In this instance, consider accenting your home with the richer shades such as browns, found in the soils. Provence style was greatly influenced by the landscape of France, and inviting the colors found in nature into your home will instantly change the tone.
2. Architectural Elements
Consider introducing character into your home with architectural elements. Ditch some of the modern looks in your home with something with age and old looks. Exchange out your kitchen hardware, light switches, chandeliers, lamps, door hardware, sink faucets with older hardware with patina and age. You can find brand new hardware with the old world patina and looks.
– Change out the lighting to a French crystal chandelier. Consider investing the time into installing some antique sconces on the walls in your bathrooms, and bedroom. Light from the wall will give your room the look of candles, than the overhead lighting we are used to.
-Consider hanging iron plaques above your stove. Some of the plaques are quite large, and painted, making it a focal piece behind the stove, which is often hard to dress up.
-Wall Molding doesn't have to be complicated. Check out this easy DIY wall idea which could totally transform the look of your walls.
Interesting Articles:
-Buying Secondhand Cabinets: Yay or Nay? Cabinet Hardware Ideas
-Handles, Knobs, or Pulls: Which Type of Hardware Is Best for Your Room? Cabinet Hardware Ideas
-Using Cabinet Hardware to Bring Life to a Dull Kitchen or Bathroom – Cabinet Hardware Ideas
-5 Ways to Dress Up Worn-Out Furniture & Cabinetry- Cabinet Hardware Ideas
3. Improve Vintage French Furniture
Invest in great pieces, and improve vintage furniture pieces with new upholstery. My motto has always been "trade up". Fill your home with great inexpensive pieces, and as you find better ones, trade out the inexpensive pieces, with better quality furniture. Your home can look fantastic with second hand furniture. Often times some of the best pieces are the ones that you put some time and effort into. A vintage French chair can be stripped of it's paint, and re-painted, stained and upholstered. A French sofa can be professionally upholstered and loved for 50 + years. A side table and dresser can be the spotlight in a bedroom, and a small French side table can steal the attention with brighter paint and gold accents. Collect pieces you love, and invest your time in making them better.
4. Go With Solid Pecan Finishes
Balance out brighter wall colors with solid wood stained furniture. You can buy vintage french furniture and strip it down to the solid wood. You can find spectacular pieces on ebay, at garage sales or second hand stores.
One thing I have learned along the years, is stripping furniture paint is well worth the effort. Wood can be painted, and then sanded down to look antique with the solid wood peeking through. Stripping the paint down to the solid wood, also allows you to stain a piece a custom shade. Consider investing in a heat gun. This is one tool, I wish someone told me about years ago. For less than $30 dollars, you can remove paint quicker without shelling out tons of money in stripper. It enables you to use less stripper, remove more paint faster, making removing paint bearable.
Traditional Provence Furniture is usually made of walnut and either left a natural brown and polished to a high sheen, or painted. Pecan stains are found in the most elegant French homes. For an authentic look, consider this stain first before others for that authentic Provence look.
Styled By:Mandy Keener Photographer:Nancy Nolan
At Home in Arkansas featured some beautiful photos of a home decorated around the old world interiors we see in Italy and France. The house itself looks as if it were European, but in fact, this home is right here in the USA! The homeowners wanted something country and rustic, borrowing from the classic looks found in France.
Here are some tips from the article:
"In the bath, we did limestone floors, but in a different way by insetting red Indian onyx. That red shows up in the French gothic revival altar from Avignon, which we used as a vanity. The kitchen island is inset with a single basin, extra-deep, bronze sink."
The bathroom shows a fabulous cast iron bath with an exterior color matched to the paint on the bathroom walls. " We wanted it to appear old, as if it needed to be filled with water by hand. And the faucet is in the middle so you can lie on either end of the tub and look out over the balcony. That allowed us to take advantage of the wall space and to approach the bathroom in a different way. If it were my house, I'd enjoy a glass of wine there every evening."
– Cottage Of The Week in France- Home Bunch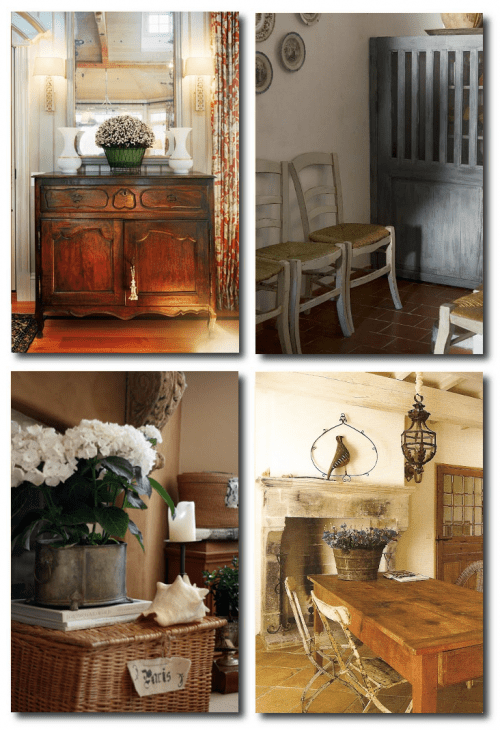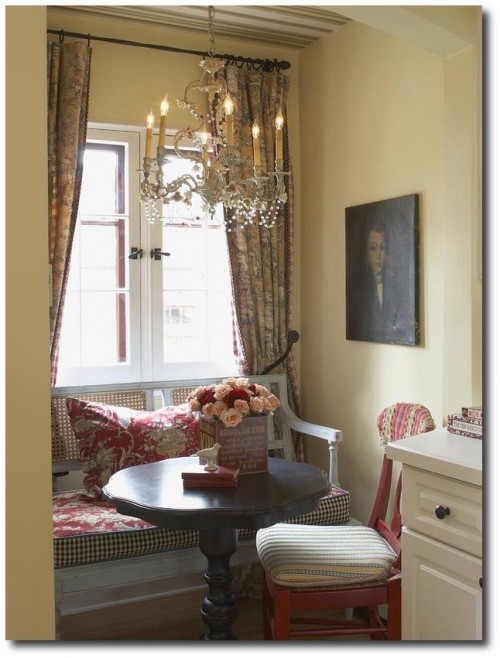 French Provence Nook Eating Area- HGTV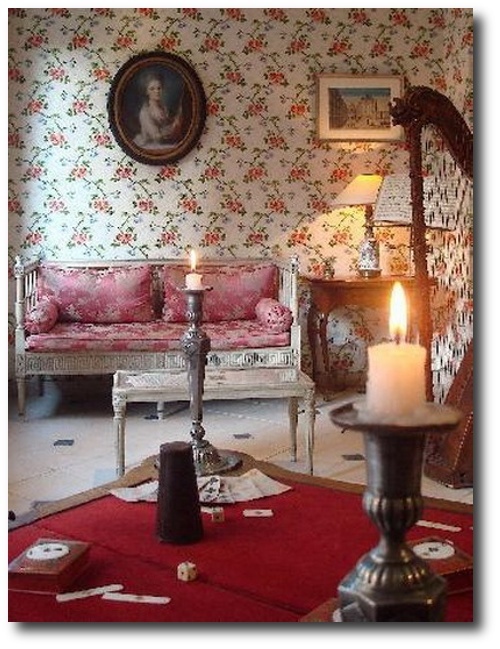 Hotel Caron de Beaumarchais Paris France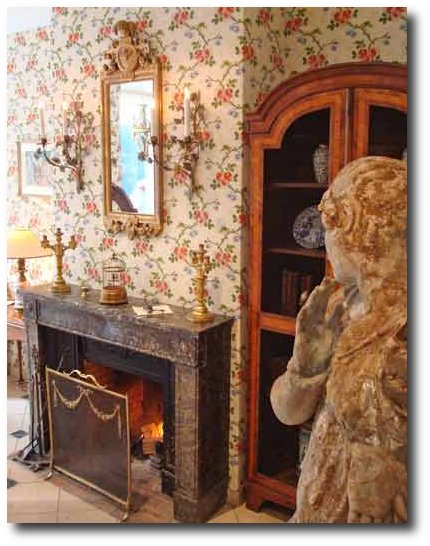 Hotel Caron de Beaumarchais Paris France www.lasplash.com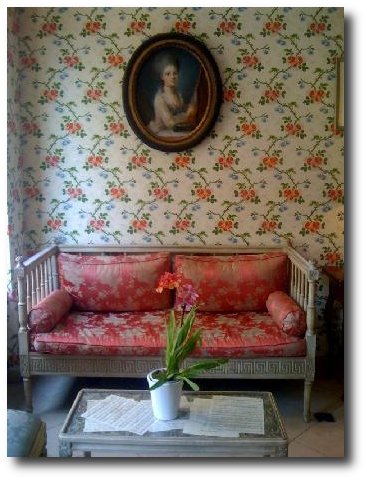 Hotel Caron de Beaumarchais Paris France www.tripadvisor.co.uk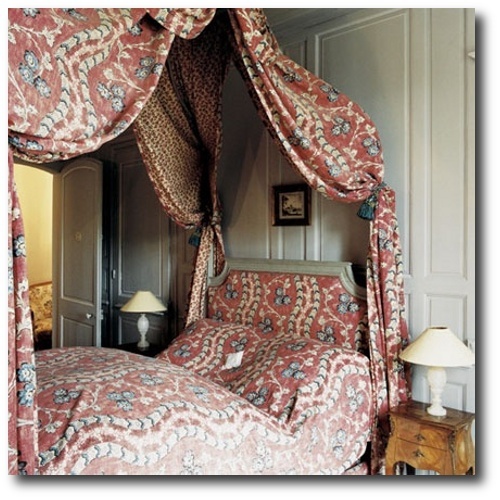 Château du Mesnil Geoffroy à Ermenouville – Marie Claire Maison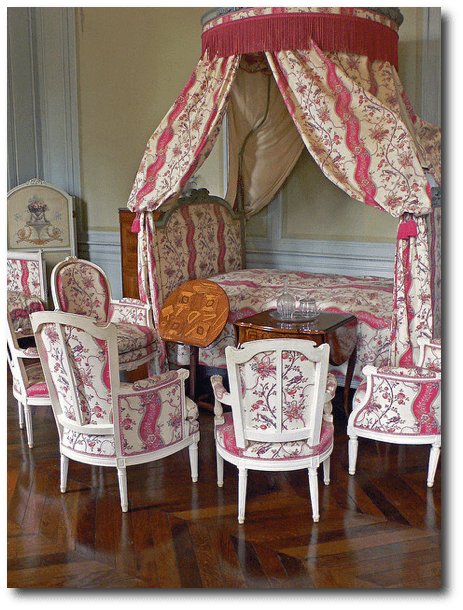 George Sand's Home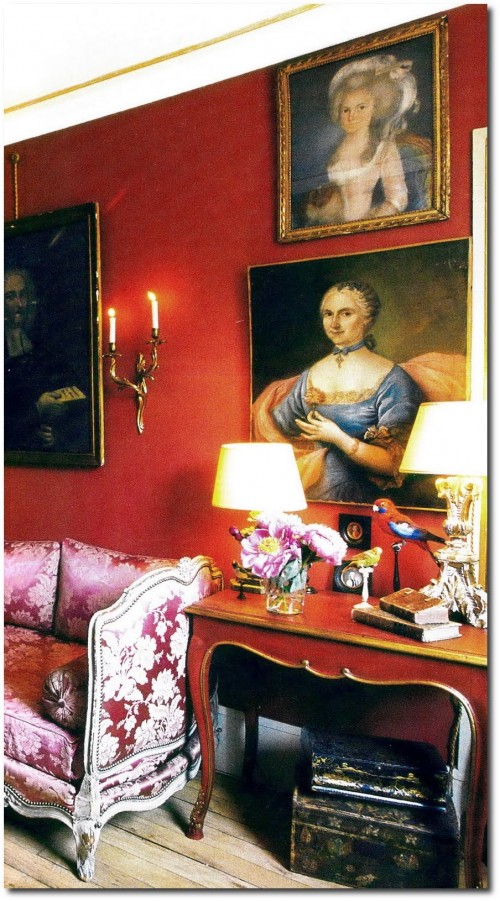 French Apartment With Vibrant Colors – Photo Credit- The Essence Of Frenchness Blog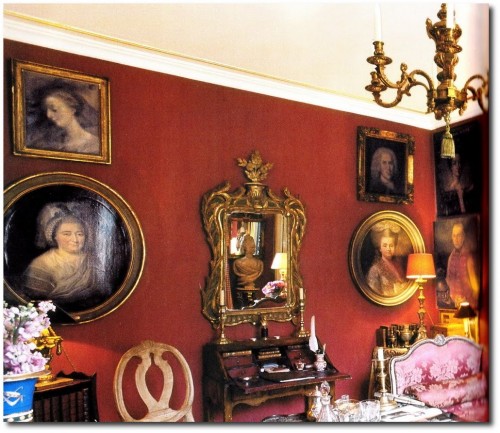 French Apartment With Vibrant Colors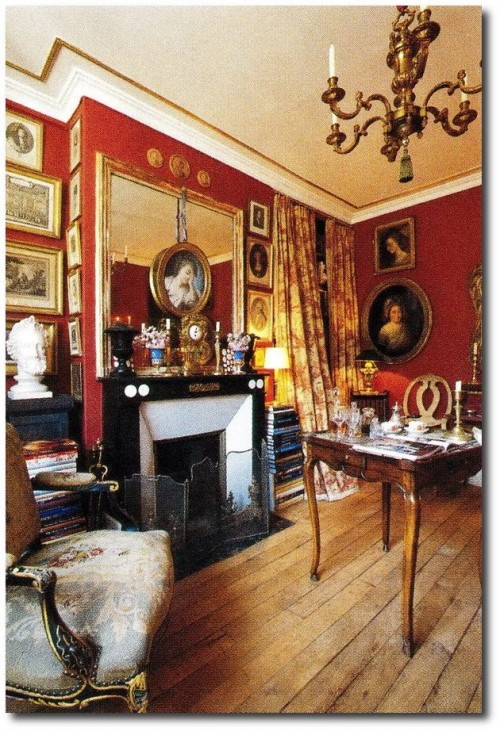 French Apartment With Vibrant Colors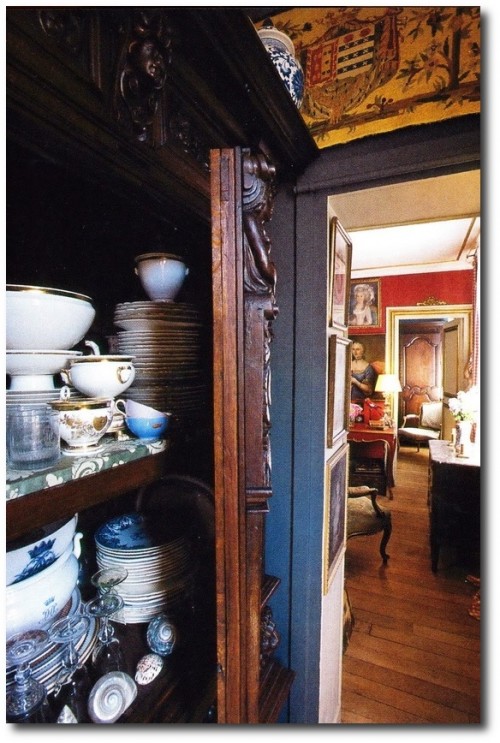 French Apartment With Vibrant Colors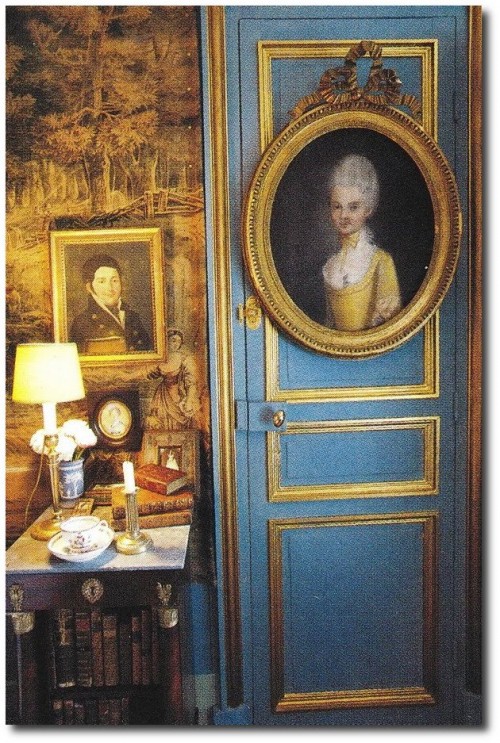 French Apartment With Vibrant Colors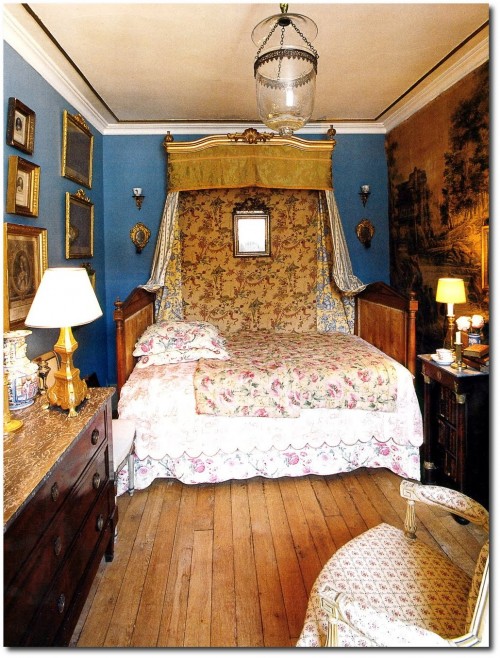 French Apartment With Vibrant Colors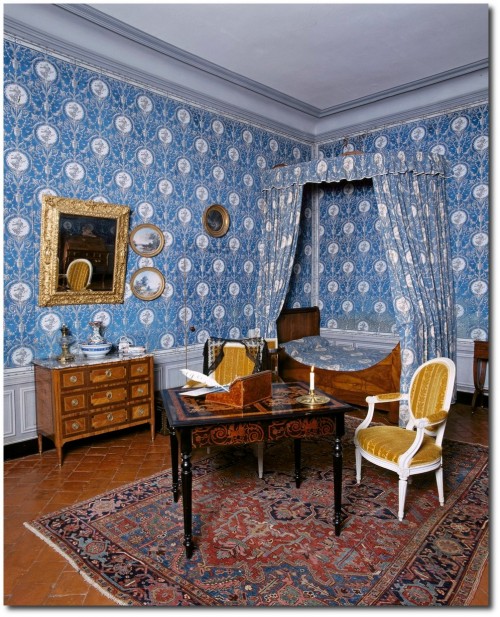 George Sand's Home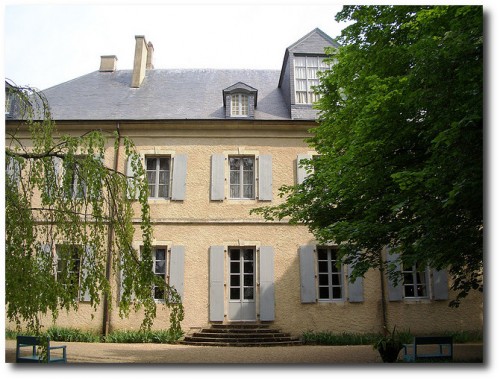 George Sand's Home– Flicker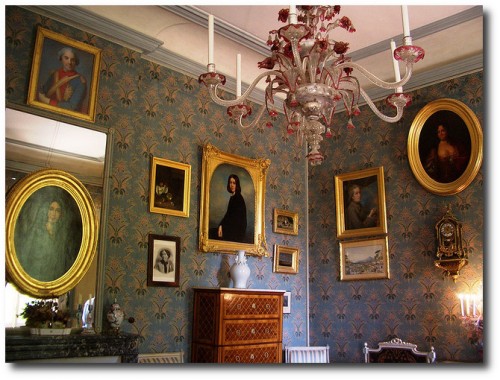 George Sand's Home– Flicker
Save