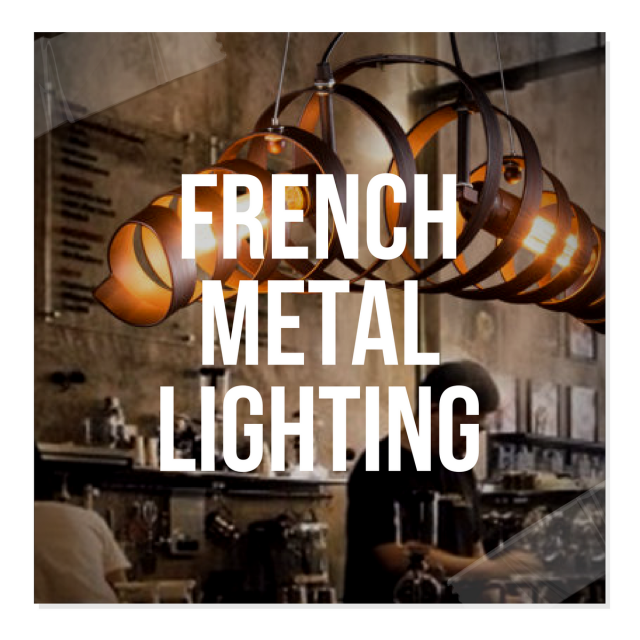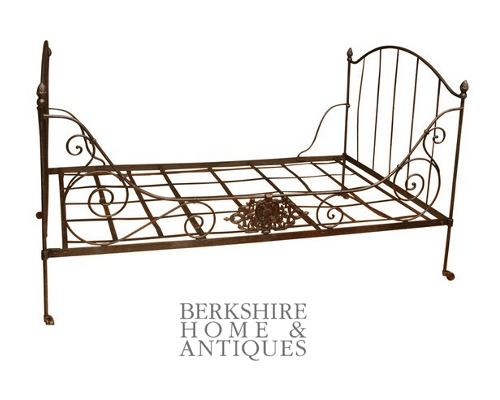 19th Century French Iron Metal Folding Daybed Berkshire Home & Antiques
2. The Use Of Metal
In French decor, metal is a very important element, especially iron. One very easy way to incorporate forged iron is with curtain rods and curtain hold-backs. Modern hardware can be traded out for iron hardware. This simple improvement can make all the difference in a home.
Take a good look at your lighting. Often times, you can quickly fix ceiling lighting simply with spray paint. Rust-oluem produces a wonderful spray called Oil- Rubbed which gives a wonderful metallic bronze finish that looks genuine. Rustoleum also produces a spray that simulates aged iron. For under 20 dollars you can make over much of the metal in your home with inexpensively. Adding a good primer can ensure that your finish lasts several years. After trying a dozen of primers, I have found when it comes to covering metal, that using an automobile primer has been what has worked the best for me in the past. Finding a primer in black is not an easy find. Although Rustoleum produces an auto primer that works quite well. Auto paints can be very very toxic to breath in. So it is best to do spray painting outside, as well it is imperitive to wear a proper safety mask to ensure that your lungs are protected. This is a great way of improving some of the little details around your home which will make a big impact.
Iron shelves can be put above doorways, or under kitchen cabinets for a very rustic appearance. Use iron shelving in your bathrooms for extra storage. The color and texture of the iron adds a touch of boldness that metals used nowadays don't have.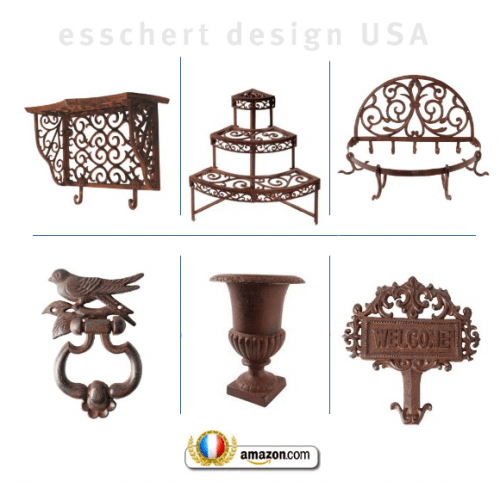 -Cast Iron Bird Knocker $13
-Esschert Design Quarter Round Etagere Plant Rack $134
-Esschert Design Cast Iron Wall Shelf with Hooks $52
-Esschert Design Cast Iron Game Wall Hook $54
-Esschert Design XH61-AR Large French Urn $101
-Esschert DesignBird Large $13, Sitting Iron Bird, $13
-Esschert Design Boot Rack/Scraper for 2 pairs of boots $79
-Esschert Design DB56 Cast Iron Welcome Sign $19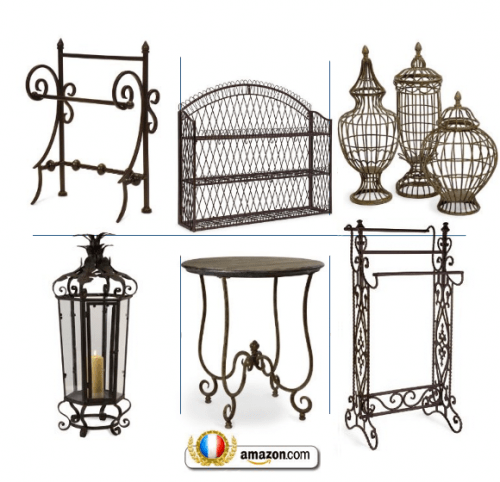 -16″ Decorative Flowing Scroll Bathroom Towel Holder $60
-Elizabeth Narrow Towel Rack $49
-Set of 2 Vintage French Antique Silver Vanity Mirror Home Decor $64
-30.75″ Weathered Wooden and Iron Bistro Table with Scroll Accents $279
-27″ Black Iron Leaf & Scroll Lantern-Style Table Top Candle Holder $151
-Counterflory Recipe Book Holder $33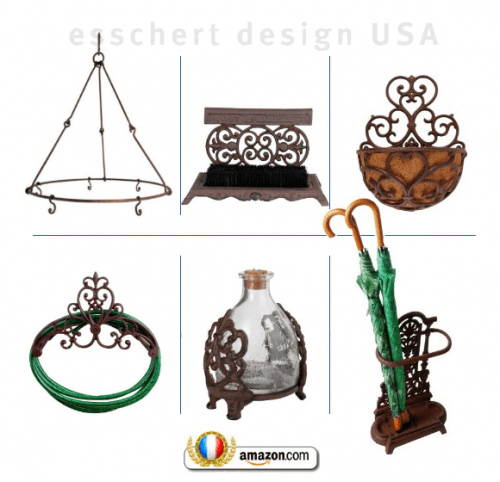 -Secrets du Potager Herb and Flower Dryer $18
-Secrets du Potager Harvest Baskets, Set of 3 $74
–Cast Iron Shoe Scraper with Brush $53
-Cast Iron Umbrella Stand $86
– Large Wasp Trap with Decorative Cast Iron Holder $35
-Cast Iron Wall Mount Hose Holder $46
-Half Round Cast Iron Wall Planter $41
Other Interesting Ideas :
– Iron Jardiniere Planters
-Ornate French Chateau Style Brown Iron Desk Clock $38
-Iron Wall Hook Home Decor $13
-Palazetto Fleur Cast Aluminum Bistro Set Color – Antique Wine $219
-Secrets du Potager Wire Mannequin Display Figure $181
-Esschert Design USA ZB16 Glass Cloche $54
-Esschert Design OZ13 Old Zinc Finish Round Table $133
-Esschert Design USA BR03 Bird Hook Bracket $15.48
-Set of Three White Metal Flower Pots In Metal Saucer $16
-Esschert Design USA White Metal Bucket with Wood Handle $16
-21″ Antique-Style Vanity Mirror with Two-Tier Tray $74
-Set of 3 Open Design Birdcage-Inspired Wire Urns with Finial Lids $140
-36″ Giant Wire Mesh Hanging Three-Tier Wall Shelf Rack $230
Save