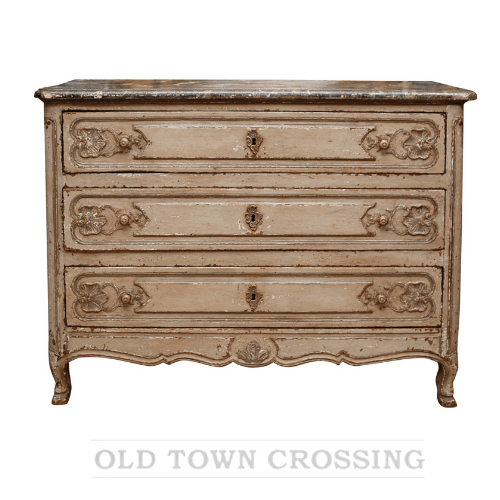 Faux Marble Painted Chest From Old Town Crossing

Marble painting has been an art form since the sixteenth century, and was quite popular in India. In Rajasthan there are around 4000 marble mines and because marble was so widely available, it became a canvas for the local painters. The intricate designs were captured on stone with paint, and sealed to preserve it's extravagant beauty.
Marble has always been considered a luxury, and can be more expensive in the areas of the world where it isn't naturally located. The look of marble is the result of interlocking mosaic of carbonate crystals. The swirls and veins form patterns as a result of the mineral impurities such as clay, silt, sand, iron oxides that are present in the layers of the stone. Pakistan is one of the largest marble exporters of the world with exports totaling to around a 100,000 tonnes.
The textured look of marble can add a regal and sophisticated touch to any interior space or piece of furniture, however the trouble is, marble can also grab a chunk of change out of your wallet. Faux marbling is the practice of copying the look of marble with paint. You can improve the tops of your chests, dressers, sideboards and buffets with faux marble.
Faux stone painting was known to be an art used in Pompeii, but it really took off during the Renaissance in Europe where two schools taught the art of faux painting. For professional artists during this time, it took an apprentice 10 years or more to fully master the art. Many of these techniques were used widely by the 17th century and remained useful in architecture well into the 20th century.
Preparations
Start by identifying the style of marble you want to replicate. Marble comes in varied hues of white, pink, gray and black. Go on to the internet and look through the various pictures and decide what look of marble you want to transfer.
Step 1- Sand down the top of your chest or dresser, then paint it with a satin paint. Satin paint will allow all your other paint layers to be able to move around easier. Flat paints will only eat up your paint, and cause them to smear. Start with eggshell.
There are a number of ways to paint marble. Here are a few ways to start as a beginner:
-One very easy way of getting detail and depth without over thinking things is to use plastic. Take a garbage bag, and cut it a little larger than the size of your dresser or chest top. Second paint the plastic, and crumple it slightly before you press the plastic on to the surface. With your hands or a kitchen dough roller, press the plastic into the paint. Next, pull the plastic off, and let the paint dry. When the paint is about dry, smooth out the pattern using an over-sized badger softening brush.This technique works quite well if your paint isn't thick, but rather thinner. Ideally, you want to build up several layers of detail. I have found using wood stains, which are tinted and transparent, you can get the depth that is seen in marble.
-Another easy technique is creating marble patterns with a sponge. Take the sponge and dab it lightly along the surface to produce a "marble-like" pattern. Take paint and glaze and combine a mixture of 60% transparent glaze to 40% paint. This will enable your pattern to look a bit more organic in nature.
-In the past I have created marble "veins" using a feather, or a paint brush which you can alter, by notching out some of the hair to create a a three prong comb. The smaller paint brushes are usually the best. Drag all your lines diagonally using a twisting and turning motion. Soften the marble lines as the paint is near dry.
The key to faux marble is lots of softening, and transparent layers. You don't want your marble to appear like it is a two step process, but rather marble that is deep, and takes on the appearance of rich marble. A couple prominent veins really go a long way, amongst softer features.
When you are ready to "seal" in the marble look, use poly-crylic clear gloss or satin. Apply it with a sponge applicator, and let it dry overnight. Then, using 320-grit sandpaper, lightly buff the surface before sweeping off the dust and apply a final coat with a spray can. You can buy polycrylic both in a can and in a spray. The final coat creates a stroke free finish when sprayed. You may want to repeat this process once after the second coat dries.
Using paint to portray a marble finish isn't as difficult as you might think. Don't over think the finish, and you will love how it turns out.
Faux Marble by Pierre Lefumat- $28 Amazon
This is a monument to 60 years dedicated to decorative painting. The first part of the book is a step-by-step guide for painting the most widely imitated marble varieties including white breccia, yellow sienna, sea green, and more. The second part of the book is a gallery of Lefumat's photorealistic faux marble. Each page represents a closer and closer detailed view. Experts and beginners alike will draw inspiration from this magnificent book
Step by step instruction for recreating Lefumat's masterworks in Faux Marble. Over 140 pages of rich close-up color photographs of Lefumat's painted panels. Hundreds of pages of faux marble for reference and inspiration.
French Painted Enfilade With Faux Marble Top- Foxglove Antiques
Faux Marble Painted Chest From Old Town Crossing
French Painted Enfilade With Faux Marble Top- Foxglove Antiques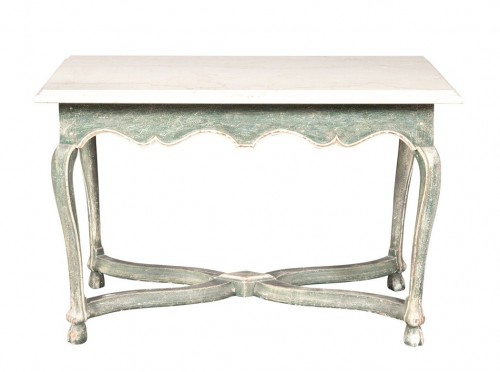 Provincial Style Marble Top Painted Side Table Doyle Auction
Faux Marble Writing Desk- Hideaway Antiques
Swedish Giltwood And Cream Painted Table With Faux Marble Top- Christies
Pair White Granite Urns on Faux Marble Pedestals- Gottlieb Gallery
Italian Neoclassic Faux Marble Scagliola Pedestal- David Neligan Antiques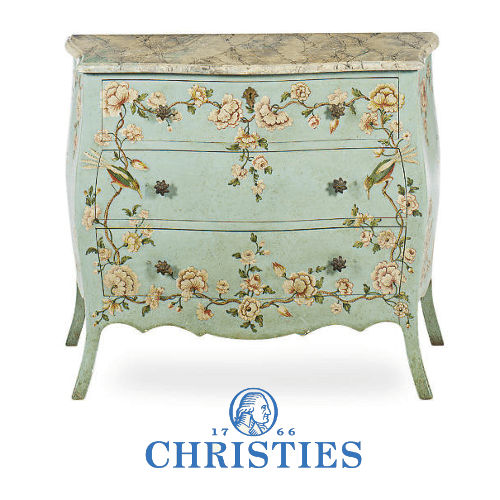 A Painted Faux Marble Serpentine Bombe Commode From Christies
Italian Painted Console Table- Piet Jonker Architectural Antiques
A Pair Of Painted Wooden Night Stands- Piet Jonker Architectural Antiques
A Pair Of Painted Wooden Night Stands- Piet Jonker Architectural Antiques
Set of Four 18th Century Faux Marble Columns 1st Dibs Paris
Louis XV Painted Console Table With A Faux Marble Top- Wirthmore Antiques
Pair of Faux Marble Painted Columns- LEBRETON INTERIEURS
Modern Louis XVI Style Giltwood Table Painted Faux Marble Top- Seller Glo
A Florentine Gilded Console With Faux Marble Top- Valobra Jewelry & Antiques
Pair Faux Marble Columns- Greenwich Living Antiques & Design Center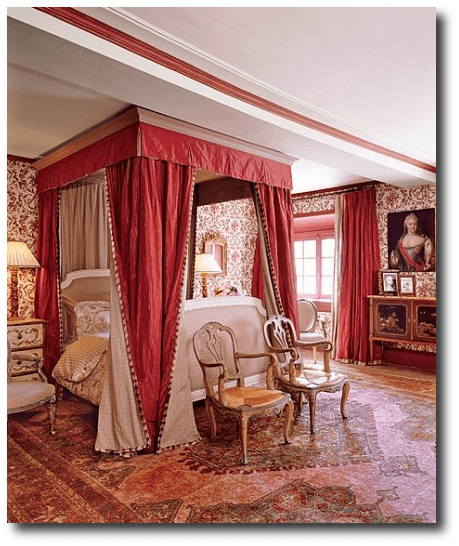 Located 30 miles south of Paris and widely considered one of the most spectacular examples of 18th-century style, the Château du Marais is home to the apartment of designer Juan Pablo Molyneux and his wife, Pilar. The castle was built by the architect Jean-Benoît-Vincent Barré for Master Jean de La Martinière, Treasurer General of Artillery and Engineering, and has been considered one of the most remarkable examples of castle style Louis XVI located near Paris. This castle has been owned by families like Noailles, Castellane, Talleyrand-Perigord and Pourtales.
Additional Links:
New York Social Diary– The Hotel Claude Passart, the 17th century Paris residence of Mr. and Mrs. Juan Pablo Molyneux.
Designer Juan Pablo Molyneux refurbished the 17th-century structure at Château du Marais with rich tones to suit his grand style. An 18th-century gilt-wood chandelier hangs above a Régence bureau plat, a Louis XVI armchair, and a rug from the 19th century; the oil painting is from the 18th century. (Photo Credits- Architectural Digest September 2006)
Check out the beautiful marble walls
A Pair Of Painted Wooden Night Stands- Piet Jonker Architectural Antiques
19th Century Italian Carved Wood Bust On Faux Marble Base. Thomas Jolly Antiques
20th c. French Faux- Marble Column or Pedestal- Olivier Fleury Inc.
Pair of Italian Faux Marble Planters- Dragonette Ltd
Save