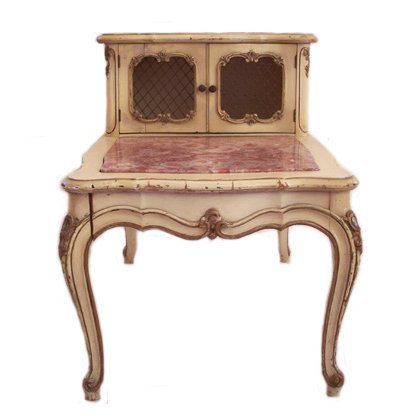 Turning a rather plain piece of furniture into something spectacular can truly be a lot of fun.  Some of my favorite french provincial furniture pieces are the marble-topped living room vintage sets.
French provincial marble living tables consist basically of the base of the table which is made from wood, and a marble top which is inserted into the wood base. Many of the 1950's french provincial coffee tables and end tables were made with luxurious marble tops which even today is still a very expensive material many people still have to stretch their wallets for.
Marble itself is an extravagant choice for counter tops in kitchens, but  is often bypassed because of its high cost.  Marble is one of the most beautiful materials in the world, because of its complex patterns and deep colors.  Marble comes in a wide variety of colors and patterns.  These vintage marble sets can be picked up for as little as $50 dollars a table which pales in comparison to the cost of purchasing the marble, then having it cut to fit a particular table, and then making the furniture.
A marble coffee table or end table can bring a touch of elegance to any home.  Most of the marble tables seen in high end hotels and homes have marble tops with wooden stands.
The process of turning a raw stone into a beautiful piece of furniture is a rather complicated process.  One aspect of marble furniture that must be appreciated is the rather dangerous job of finding and processing it.  Marble is found in the mountains which means that obtaining it involves the use of dynamite.  They essentially blast off parts of a mountain and collect the boulders that are blown off.  Those huge pieces of rock are then taken into  workshops where they are cut into large slabs. The slabs then are cut into sizes and are then waxed and polished.
In many countries these jobs are carried out by very advanced machinery, but in developing countries, many of these processes are still handled by individual workers with the help of small, semi-automated machines, which makes it very labor intensive.
Maintaining marble tables is a very delicate process.  Marble scratches and stains quite easily if it is not sealed.  If you do buy a french provincial marble coffee table set, you will have to consider the cost of having it sealed yearly and then polished as frequently as possible to maintain the good looks of the marble.
Avoiding placing wet, hot or cold drinks on the surface and always using a coaster.   Keeping your marble clean of debris, drinks and sharp objects will help keep your marble furniture beautiful for a lifetime.