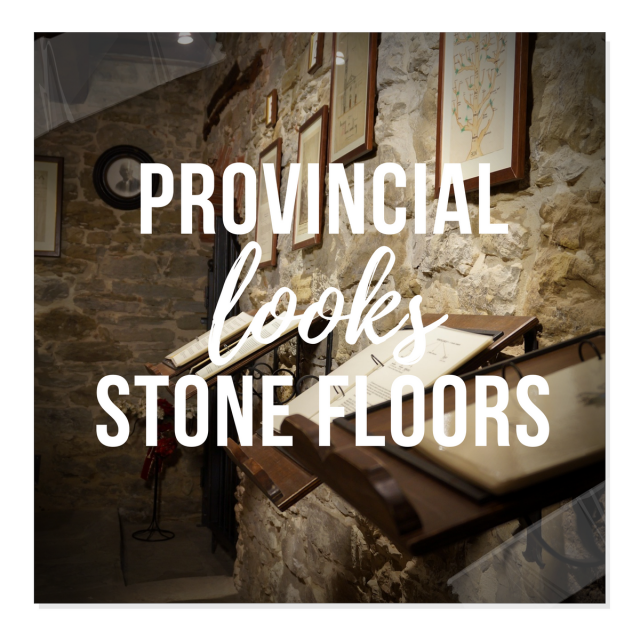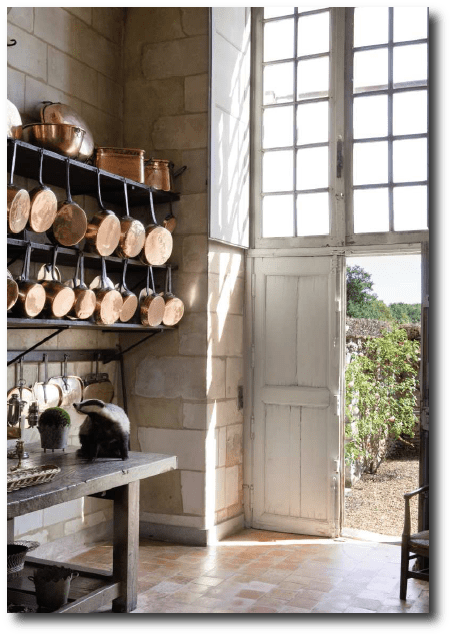 Chateau Montgeoffroy in the Loire Valley
Choosing the right flooring is the simplest way to get the French Provence style in your home. If you are considering decorating in this style, laying down tiles, or simply polishing the existing concrete is an easy way to get this old world style in your modern home.
The Provence style is associated most commonly with stone floors, plaster walls, french styled furniture, raw wood, and rustic interiors. The ceilings in these old country homes were often ceiling beams of distressed raw wood and timbers, and irregular walls of plaster. The walls often looked as though they were faux finished, and had the appearance of many colors layered upon each other. This effect was a result of thin paint, which didn't cover well, and so, as an addional layer was added, it gave it a washed appearance. Stone floors are a common element seen in the Italian and Provence styled homes. Here are a couple ways to get the look of stone flooring in your own home without spending a bundle:
1. Faux Stone Molds
Stone is a must in any home which is being decorated in French Provincial style. If you are like me, you really have no idea where to begin when it comes to construction. If you have the money to invest in real stone, I say go for it. If you are on a limited budget, consider faux stone.
You can make your own stone with concrete and stone veneer molds that can be made for just pennies and save up to 90% off retail prices of stone veneer, pavers, tile, brick, and stepping stones. The beauty of molds is they can be made out of cement, plaster, or concrete. This project can be made over the winter and installed in the summer months. You can find a wide variety of stone molds on ebay, in different sizes which can be made over a couple months and installed room by room, without spending thousands. Consider using a combination of molds, perhaps a series of rectangular molds along the walls, and cut stone in round and square shapes in the center of the room.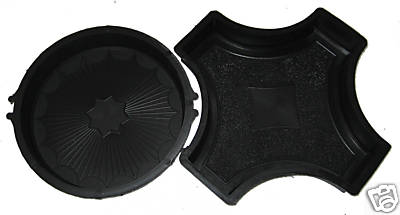 Stone Master Concrete floor block mould – World $47 US +$15 Shipping
12X12 HEXAGON SLATE Texture Concrete Floor Tile Mold– $19 Free Shipping
If you want to make an interior wall of stone, you simply buy the concrete or plaster and buy colorant to the mix. You can mix both plaster and concrete for a mold that doesn't take on the weight of concrete, but has a bit more durability that is found in concrete.
The colorant will give you a foundation of color which you then can glaze paint over top for a more detailed look. You can start with orange styled plaster colored stones and gradually build up white paint which is mixed with glaze which could give you a white washed appearance.
Create custom floors with concrete tiles made from molds. The opportunities are endless when you are working with molds that cost you pennies each. This can save you thousands and allow you to put more money into the authentic furnishings of this period.
2. Polish Existing Concrete
Most modern buildings are built on a concrete slab, making polishing the exposed concrete a budget friendly option. Polished concrete floors are low-maintenance, as they are more durable and easier to clean than many flooring options. Polished concrete reduces dust mite and allergen problems, and does not support mold growth.
How to Polish Existing Concrete:
Heavy-duty polishing machines, for example concrete grinder, are used to gradually grind down surfaces to the desired degree of shine and smoothness. The closest equivalent example would be polished granite or marble.
Polishing can be done wet or dry depending on the location in the house. The benefits of wet grinding eliminates crystal silica exposure of dry grinding. Stains can be added, and additional polishing will give you the high gloss shine of marble.
Videos- DIY How To Polish Concrete With A Concrete Floor Grinder – Youtube
Simple Gray Polished Concrete- From Pinterest