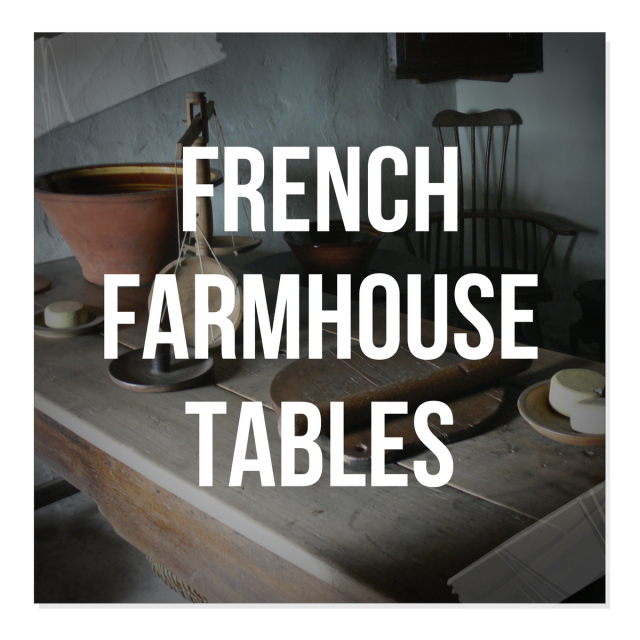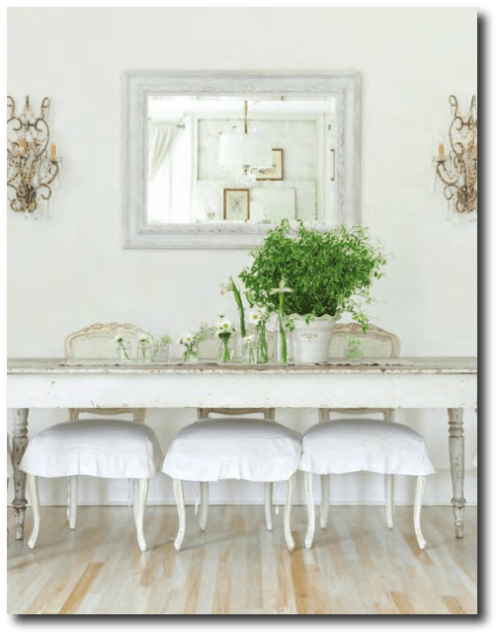 New Orleans Homes & Lifestyles Magazine
Farmhouse tables are a rustic style of furniture, often seen in the countryside of France. The style of the table table is suitable for a simple lifestyle, one where formality is not important, but function is. The dining room table of the past served as the most practical piece of furniture a family would use through out the day. These tables were designed to be long and large. Imagine food preparation, sewing and knitting done on one end of the table, while the children were doing their homework on the other end. In our Facebook group (Swedish & French Decorating), I posted a wonderful raw wood farmhouse table, here, and here to give you a visual on the sheer length of some of these country farmhouse tables.
There's no strict style of what a farmhouse table looks like, but the look is always rustic in nature, large, and often rectangular. The legs of these tables differ from one table to the next. Some leg styles are straight with no design what so ever, and other tables feature turned legs. Most farmhouse tables are made from solid pine and oak wood. The table itself consists of four legs that support the table top. The design of this style of table is not complicated and is often left in it's natural wood state, or can be seen painted. Practicality very much takes precedence over design when it comes to this style of table.
Painted Or Left Raw?
Farmhouse tables are one of the essentials in a rustic countryside home. A large table can be elegant, and dressed up or dressed down depending on the style you are after. A raw solid wood table can really be a centerpiece in a kitchen or dining area, and provide a nice contrast to a painted room.
Often times, the design is seen with the bottom apron and legs painted one color, while the top is left in its natural wood, which can be waxed, or sealed to preserve the wood. This allows the wood to be appreciated, while the painted legs might tie the room together quite nicely.
With a raw table, a layer of paint, which then can be heavily distressed may add to the rustic, shabby nature of the country. If the table is already painted, take the extra time to strip the paint off, leaving the raw wood the ability to soak in the paint. When the paint is dry, take a sander to it, and the finish will turn out spectacular.
Overall, these designs tend to be plain and simple.The design of this beautiful country style table is based around the family lifestyle. The function of this table allows for it to be dinged, gouged, and distressed over years of wear and tear. That's the charm! Today's entertaining takes place in the kitchen, and around the table, so invest in a great table that can last you through the years.
Other great posts featuring dining tables:
– Old World Style At It's Very Best! A Restored 15th Century Tuscan Villa- Primitive Decor Ideas
-How To Antique Your Furniture Yourself- Primitive Decor Ideas
-Primitives: Colonial Decorating Ideas- Primitive Decor Ideas
-Sturbridge Rectangular Dining Set- Primitive Decor Ideas
-The BEST NEW English Inspired Dining Sets-Primitive Decor Ideas
-Primitive Wood Tables- The Swedish Furniture
-Gustavian Oak Weathered Dining Room Tables- The Swedish Furniture
-The Very Best Swedish Wood Outdoor Furniture- The Swedish Furniture