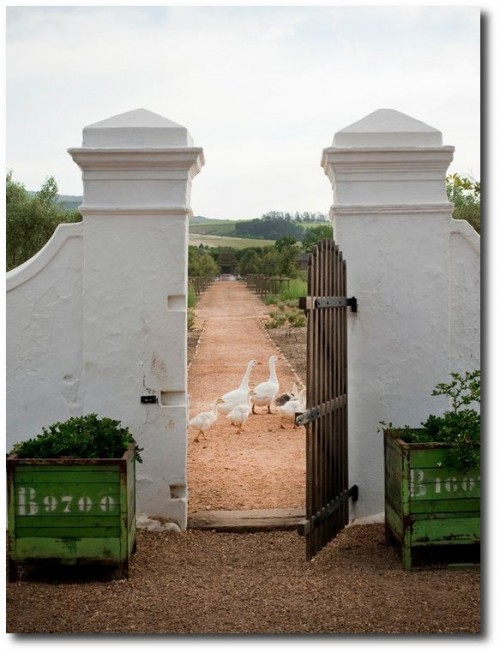 French style decorating has become so popular because of beauty of the the old world looks that are associated with the style. There are a couple of elements that you can incorporate into your landscaping and the type of furniture you choose which will give you the classic French looks found in Provence.
1. Consider replacing your lawn with gravel. It sounds like a bad idea right? Create texture using raised garden beds, and add in patio furniture, water gardens, which adds a lot more texture than just plain grass.
Consider showcasing the lawn that you do have. If you have rectangular backyard, consider cutting around your lawn, forming a circle shape in the center of your property. A circular or square pattern which you can edge with stone or coordinating greenery can give you more of a designer look.
2. Add In Rustic Container Gardens- Garden style urns can really capture the old world romance that you see in Versailles. Paint can do wonders to those new resin urns that you see at home depot. To get a rustic look, start with painting your urn an oil paint in flat black. After it dries, mix together sand and brown paint and apply it to the urn. When it is almost dry, take the hose, and spray water on the urn. The pressure of the water will create a natural distressed effect that doesn't look like you painted it yourself. Consider using this picture as your inspiration.
3. Create Order In Your Backyard- Pair common elements together to create a landscape that looks like it was designed by the pros. Plant fruit trees, instead of regular trees that will mature and produce dozens of fruit from year to year. Line up urns, and patio chairs along the edges. Line up shrubs and hedges in a row to draw special attention to these selected areas.
4. Consider investing in metal furniture that you don't have to shelter over the winter. Having a large yard is a lot of maintenance. Wood furniture over time can root if it is left in the snow, while metal furniture, does a lot better in winter conditions. If you can shelter your furniture, do! If you cannot, purchase clear plastic shower curtains at your local dollar store to drape over some of your furniture. Wood, and metal furniture can be touched up with paint from year to year.
5. Folding outdoor furniture is really popular in France. Consider investing in a set of folding chairs which you can paint. Any sort of metal furniture will create the French mood you are after. Don't worry if the furniture you choose is vintage, as anything can be improved with paint. Metal garden pots, posts, fences, chairs are all elements that are commonly seen in the French countryside. You cannot go wrong with anything metal in your back yard if you are after the French look.
Save