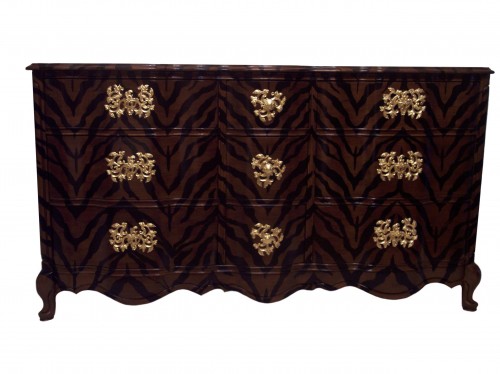 Painted Finishes on Vintage French Provincial Furniture Using An Overhead Projector – By Meranda S.
While French Provincial furniture is beautiful to look at just by itself, it can also become dingy and old looking over time. There are ways to make it more modern and artistic though. Here are a few ideas for ways to update your French Provincial furniture into a more modern style:
1. Update the Hardware – Paint the original hardware. Look to see how this French dresser painted in a cremy white has the original handles which are updated in a brushed bronze. If you end up painting your dresser black, consider painting the pulls black and distress them to show the beautiful metal in the ornate parts of the handle. This technique works with any paint color. To make the pulls stand out a bit, consider adding a brown glaze to the painted pulls or a dark brown wax to show off the details a bit more.
2. Go Pastel – Painting your furniture in pastel colors is a great way to keep the authentic feeling while still updating the look. Distress the paint finish with a hand sander. Even brighter paint colors look antiqued with a bit of brown glaze. Paint on the brown glaze and wipe it off. Consider painting with an eggshell finish as your basecoat, which gives the glaze something to grip on to. The glaze technique leaves residue giving you an aged appearance. If a paint finish doesn't look right, add some glaze and you will love the finished look. Glaze makes everything look nicer, and is the trick many professionals use for brighter paint finishes.
3. Black, White or Red – If you want a really modern look, you can paint your furniture bold black ,white or red. Consider going glossy for a very rich French look. Rust-Oleum has a wonderful oil based line called "Enamels Spray" that produces a rich glossy lacquered appearance that doesn't need any priming. Consider only using this brand in the warmer weathered months.
4. Bright Colors – Fun colors can bring new life to your furniture. Neon pink, bold blue, bright yellow and glossy green make it stand out and also give a great juxtaposition to the classic style of the furniture itself.
5. Cushion Crazy –If you have chairs whose cushions are looking a bit rangy, don't reupholster them with the same old boring stuff.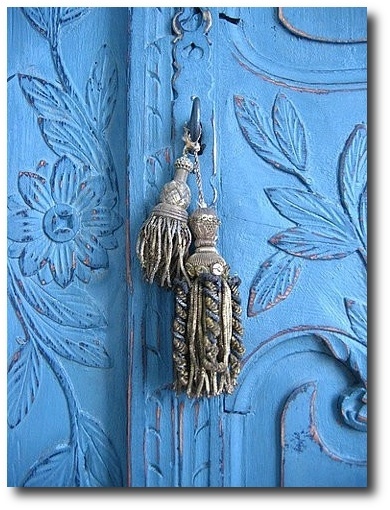 Example of Tip 1- Look how the hardware is painted blue, and slightly distressed?
6. Patterns – Add bold stripes of color to boring furniture and liven them up. You can change the whole look of a piece with just a few stripes. Use tape to make sure your paint comes out crisp and clean
7. Frames – If you have a French Provincial mirror or picture frame, do not toss it away. Make it into a centerpiece by framing something unusual like a wreath of flowers or a chalkboard. It will stand out and make your home a talking point.
These are just a few ideas on how you can update your French Provincial furniture. There are so many opportunities to make the most of this beautiful style. Just take a few minutes to think about what you could do with it!
Author Bio: Paul and his wife Julie both spend quite a bit of time coming up with ideas, blogging, and researching all things related to childcare. They take care of all the necessary information related to "babysittingjobs.com/". He personally thinks his blog will help with finding information on all things related to a babysitter.