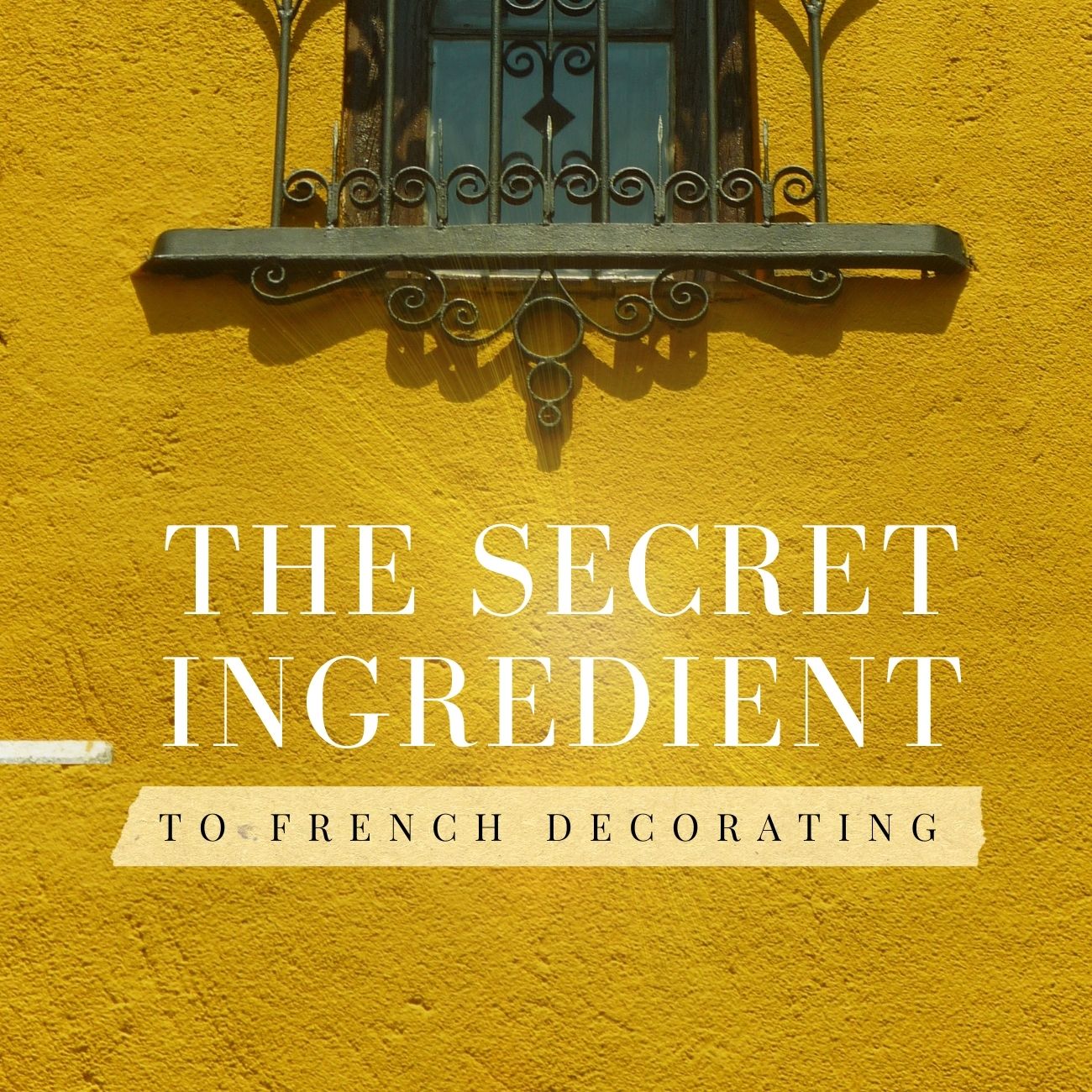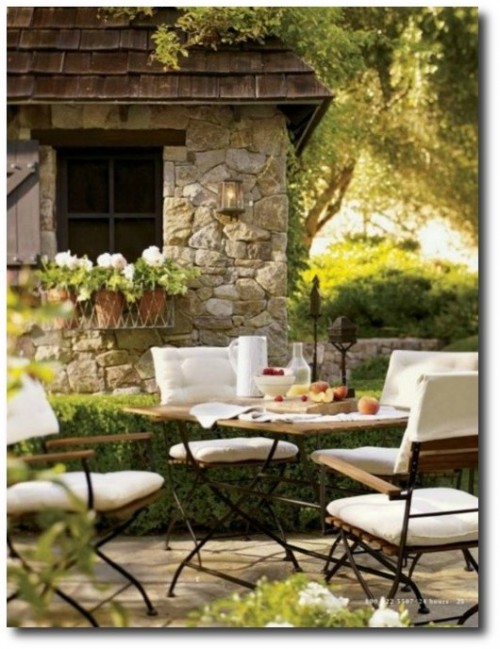 Countryside Provence Style French Iron Garden Chairs
Can you imagine how exciting it would be to stay in a rustic log cabin in Aspen, or have a dinner in a formal french restaurant in France?
If you are modern sort of gal, than run with that style.  If you like Italian looks, your dominate theme should be Italian.
There is nothing more exciting that FINDING your style and going after mastering that look inside your personal living space.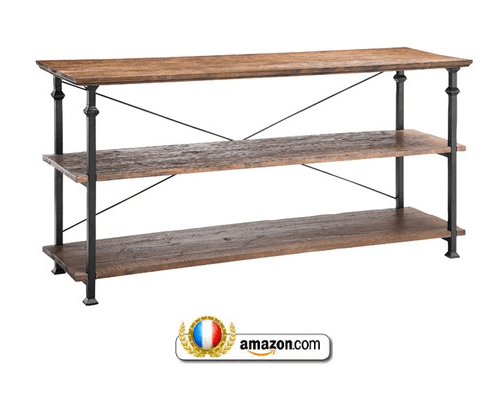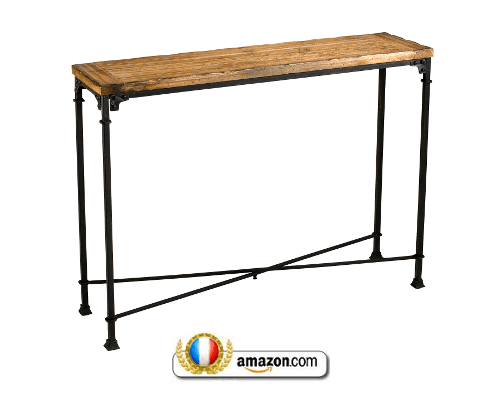 Cunningham Rustic Iron Reclaimed Wood Console
How do you do this?
Consider slowly exchanging out furniture which doesn't work.
Trade up.  Sell your old with pieces that are more "you" .
You can find antique finds at garage sales, ebay, craigslist and local thrift stores.
I know for myself, I would buy furniture cheap at thrift stores, auctions and so forth, and sell them for a profit on our local craigslist, and the money I gained from the sale I would invest in new furnishings.   I would sell our previous furniture for a profit, and exchange it out when I came across that was better and more of my period style.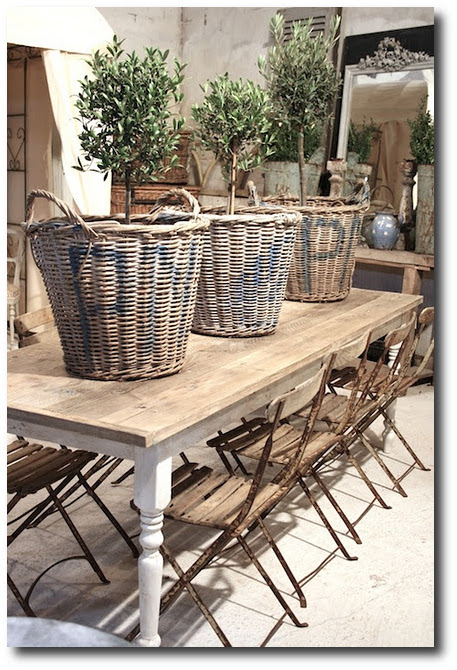 Rustic French Provence Decorating Ideas From Atelier de Campagne
The power of editing.
I was attracted to a particular style for years, and finally I figured out what period it belonged to, and researched the various elements of that style and ran with it.  The various layers of choosing the right furniture, to the right wall finishes, to the right flooring and textiles, it really has been a fun process for me.  I don't have a perfect home, but subtle changes with your furniture and the decor can make a big difference.
Getting rid of decor that just doesn't go with your period style can be freeing.
A girlfriend of mine had a huge garage sale in which she just got rid of all of her rose floral arrangements and colors that she wasn't decorating around anymore.  It made an impact in her home, and the only reason she hung on to the items is because she spent a lot of money on them.  Isn't that what happens?  Selling the items you don't need anymore, can free up money to spend it where you want.
Sometimes LESS is more in a home, and the right appropriate elements can make all the difference in presenting a style, and I guarantee you, it will make all the difference in the world.
Iron is seen a lot in old world French decorating.
One thing I have learned with Provence French Decorating, in compared to Swedish decorating, is that country side French decorating is based around stone and iron, where as Swedish is all based around wood.
With old Swedish styles, you would see wood plank walls, often painted, and all wood floors painted.  Wood was greatly available in this area of the world, so the style is basically dominated by wood.
Compare that to French decorating, and stone is a very common theme.  Stone floors, plaster walls, iron wall decor.
If you are wanting the Provence look, consider adding more stone elements in your home.  Consider a tiled floor.  Consider Plaster Wall finishes that replicate the look of stone in some way.  Consider keeping distressed wood furniture, but work with a lot of iron decor.  Put more effort into the architectural elements, and the little furniture that you do have that is French will POP.
Everyone has a concrete basement in America.  Why not look into getting the concrete polished and stained?  Use throw rugs instead of carpet in your basement.   I am sure this idea would cost a lot less than carpet, or even hardwood floors.
If you have a patio, slowly try to collect furniture that has an iron or metal base.
Think out of the box when it comes to this style.  Everyone has seen these vintage sewing machine tables in their local classifieds.  These sort of tables do come up quite frequent and they are listed at bargain prices.  Some even for $20 dollars, depending on the style.  Consider getting a new top made for them, or even take off the existing table top and use the iron to make a long bench for an outdoor table.
Southern Portico's photostream shows a table that is obviously vintage, but it would transfer extremely well in the countryside French look.
Avescape's photostream shows a rectangular table that could be used inside or out.  Instead of a glass top, consider re-creating a weathered top made from wood.   Your local home hardware store sells stripes of wood which you can fit and fit with a regular laser beam circular saw for straight cuts or a for rounded tables a jig saw.  All you need to do is some natural distressing, and a rustic wood stain.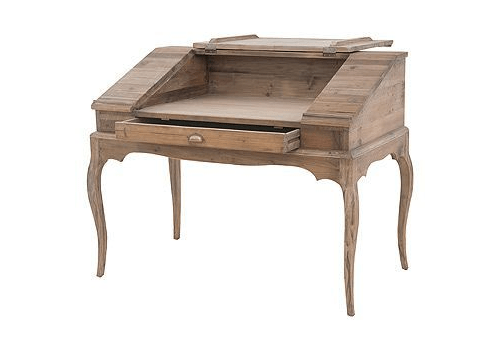 Check out This bleached wood furniture on my Swedish Site.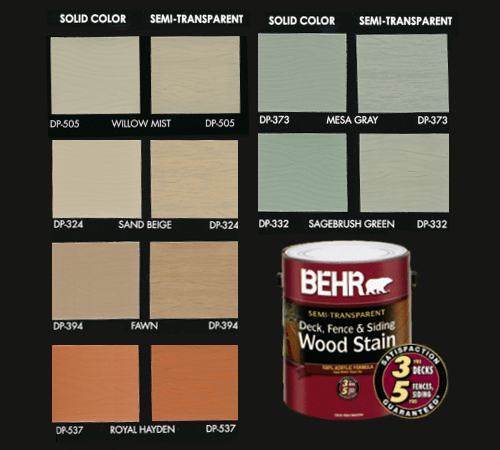 If you do stain your wood, I would highly suggest looking at Behr's wood stain line in Semi transparent colors.  The color to the left are solid stains, while the right provide a semi transparent look which I highly recommend.  Wood is beautiful to look at, and staining it in a transparent look, allows you to get the natural wood, while having the wood a shade of the color of your choice.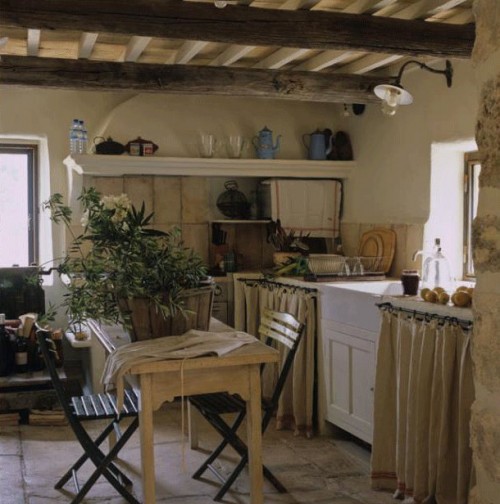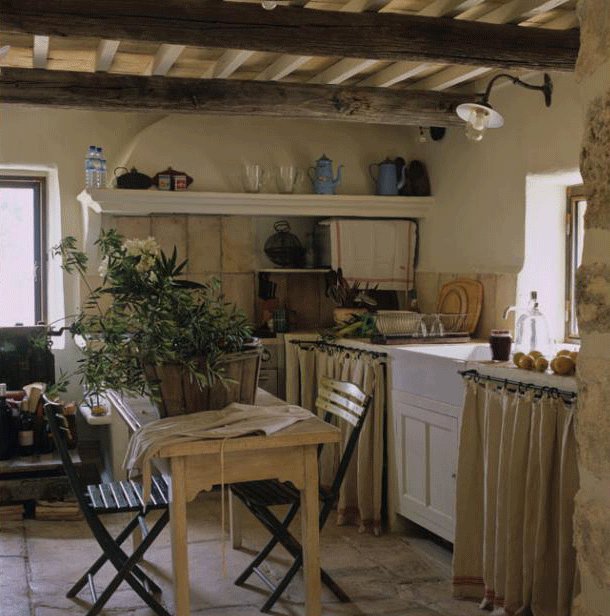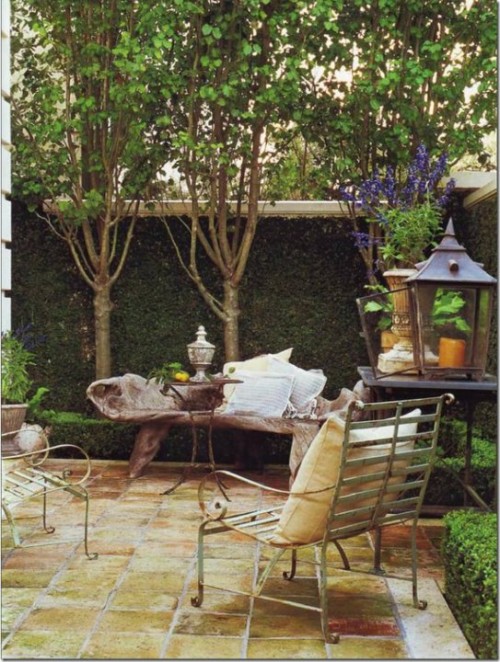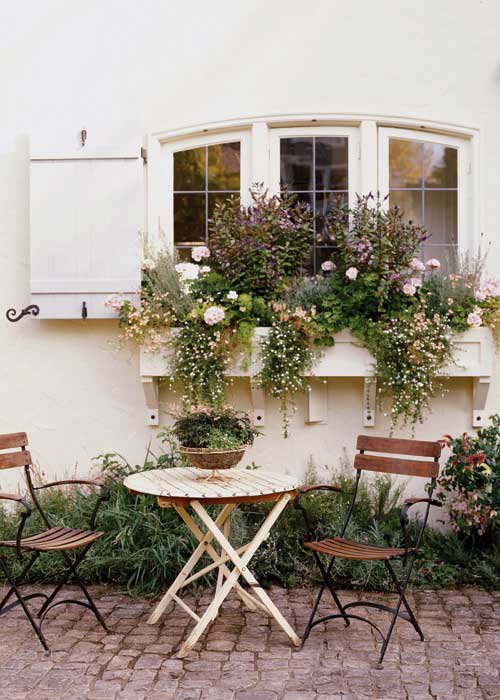 Circle Set of Two Leather Top Nesting Tables– Featuring leather finish tops with hand-tooled borders on curvaceous iron bases, these nesting tables are a beautiful addition to your decor- $299
Safavieh Winston Black Iron Vanity Bench $155. Black Iron Vanity Bench features a beautiful iron construction and a soft grey cushion
Scrollwork Console Table  With A marble Top-  $310The sturdy base is made of hand forged iron with a curling, scrolled design. The curved brown and white marble top has a beautiful, rich grain, and a beveled outer edge
SEI Iron Blanket Rack-The perfect spot to showcase the heirloom quilt -3 hang bars allow you to hang more than one blanket in view.
Renaissance Wrought Iron Wine Jail – Ornate scrollwork with antique bronze finish evokes the artistry of the Renaissance a fitting setting for your wine. Holds 45 standard Bordeaux-size bottles behind the slide-lock door. $140
Hudson Iron Crib– Beautifully Handcrafted  Iron Crib $700
Antique French Looking Daybed- $1782 This hand forged iron bed by Corsican has a classic style and timeless appeal. Made by skilled craftsmen who uphold a tradition of handcrafted beauty, attention to detail and a commitment to quality.
Iron & Brass Sleigh Bed – Black By Charles P. Rogers – Queen Headboard $800 Iron and Brass Sleigh Bed. Decorative accents are cast by hand directly onto the iron framework in the traditional manner. The crest rail and decorative turning are pure; solid brass with an exclusive antique finish. Stock finishes offer a choice of black with silver highlights or vintage white iron.
Cottage Wrought Iron Day Bed-$475 Made to accommodate any twin mattress it combines the comfort of a couch with the convenience of a spare bed. Offered with an antiqued finish, it is coated with a protective clear lacquer for durability. Double the options with a twin pop-up trundle. Easy to raise and lower with the touch of a lever, it rolls back under the bed for storage. Takes a twin mattress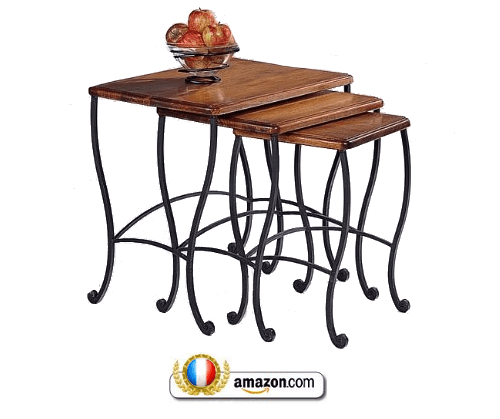 Set of Three Iron Tables For $65 Dollars
French Rustic Decorating Ideas- Craft Table with Paper Roll Holder by America RetoldProvence Decorating Ideas- Marble Brasserie Table by America RetoldItalia Accent Table Round Top $285– The sturdy four-legged structure provide a steady tabletop, and the hand-crafted wrought iron base with fired copper top create a strong and enduring piece of furniture.- Additional Pieces, Alexander End Table, Console Table,  Dining Table
Set of Three Wrought iron nesting tables with flower design tabletops- Imax $146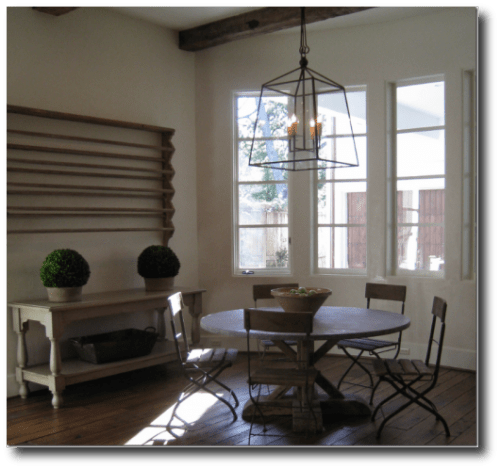 This beautiful picture featured on Greige Design Blog features a stunning example of Provincial decorating done right. As you can see they have a set of classic French folding wood chairs in a dining room.  You can see it works just wonderful.
These classic rustic french table sets don't only have to be for the outdoors only.  Here they have a painted gray / beige sideboard with some manicured boxwood plants with primitive decor such as the wood fruit bowl on the table and the deep tray table sitting inside the sideboard.
This minimal approach to decorating works as only the best of furniture and decor pertaining to what would be found in Provence is featured, while the clutter and modern day decor is removed.
Provence Homes With Iron Furniture
– This outdoor Provence home features fold-able french wood chairs along with a rustic wood table.
-An old world feeling is created in this Provence yard with fold-able metal french chairs.
-In this photo we see painted metal furniture in a French Provence setting.
-In this photo, fold-able wood chairs are painted a bright yellow, a classic Provence paint color.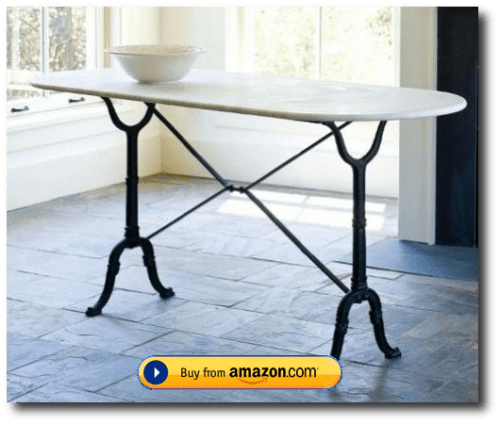 Provence Decorating Ideas- Marble Brasserie Table by America Retold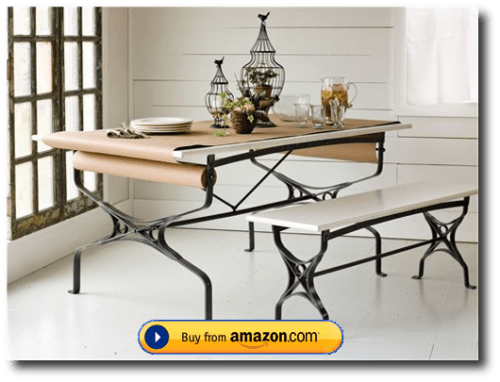 French Rustic Decorating Ideas- Craft Table with Paper Roll Holder by America Retold