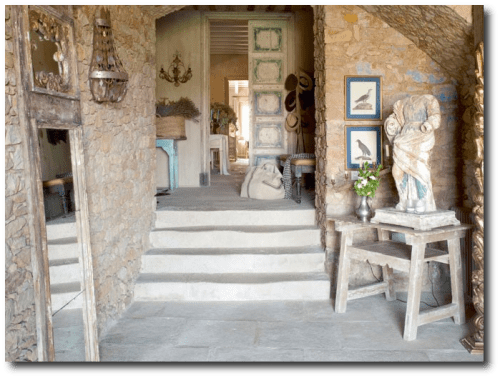 This beautiful farmhouse was newly constructed and sits between the sea and mountains of the south of Catalonia, Spain. The house is decorated in the French country style. Borrow the best looks from this house for your own home. Below we offer three suggestions that will give you the biggest impact for gaining the French country look in your home.
1. Old Plastered Walls
Old Plastered walls will give you an old world look automatically. Nothing will change the appearance of your home MORE than a faux wall finish. While there are so many finishes to choose from, it doesn't have to be complicated. Today there are a large range of concrete/ plaster molds that are available to FAKE a stone wall in your home. ALSO, applying plaster that is mixed with paint can be an easy faux finish that any person can make. It doesn't have to be complicated. Consider adding texture to your smooth walls to give a inexpensive–comparable look to stone walls.
Consider adding texture to the walls using joint compound. (It is important that you test this look on a sheet of wood before applying it to your walls to see of you like the appearance before adding plaster. Practice makes perfect) Simply apply a thin coat (1/4″ thick) of compound to the wall, using the flat edge of the joint knife. A thicker coat of plaster might crack and fall off, so working with thinner coats is ideal. Experiment with creating various surface textures. Use a broom to create a striated, or a paint brush to create texture in the plaster. Experiment with textures that look genuine. When the textured surface is complete, let the wall compound dry for about 24 hours. With a paintbrush, apply pale-pink semigloss paint to the wall. Apply two coats of paint to seal the drywall compound. After your wall has dried, apply a glaze onto the wall with a wide paintbrush. Your glaze should be a slightly darker color of the paint color on wall. A very light muted yellow mixed with glaze would also make a terrific glaze. Simply paint the glaze on, and wipe off the excess glaze with a cotton cloth. The glaze will collect in the crevices giving the appearance of an aged look.
A large amount of faux plaster stone molds are available. Plaster is pretty inexpensive, making this project very affordable. The only down side to these molds, is it will take you a long time to make enough to cover a wall.
To read more details about this beautiful home, visit Campagne Decoration.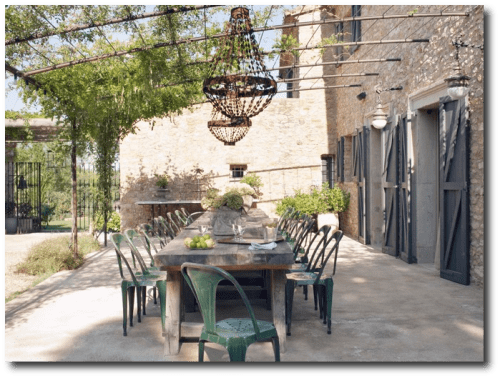 Save