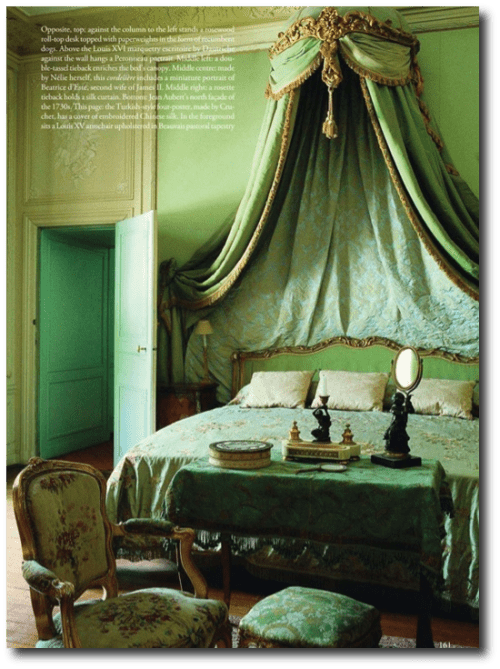 French Bedroom- The World of Interiors Nov 2011
When it comes to expensive antique or vintage furniture, you want to keep your furniture in good shape for as long as you can. Upholstery can get messed up fast, especially if you have kids. Their sticky fingers and accidental spills can leave your furniture looking beat up and grungy. However there are some ways to keep your furniture looking nice:
1. Fix scratches – Scratches on wood can easily be fixed with something you probably already have. No it is not a chemical or stain. Instead rub the scratch with a walnut. Somehow the nut removes scratches faster and better than anything you can buy at the store.
Also consider getting Minwax wood finish stain marker to fix those small scratches on wood based furniture.
2. Remove stains – Some stains seem impossible to remove, but have no fear. Almost every satin can come out if you have the right stuff. My first go to for stains is Oxyclean. Safe to use on almost all fabrics and carpets, this miraculous cleaner helps me to get out stains like blood, wine, and even grape juice. This works well for stains in the car also, so it is well worth investing in a bucket of the wonder powder.
– You would be surprised how well plain white soap works. With a bit of water, and white soap, stains usually lift right away.
-If your upholstery starts to look dingy, or has developed stains and spots, before you do anything, it is important to vacuum it. This will lift the dirt up off the upholstery so that when you go to remove the stains with water, you won't be grinding in dirt and dust which, when wet, can further dirty your couches and chairs.
– When a spill occurs, blot the spot, don't scrub or rub. Clean up the spill with a dry white cloth as quickly as possible to prevent the stain from spreading. Blotting is perhaps the most crucial, and also common sense part of how to clean upholstery.
3. Use Tablecloths –The best way to keep your dining room table looking new is to prevent accidents from happening in the first place. When kids are around try to keep delicate fabrics and woods covered. A thick tablecloth will help to keep your table shiny and new looking. Exchanging out tablecloths will keep your kitchen and dining areas looking fresh. Use white linen for special dinners and beige linen for every day use.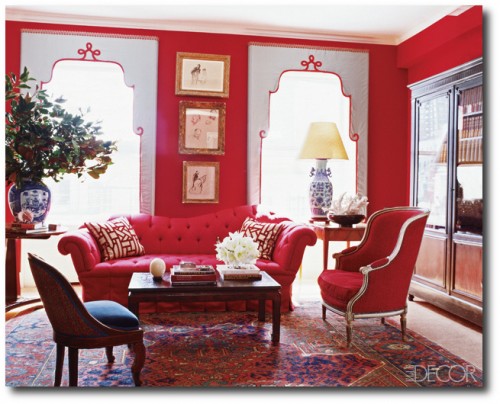 4. Use Satin Wall Paint- This French interior walls are painted in a vibrant shade of red. This living room, designed by Miles Redd, shows the red interior we all dream about. Redd adds a feminine feel by using pelmets around the window. A red upholstered French chair brings this red room together. Use Satin Paint which can be cleaned yearly, which can brighten up dull wall paint. While flat wall paint is quite lovely to look at, it cannot be cleaned. Satin has a bit of a sheen to it, allowing you to gently wipe down the walls year to year.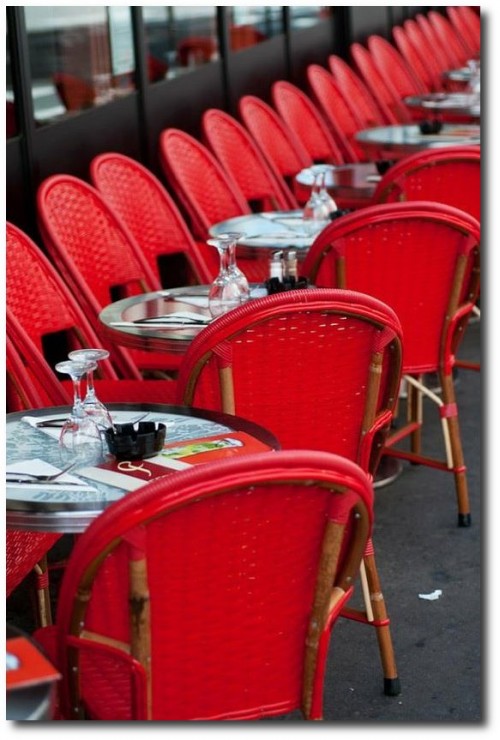 5. Use The Right Outdoor Paint. Rich rattan furniture can be seen through out the French cafes. Copy this style for your own patio, by updating it with a rich cherry red. Outdoor paint is formulated differently than indoor paint and often extends the life of your furniture. Many more additives are used in outdoor paint to keep the color rich through sun exposure, and rain and the winter season. Painting wicker furniture can take a lot of time, so it is important to use the right paint. Using a paint sprayer that hooks up to a compressor will allow even coverage, as well as be able to paint all the areas the brush cannot get to. A sprayer will allow you to paint all 6 or 8 chairs in an afternoon. Spending a bit more for the right paint will ensure your furniture will last for years without peeling, or loosing its color.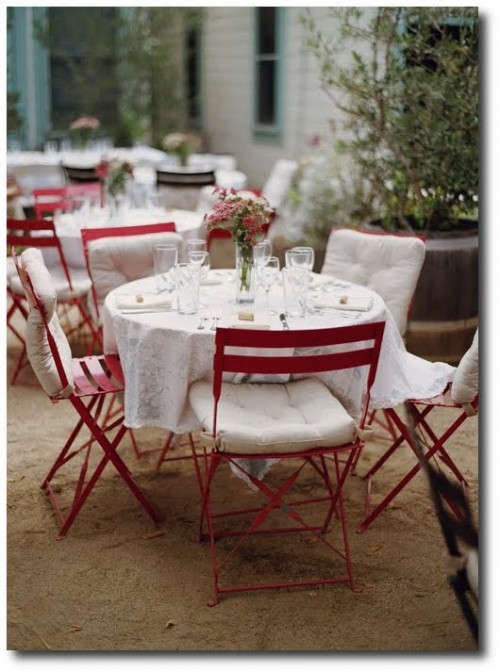 6. Save Your Paint For Touch Ups. Over time, furniture will need touch ups. Save your furniture paint for future re-painting. From year to year, patio furniture will scratch or flake off. Having the extra paint on hand will allow you to re-paint table tops or areas of the furniture which tend to scratch. If you are thinking about adding an additional piece to your collection, your stored paint will save you time from matching paint and making another run to the hardware store.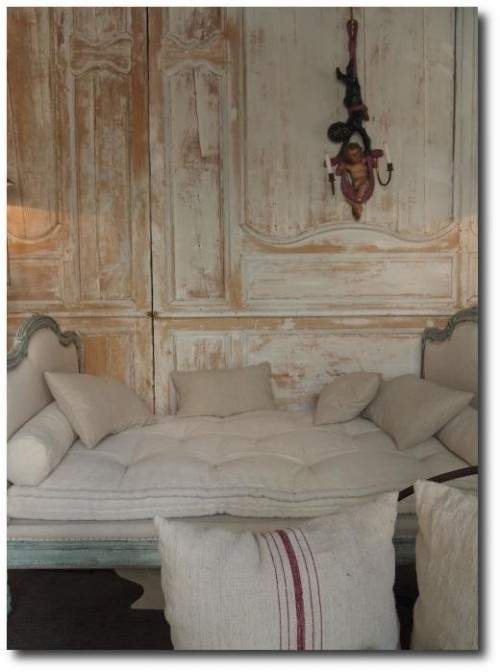 7. Invest In A High Quality Vacuum Cleaner– These old fashioned mattresses have become very popular with Zentique, Home Decorators Collection and Restoration Hardware. Although this style presents a primitive look, you truly don't want to keep mattresses exposed over time, as dust and dirt settles in quickly. Mattresses are often not cleaned in most homes, yet we spend 8 hours on them in a day. In this video, you can see how much dirt a Kirby Vacuum picks up off a clean-looking mattress. Consider investing in a high quality vacuum cleaner that is of professional quality. Kirby vacuums and Dyson Vacuums are considered the best vacuums on the market. Check out both vacuums in this video. Cleaning your mattresses, furniture, and carpets will extend their lives restore the air quality in your home.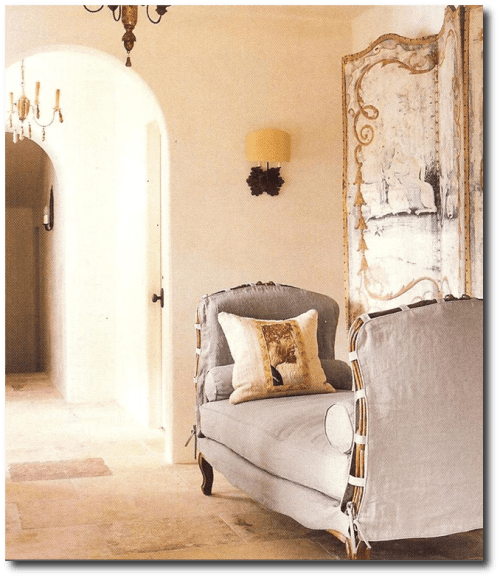 8. Invest In Slip Covers- Joni from Cote De Texas wrote an excellent article listing the top 6 must haves for the year, and slipcovers was one of them. Slipcovers are the covers that protect the furniture from dust and stain. They can be removed and are easy to wash and clean.
Slipcovers also allow you to exchange out one pattern for another. Perhaps having two slipcover sets – one for the winter and another for the summer.
9. Use Slipcovers For Your Dining Chairs- Your kitchen or dining table is used regularly, so consider making or purchasing slip covers for your chairs. Chair seat covers come in a variety of styles that fit with any décor. Even couches can have a blanket tossed over them to prevent sticky hands from ruining it. While a blanket can be tossed into the washing machine, a couch can't. By taking precautions you can keep your furniture looking brand new.
Items to Consider:
-ViveVita Linen Dining Room Chair Covers in Sets of 2
-Sewing Slip Cover Patterns From McCalls, Vogue and Butterick on Amazon
–Simply Slipcovers: Stylish, Practical Solutions for Tried-but-True Furniture
–Custom Slipcovers Made Easy: Weekend Projects to Dress Up Your Decor
-The Complete Photo Guide to Slipcovers: Transform Your Furniture with Fitted or Casual Covers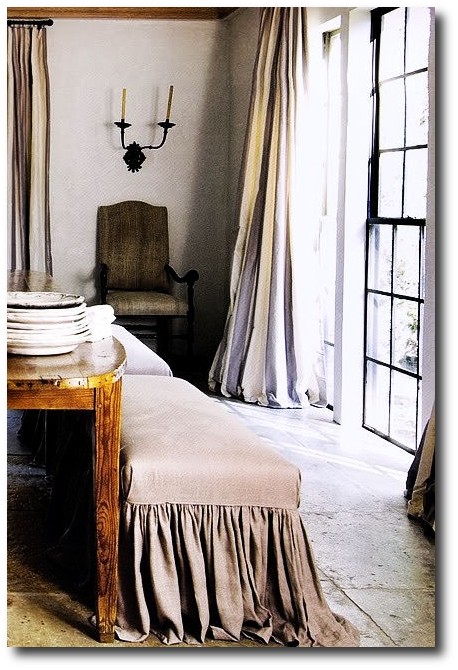 Ruffled Slipcovers From Tumblr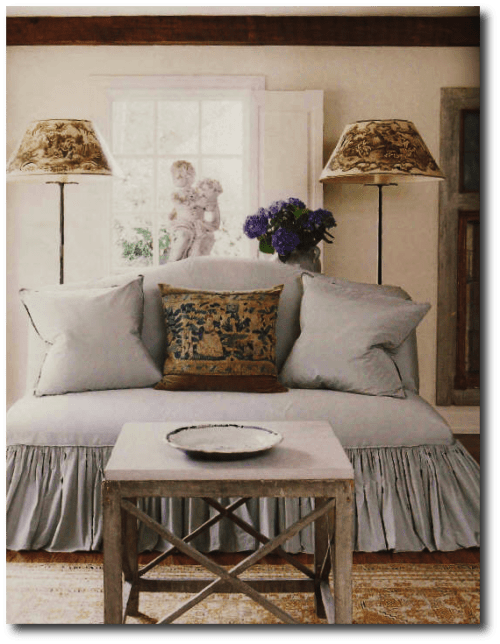 Shannon Bowers Home – Featured On Cote De Texas
10. Keep Your Furniture Out Of The Sunlight.- If you have a choice in upholstery, consider upholstering the backs of your french chairs in a different fabric if they sit near a window with sun exposure. Over time the fabric which has been exposed will fade in color. Having the front upholstery different than the back will allow the back to fade naturally, without the front looking quite a bit different.
Light is important, and you don't want to have to close your curtains just to preserve the furniture. Slipcovers can also allow you to exchange out linens over time, giving you fresh prints and fabrics to change up your home through the seasons.
These are just a few of the ways that you can preserve and protect your furniture. From antiques to words of modern art and design, it is much easier to prevent then it is to repair. So be alert to dangers and do not be afraid to cover up delicate pieces.
About the Author:
Ken Myers is an expert advisor on in-home care & related family safety issues to many websites and groups. He is a regular contributor to www.gonannies.com. You can get in touch with him at kmyers.ceo (at) gmail.com.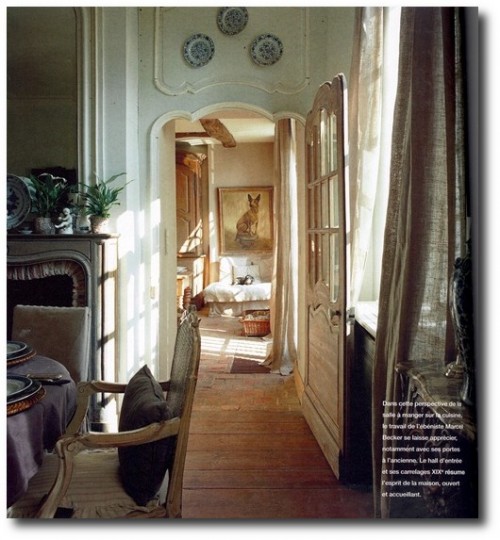 Source Magazine Juliette & Victor 2012 – Photo credit Louis-Philippe Breydel
Photo Originally Appearing on Belgian Pearls Blog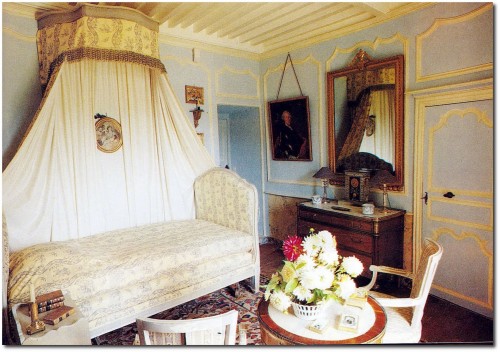 18th Century French Interiors- The Essence Of Frenchness Blog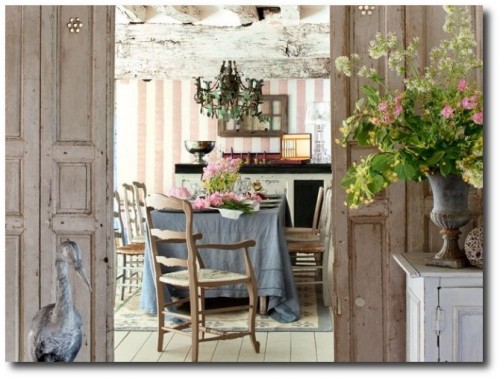 French Table Cloth Looks From Art et Decoration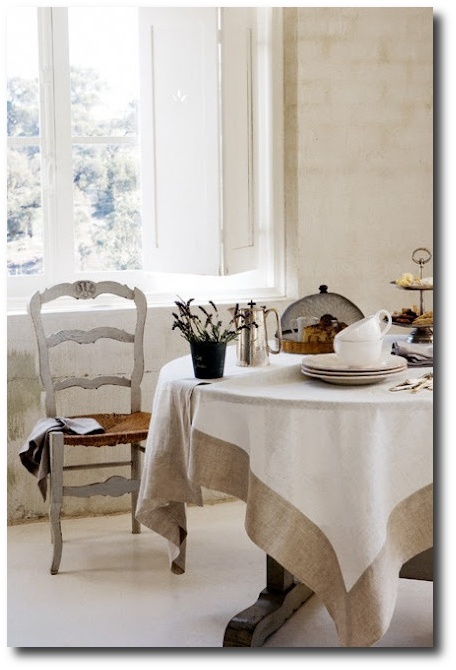 Linen is a staple of French decorating. Not only does it have a wonderful texture, it also gets better with age, softer each time it's washed. – Photo Credit Home Life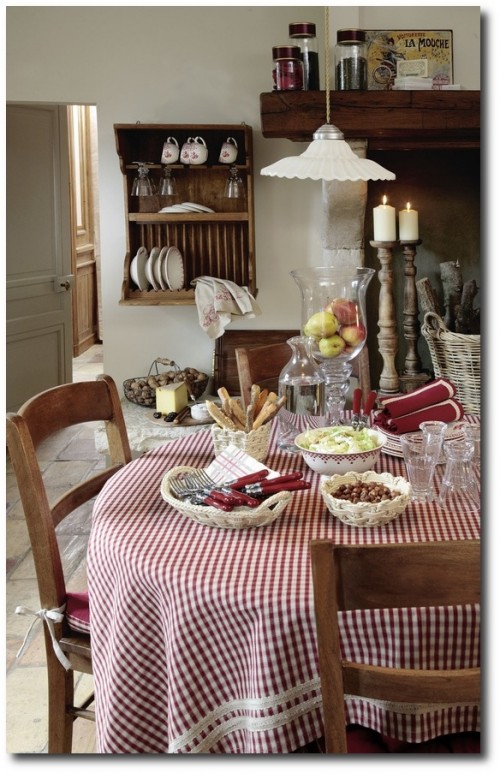 Classic French Country Decorating- Browse the full range of Mamie Carreaux
Save