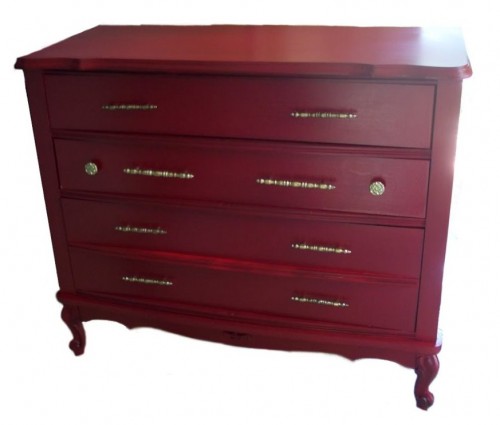 What was I thinking with these handles!  YUCK!  This is one of my chests.
Over the years of finding and restoring french provincial furniture I have come to know the quality french pieces and the ones to avoid. I hope to point you in the right direction when considering a french provincial piece for your home.
French provincial furniture is a style that can easily be painted a variety of styles without looking out-of-place or obviously painted. Many classic french furniture dating back to the 1700's have been painted, so french reproduction furniture is the perfect choice if you are considering making over a chest using bright or conservative colors.
There were many furniture manufactures who produced high quality lines of furniture, and there were also companies who offered the same look but with lower quality materials. Every company carried a number of lines, and still maintained the same level of quality as their higher end lines. You will find that with Drexel, Union and Thomasville french provincial furniture. They both carried a number of different styles, most of high quality made from solid wood.
The vintage children's french provincial furniture is often featured in white and gold, with melamine tops, and baked on white paint.  Depending on what you are after, we always recommend looking for the provincial sets made out of solid wood.   Even if you decide to paint them, the higher quality dressers are not plastic and they last longer, because of the quality of wood and materials used.
There is nothing wrong with the classic white and gold french provincial furniture.  Many of the sets are high quality wood under the paint, and are outstanding examples of reproduction french furniture.
Below I would like to show you out of my own experience a line to avoid.  I honestly do not know the name, but they can be found everywhere.  If you have the choice to buy this set or wait for a better set, I would recommend waiting.    Below I explain the two areas of disappointment with this line.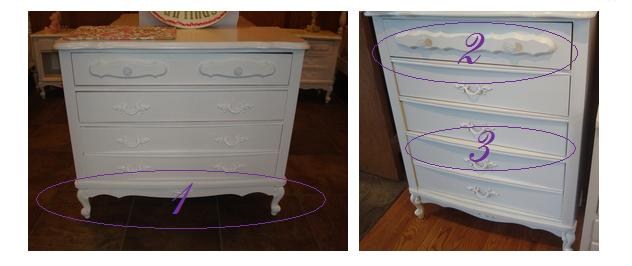 Granted, this dresser looks pretty in white than the manufacture finish, but here are some issues with the quality of the dresser you should know about.
1.   If you have ever shopped at Ikea, you know how poorly pressed wood looks.   Bump pressed wood the wrong way and it is ruined.  The same goes with this dresser, much of the dresser is cheap pressed wood, and plastic.  I didn't really realized how plastic this dresser was until I painted one for myself.  (See the red dresser)  The feet come off, and if you look closely at the french feet there is a line that appears down the center of the foot that even when painted, it looks plastic.
2.  This dresser comes with plastic architectural elements.  Perhaps to some people, it is ok, but it is just gives it a  low quality appearance.  If you do have this dresser, I would highly recommend you take off the plastic elements and use wood filler to fill in the holes.  Circled in diagram 3 is another cheap design in plastic.   There is nothing seamless about this dresser.
If this dresser does the trick for your re-purposing project, by all means, go for it.  I bought two vintage toy boxes in this style and made them over.  While it isn't the highest quality, sometimes if the design works, it works....!