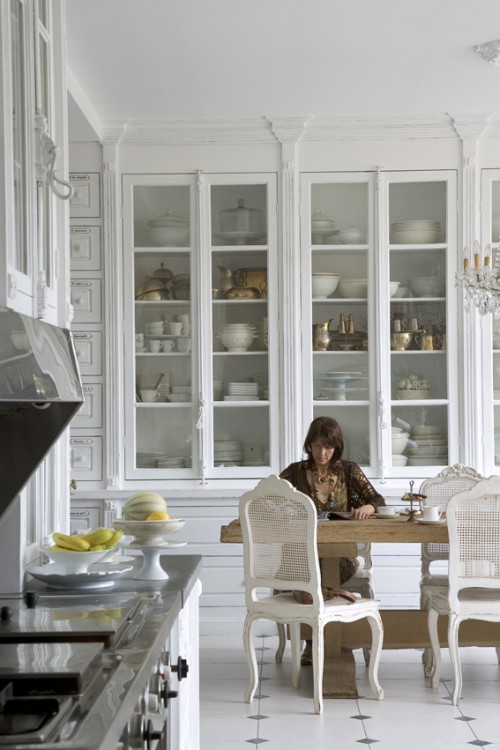 French Provincial Furniture Ideas From Photographer Bieke Claessen
The kitchen walls in a traditional French home are  often made from brick or stone.  Consider trowling some plaster on the walls, or consider making your own  stone out of plaster for pennies which can save you thousands when you plan on re-decorating. Dry herbs can be displayed in the kitchen and at the same time fills the air with their smell.  Iron has always played an important look in the rustic countryside of France.  Consider adding decor with metal elements, such as baskets which can hold linen napkins, faux fruit, or extra silverware.  The table is an important part of Provence styled decorating.  Painted furniture mixed with raw wood will  you complete the look.
Here are some of my favorite picks:
The Noah Dining chair will fit gracefully in a home that has a classic and soft aesthetic. If features a cane back that has been brought back to life and a beautifully tufted seat cushions for comfort. This chair features a cane back, and a lose seat cushion - Sells for $429
The Napoleon collection faithfully captures the romantic feel of vintage, painted furniture from the French countryside. Featuring gently curved frames made of solid hardwood, brightly colored then rubbed down on the edges. Adds a soft splash of vibrancy to any setting. The Louvre arm and dining chairs are accented with a cane back. The chair is made of kiln dried hardwoods , and constructed using Chinese Joinery .  Webbing placed in the seat for support, and hand-painted and hand-distressed for that special French appeal.  New, sells this Louvre dining chair for $299
The Baltic dining table features a natural rectangular surface and an elaborate based. It would make any dining area stand out because of it's beautiful natural elements. The table features a Kiln-dried hardwood frame. The finishes are hand applied and sanded repeatedly. The top of the table is coated with a lacquer top coat or wax. New sells this for $1,499
The most important room in the house is the kitchen and the same is said for  the French Provencal look. The kitchen is where most of the entertaining is done in the home, so it makes sense to invest in quality furnishings where you spend hours of your time.
Le Havre Dining Table-Elm Wood: W98.5 x H30 x D35.5 $2,949
Reclaimed Lumber Coffee Table $1,499