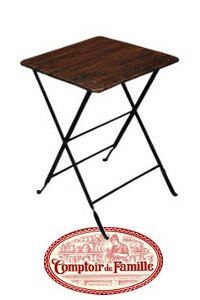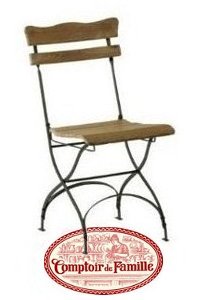 There is nothing like finding old style French Provence furniture to decorate your patio with.  Old style french furniture often contained both iron and wood.
Folding furniture has been around for centuries.  In fact, Egyptian furniture included folding stools and couches.
Campaign furniture was originally designed for the British army in the late 1700's which could be taken with them on the battle front.
The furniture was easy to fold up, broken down and set back up in an instant.  Folding furniture is perfect for any home because this style of furniture can be stored easily.  Many people face the situation that their iron furniture cannot be easily stored in their garage, and often times what happens is the iron is left out to face the harsh weather through the winter time.
Fold-able patio furniture makes sense.  Many people choose this type of furniture in apartment buildings with balconies because the furniture can be folded up if they want the floor space to work on a project.
The folding patio furniture has also been photographed inside homes instead of outside on the patio.  As more people are falling in love with primitive decorating, such as stone walls, rustic limed wood flooring, and distressed paint finishes, many people are turning to these rustic pieces to finish off their old world looks inside their homes.
Slatted cafe tables and chairs have been typically left in its natural state, although they can be painted to match your coordinating furniture.  Wood and iron have been the number one choice when it comes to patio furniture.