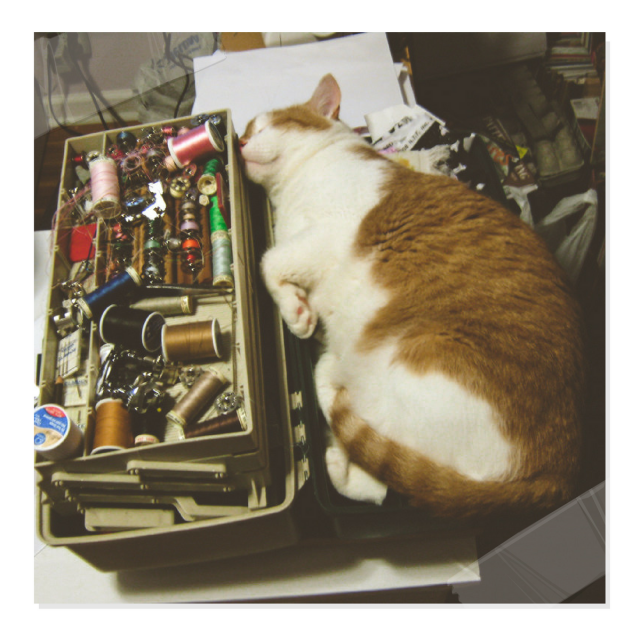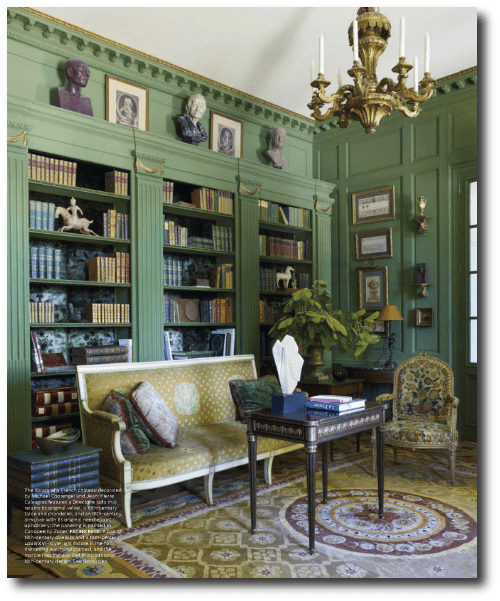 Coorengel And Calvagrac Bordeaux Library- Elle Decor
Perhaps your children have left the nest, or you are newly married without children and you have that one extra bedroom that seems to be void of any life. You sit at the entry way deciding what to do but haven't found a use for the room, other than a second bedroom or storage.
If you are wondering what to do with a spare room, and are looking for ideas to fill the space, we give you 7 really practical ideas to make that extra room functional, while at the same time fitting in with your French Provence countryside style.
1. A Library
The suggestion of turning that extra room into the library, instead of a craft room, just may convince your husband to fork out several hundred on a new built in for his, or should I say….. your books. Men love cigar rooms, rooms where the can watch football games, so if you are into compromising, this may be the perfect idea that would work for the both of you.
Consider Provence Colors For The Extra Punch
The library of a French château decorated by Michael Coorengel and Jean-Pierre Calvagrac (above) features a French style, brighter color palette. Colors like bright green, sunny yellow, vivid turquoise, and deep teal are exactly the type of shades that originally would have been used at Versailles. Lets face it, colors fade over 300 years, so the colors we today in Versailles, are not the colors that were originally chosen. Don't be afraid of going with brighter paint colors. Have fun accessorizing with a French settee and reading chairs.
Don't Get Overwhelmed With The Cost Of A Library
Yes, built in's can cost thousands, but it doesn't have to. Blogger Joni Webb transformed an extra bedroom into a library and reveals some of the in-progress photos. In this photo, you can see how one would assemble the bookshelves, which then would be completed using strips of wood which gives the overall look a professional finish. Paint your bookcases, and add custom lights, and a window bench and you have a room that looks and feels French. Look at Joni's room after here. It is a dream library.
Perfect French Furniture
-Zentique Jute Bastille Sofa, Jute $3930, matching chair, $2600
-Wingback Chair, Natural Oak/Linen $1020
-Zentique Genevieve Sofa $3500
-Zentique Maison Sofa Natural Oak Natural Linen $2300
2. A Serious Closet
Now that the kids are out of the house, you can spend some serious money on those handbags you always desired, show case the jewelry you have collected over the years, and the shoes you can only wear in the summer. You can finally shop at home, and it costs you no money!
If your spare room is on the smaller side, it could make the perfect dressing room. Custom wall-to-wall built-in shelving could be sensational for storing shoes, belts and accessories, and hanging clothes.
– Get the wood look for less. Consider the Martha Stewart shelving systems available through Home Depot.
– Use Metal Brackets- For all our closets, we decided to work with the Closet Maid products at Home Depot. I installed 4 Shelf Tracks in most of our large closets, spray painted them with an oil based primer before installing, and spaced them in our closets using a stud finder. After installing all the shelf tracks, simply paint over them using the paint you plan on using for the walls. The shelf tracks then just blends into the wall. Instead of using the wire shelving that is sold in the line at home depot, go for wood. Purchase one foot solid wood boards in the length of your closet, and then simply paint them the same color as your wall color. You get the built in look without spending the mega bucks. For all of my closets, I used the lager 16 inch bracket from Closet Maid. Using an oil based primer which will stick the existing paint, spray paint the brackets, which then can be painted in the same overall paint you choose for your closets. Create ceiling to floor shelving for your shoes, and customize boxes by painting them the same color as your walls, for that extra designer touch. Go for dark color inside your closets to make your colorful clothes pop, such as a navy, or rich gray. Having everything painted in one solid color brings attention to your collections. Add corner brass hardware to bring your closet up that extra notch. The details can go a long way.
Lisa Vanderpump's Closet
Lisa Vanderpump's closet is one of the most beautiful closets I have seen. In this picture, you can see the closet is painted in white, which nicely shows off all her colorful designer clothing. Consider adding an island with drawers for jewelry like Lisa did. In this photo, you can see all of her pretty heavy jewelry on display. Clothes and handbags are organized by color. Custom floating shelving on the wall show off a variety of pretty handbags and accessories. Make room for a decorative full-length mirror and stool, bench, or French chair.
3. An Old Fashioned French Game Room
Family time now can be set as a priority. All in one games are perfect for kids. This 6 in 1 Multifunction Sport Game Table can be set on a table top, and has a variety of games that can keep grand kids busy.
If chess is your game, order this beautiful wood chess table. Add two French chairs, and enjoy endless nights as your husband teaches you chess. Game rooms can be perfect for connecting with your better half. Conversations can be ignited in a game of cards, something we think is so ancient.
A game of darts, ping pong, or pool are great activities to play with another person. Coffee dates with your best girlfriend can be rather fun over ping pong than sitting in the back yard. These games don't have to be out of plastic. Today you can buy high quality sets in wood that work with an upper scale theme room.
Here are my favorite links:
– Rome 8 Foot Pool Table- Buy it on Amazon for $1549 , available in Maple
– Athens 8 Foot Pool Table- Buy it on Amazon for $1799
– Marietta 8 Foot Pool Table Buy it on Amazon for $1549
-Stiga Insta Play Table Tennis Table Buy it for $560
– Worcester Arcade Style Dart Board Cabinet Buy it for $349
4. A Multi- Hobby Room
A hobby room can be the best use of space out of all the options. Having a room dedicated to a passion can turn the available space into a serious second income.
This Atlanta Homes Magazine picture features a hobby room that could serve multiple hobbies. Book shelves and baskets serve as good storage options. Two large tables work great for sewing crafts, quilting, photography and scrap booking.
Arts and Craft Hobbies:
Painting, Drawing, Photography, Pottery, Quilting, Sewing, Knitting, Crochet, Scrap booking, Jewelry Making, Candle Making, Soaps making, body scrub making, Flower arranging, Dressmaking, blacksmithing, dollhouses, knife making, musical Instruments, candles, sculpture, film Making, stained glass, shadow boxes, doll making, sewing, glass blowing. Paper Crafts such as origami, decoupage, and quilling.
– Harbor View Craft Armoire Buy it on Amazon $272
– Knotty Alder Raised Panel – Scrapbooking, Jewelry Making, Hobby Storage Armoire- Buy it on Amazon for $1230
– Minibox Sewing Supplies Organizing Desk $945
Music Hobbies:
Music can be so rewarding and bring so much pleasure. Learn to play an instrument. Play guitar, piano/keyboard, the violin, or learn how to sing. Create a dance studio, and learn how to Latin dance, or create a ballet room for your daughter.
Electronic Hobbies
Electronics is a popular past time. This can include building circuits, robotics, R/C Cars, Boats, Planes and Helicopters
Science Hobbies
There are a wide range of science hobbies that a room dedicated to the love of scientific advancement can be thrilling. Many of these hobbies include astronomy,
microscopy, model airplanes, and rock collecting
-Scrapbooking collections can easily get out of control when storage isn't available. For those who love scrapbooking, in this post, I detail furniture specifically designed for scrapbooking from Martha Stewart. Paint additional furniture in the same color to get a built in look.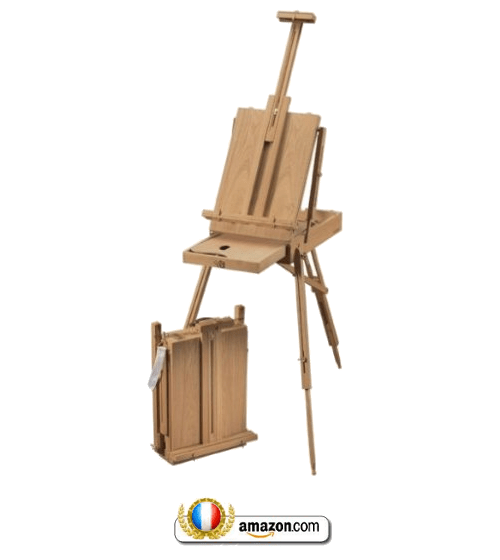 – The Alvin Heritage™ Basic French Easel not only has the antique charm of the past, but could serve as a centerpiece in a painting room.
-Alvin Pavillon Art Table – Unfinished Wood Top $182
– Wood Drafting Table with Pencil Ledge and Storage Drawer -$319
Choose furnishings that double as storage and seating, such as convertible storage benches, ottomans and stools. Line the room with open and closed door shelving to store and display hobbies.
5. Home BUSINESS Office
A home office can be a great place to get organized. A desk can hold the supplies that often get dumped into the kitchen's junk drawer. Lots of people love to write but don't know how to get organized. Write on a blog, write an e-book, or write poetry. A library, or room dedicated towards your dream of being published might be the best way of really getting serious about putting a plan into action.
A room dedicated to a home office also could allow a second income to earn you money. If you are an attorney, a seasoned accountant, able to do payroll, or any online medical jobs, a second room dedicated towards work can pay the bills and afford you a vacation that you have never taken. Additional jobs that can be done at home are graphic design jobs, website development, and software creation. Any editing jobs can also be done from home.
6. A Simple Drop Dead Great Gorgeous Extra Bedroom
Go buy that dream French bed, and create the perfect French guest room, while at the same time having your hobbies in the closet. Yes, I said closet! Transform the closet into your hobby desk and organization area. If you plan on regularly hosting family and friends, make your spare bedroom a comfortable place for overnight guests. Transform a closet into your storage space for your hobbies, an extra seasonal closet. Save space by using a trundle bed, positioned against the wall.
Additional Ideas- 5 Ways to Makeover Your Spare Room- Cabinet Hardware Ideas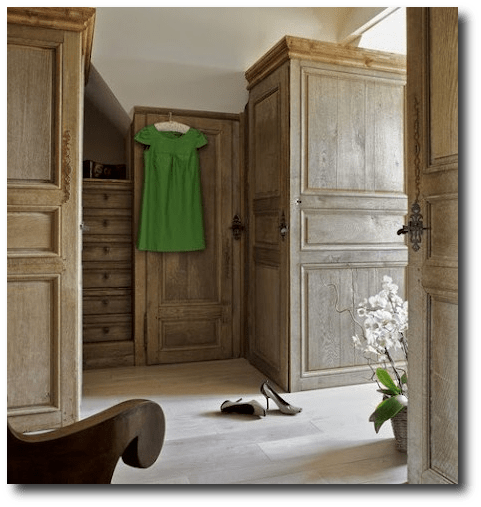 Christophe Laurent Durand Rouffio – Nov. 2011- pictures from maison-deco.com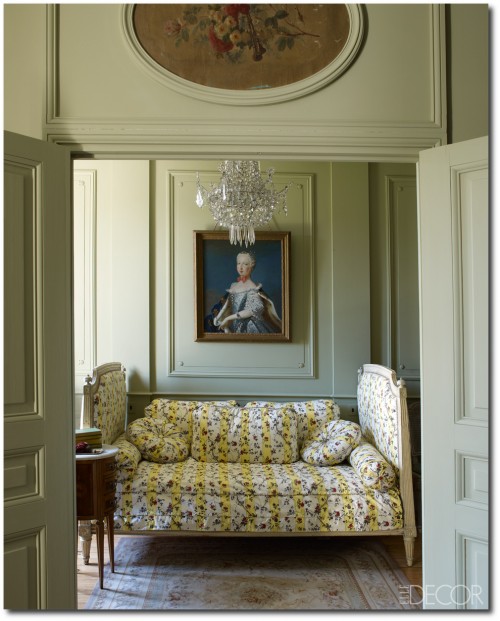 An 18th-century portrait of Marie-Joseph of Saxony, daughter-in-law of Louis XV, in the Polonaise bedroom; the Louis XVI daybed is upholstered in a chintz based on an 18th-century fabric, the chandelier is 18th century, and the walls are painted in Farrow & Ball's French Gray.
Picture –Elle Decor