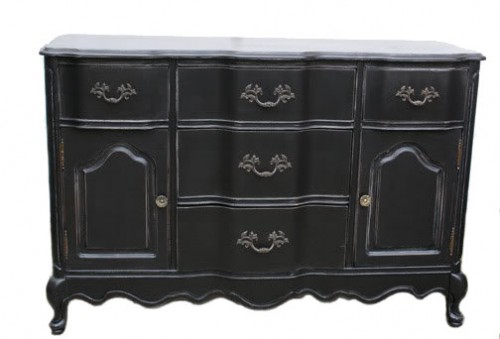 Bassett French Provincial Buffet
The French provincial style has stood the test-of-time. Today, like in the past, the French Provincial look is essential to competing the classic french country interiors, Swedish styles, and shabby chic styles.
Buffets have always been a must in every dining room but also have been re-purposed as entry way cabinets, tv cabinets and also re purposed bathroom sink vanities.
The classic buffet furniture consists of buffet tables, buffet cabinets, buffet hutches, buffet sets, and sideboards. Depending on what you may need for functionality each piece offers something different.
A hutch which comes with a buffet is perfect for china display and presentation. If you are a avid collector, hutches are the perfect solution, as you still have the extra cabinet storage in the buffet.
A buffet cabinet provides the storage space you may need to store glasses and extra dishes, while the top is a tabletop you could use for display or extra space to hold food when family comes over and the dining table is crowded. It is great providing extra food space, allowing you to feature your food instead of cramming it all on the table or ushering your company into the kitchen.
Buffet tables usually do not provide any storage, but are attractive in that it is an extra working table top similar to the buffet cabinet but without the storage. The table serves as an extra tabletop for entertaining, and also allows for decorative display in your dining room, living room, and kitchen.