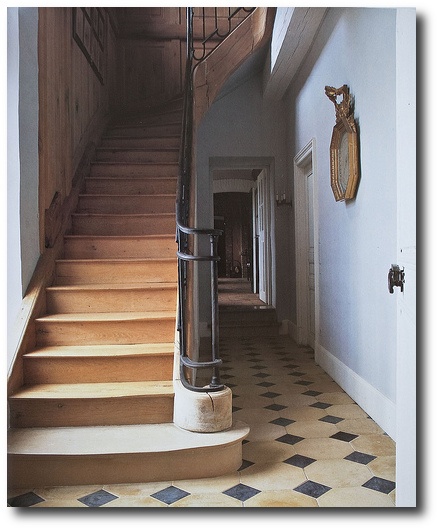 When Frederic Mechiehe arrived at this chateau in Normandy, he was faced with decaying floors and a missing roof. Everything in this home had to be reassembled or "faked". Period style wooden stairs were installed and artificially worn and hollowed by an industrial sanding machine. The stone floor with black marble lozenges were also added. In this picture, the only thing genuinely to be period is the Louis XVI barometer on the wall. Taken From-Rooms To Remember – Interiors Inspired by the Past By Barbara Stoeltie.
Interior designer, Frederic Mechiche is known quite well in France for re-creating the old world interiors that many of us dream about. So it comes at no surprise that his own home would be fulled with beautiful French antiques, and breathtaking detail. His home is located in Hyeres, which is the Provence-Alpes-Côte d'Azur region in southeastern France. Hyères is the oldest resort on the French Riviera. His home, a fourteenth-century fisherman's cottage which has retained much of it's architectural elements The details which are preserved give the home warmth and depth, and a sense of story behind the charming details. The irregular walls, original plasterwork and ancient floors have all remained true to their original form and provide some interest.
Avant-Gardenist on Flicker features the chapter that covers Frederic Mechiche in the book Rooms To Remember – Interiors Inspired by the Past By Barbara Stoeltie. Here are few excerpts from the book:
"Whatever the reason, the desire for the patina of a bygone era is very powerful. Frederic Mechichc, one of France's most prominent designers, has busied himself in his old fisherman's house in the south of France in an attempt to "deceive the eye", furiously attacking his walls with a hammer and having them re-stuccoed as many times as necessary to achieve an age-worn surface.Mechiche has proved over the years that he is a master of the most complicated means of achieving an illusion of age. He has stained his walls with pigment, milk, and coffee, ground away at the edges of a stone staircase to create the impression ot wear, and applied layers of paint to a wall, only to scrape them off later to obtain a multi-layered that could have been caused by centuries of repainting."
" A few years ago, however,he managed to overcome his horror of the French Riviera for long enough to visit a friend in the area who claimed to have found a haven of peace. Strolling through the narrow, twisting streets of an ancient town with a Romanesque church, he was suddenly confronted with "a small, tall house, eaten away by time, unusually beautiful, and up for sale." The estate agents description of "warped" floors and "appalling" condition were enough to whet his appetite. Mechiehe was on the lookout tor things authentic and deeply suspicious ot terms like "luxury," "frilly restored,"and "impeccable," saying "I'd rather contemplate a door and a few windows with their paint peeling off!" Where the patina of centuries did not exist, Frederic Mechiche invented it. First of all, he astonished the whole neighborhood by climbing up a ladder and plastering…… the entire surface of his facade with an ocher paste,daubing it with evil-smelling mud, and drenching the result with hundreds of gallons of greasy, opaque water to recreate the effect of age. Then a team of masons,
carpenters, and painters came and went for six months, and Mechiehe spent weeks going around the demolition yards of the region, tracking down eighteenth-century architectural salvage"
If you like the pictures featured in Rooms To Remember – Interiors Inspired by the Past consider buying the book….
More About Rooms To Remember:
The Stoelties, regular contributors to World of Interiors magazine, depict European and American interiors that use the period of their historic buildings to inspire their interiors. Rather than authentic re-creations of period decorating, these interiors have been designed to combine contemporary decorating styles with historic furniture and decorative accessories"
Barbara Stoeltie has been a regular contributor to The World of Interiors since 1984 and regularly collaborates with her husband Rene' on magazine articles.Rene' Stoeltie's own interiors have been featured in Decoration Internationale, and his photographic work has appeared in magazines all over the world, including The World of Interiors, House and Garden, Elle, Country Homes and Interiors, Harper's Bazaar, Colonial Homes, and Classic Homes.
Timeless Interiors: Rooms Inspired by the Past by Barbara Stoeltie and Rene Stoeltie– Timeless Interiors is about capturing the romance of the past without throwing away your washing machine and living in an old fashioned way. Primarily an inspirational source book, it shows how to recreate the tricks designers use: she shows why a room looks romantic and how to get that effect through colors, paint, wallpaper, flower arrangements or still-lives on a shelf. The opening chapter of the book is a detailed story of the featured houses. The following sections are divided room by room: halls, sitting rooms, studies, bathrooms, bedrooms, kitchens and dining rooms.
Picture Credits
Picture Credits are due to Sotto Il Monte Vineyards Blog, whom scanned in all these beautiful pictures below. The original source is – Mediterranean Living By Lisa Lovatt-Smith
Other Beautiful Posts By Sotte Il Monte Vineyards Blog
– Christian Tortu – Design Inspiration – Christian Tortu is one of the leading floral designers in France
– Charleston Interior Designer Amelia Handegan's summer house at Folly Beach
Additional Links:
– French Style Authority Blog– French Decorator Frédéric Méchiche
– Elle Decor -In a former office building, French decorator Frédéric Méchiche re-creates 18th-century grandeur for a couple who also love contemporary art.
– Trouvais Blog– An 18th century Venetian églomisé mirror are from Frédéric Méchiche's Paris apartment in the January 1994 issue of World of Interiors photographed by René Stoeltie.
–Door Sixteen Blog– Interior designer Frédéric Méchiche's 1712 home in le Marais, which he calls "a tribute to Bauhaus in Paris".
–My Best Interior Design Ideas– Interior Designer Frederic Mechiche's apartment in Paris
–Interior Archive– Interior designer Frederic Mechiche's Parisien home was once 3 separate apartments that he has reorganized to form one light, harmonious apartment on two floors with the guiding idea of creating something of the feel of a small Directoire townhouse. Remodelled with salvaged wooden panelling, period stone floors, cornicing and mouldings the space has the laid back organic feel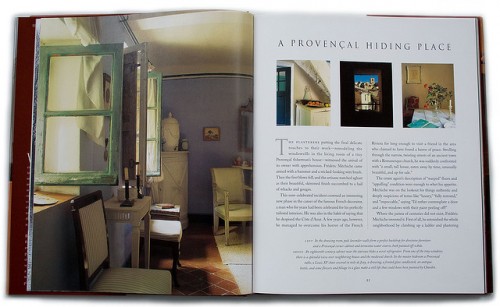 Frederic Mechiche in the book Rooms To Remember – Interiors Inspired by the Past By Barbara Stoeltie.