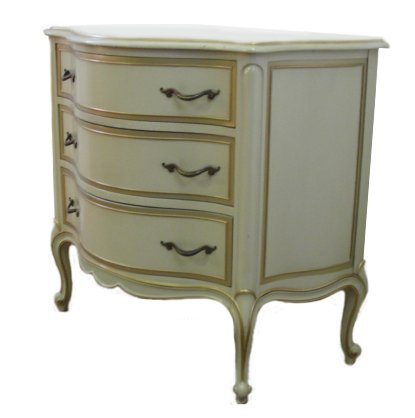 Drexel produced a stunning french provincial furniture set from the mid 1950s through the mid 1960s called Touraine which is still quite popular today.
Drexel designed both a bedroom set and a dining set in this series.  The furniture was inspired by the curvy lines classically found in Louis XV furniture which became popular during the period of 1730 to 1775.
The Touraine bedroom dresser sets featured very soft lines which were accented with gold and cream.  Louis XV furniture often has a very feminine look which can seem very sensuous and romantic.  The unbroken curves are one of the key features of classic Louis XV furniture.
This unique style is expressed in the delicate curves of Touraine dressers which extend down from the drawers to the legs of the furniture.
The Touraine collection is one of the only french provincial collections to feature a serpentine shape other than Bassett's Versailles collection.
Serpentine chests and Bombe furniture is quite difficult to create and quite hard to find.  A genuine antique french serpentine chest can be quite rare and pricey for any collector.
The larger 9 drawer Touraine chests feature 6 side drawers and 3 smaller middle drawers.  This unique design offers a substantial amount of storage space.
The nightstands in the Touraine series do a great job of drawing inspiration from genuine Louis XV nightstands which feature a slender style often not seen in other french provincial collections.
Prices can vary greatly  for individual pieces in the Touraine collection, and complete sets often go for $1500- $2800 depending on the condition.