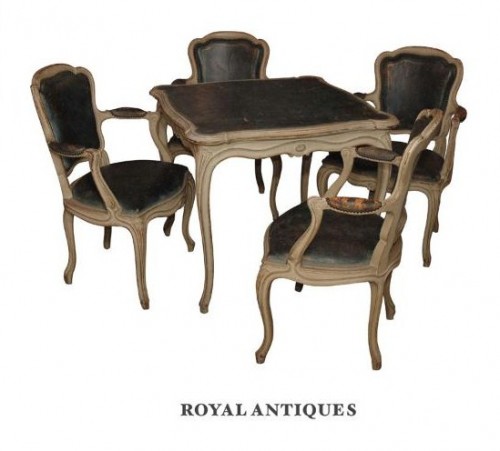 Antique French Louis XVI Style Painted Blue Leather Game Table With Four Armchairs
When you think of game tables today, the first thing that comes to mind for most people are pool tables, ping pong tables, and hockey tables. Before the modern invention of the television, a family would play games together.  A game table was a very practical piece of furniture in the home, and was used daily.
Antique game tables are smaller than regular tables because they were designed with the intention of 2 people playing a game together.  Larger game tables can accommodate 4 players, and sometimes more.   Here is an exceptional example of a burl wood poker table that can hold 6 players.
Some of the most beautiful french tables often have precious mother of pearl, ebony and wood inlay combined with bronze decorative hardware that adorned the feet and mounting corner hardware on the legs.
Many game tables have a removable chess board on one side, and the table design on the other. Other tables have a chess board on one side and a backgammon board on the other side. Small drawers are often built in for storing game pieces. Some designs actually have drink holders that pull out from the sides.
You can expect French Napoleon III period tables from the 1860's to be painted in black lacquer or cream with gilt bronze hardware. They often have tapered fluted legs compared to Louis XV tables.  French game tables make great additions to your living room. Station these tables against a window and add two comfortable bergere chairs, and you may be surprised to learn that you use it more than you think.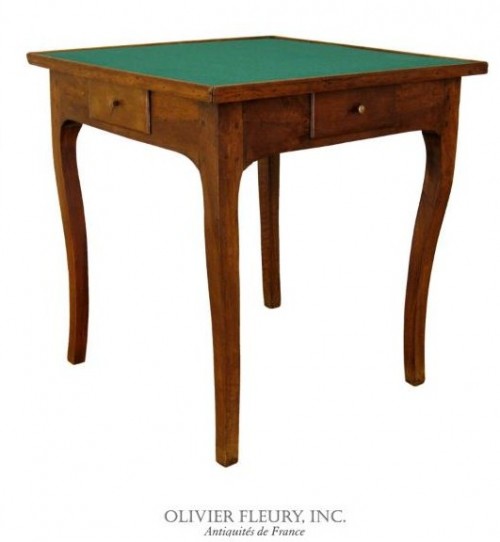 French Country Louis XV Game Table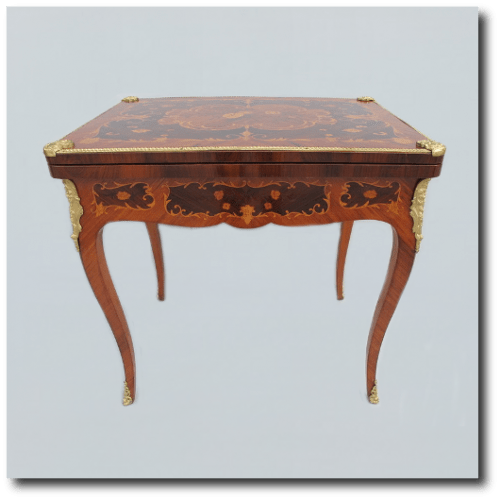 Antiques Super is selling an antique French Louis XV inlaid mahogany game table. This beautiful game table is made in solid veneered mahogany and rosewood in the French Louis XVI style. This table has terrific inlaid and bronze details. Antiques Super is selling this table for $1,325.00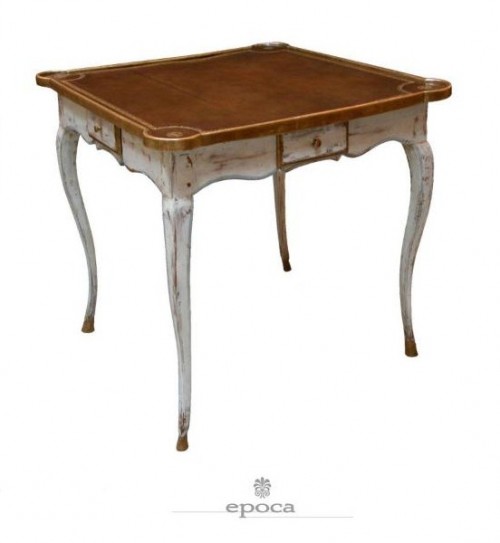 French Provincial Rococo White Painted Game Table- A charming French provincial rococo white painted and parcel-gilt leather-top game table; the square russet-colored leather top with hand-tooled gilt decoration; above a scalloped apron fitted with 4 drawers; raised on graceful cabriole legs ending in hoof feet