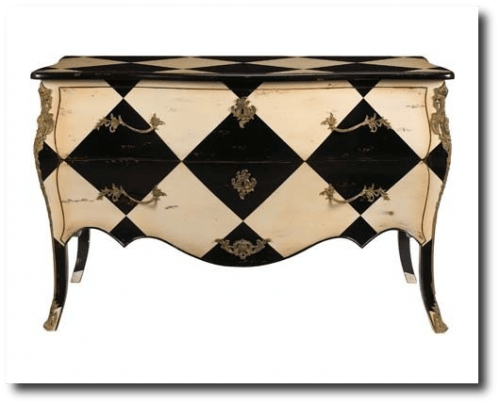 A black and white harlequin pattern is one of the easiest patterns to paint.  It has no curves, just lines, making the only 3 materials you need to design this yourself is tape, a exacto knife to cut the tape, and paint.  The traditional harlequin pattern consists of repeating diamonds of alternating colors arranged vertically.  The pattern originated from theatrical clown character called Harlequin.  The pattern is seldom used in clothing today but has become a stunning pattern for both walls and furniture.   To re-produce this lovely finish it is important that you measure the wall or furniture you plan to paint.
Measure the length of your wall, and divide the measurement by the number of diamonds you want in a horizontal row. The two resulting numbers are the height and width of your desired diamond template. Painting the pattern on furniture is quite a bit easier.  As you can see in the above chest a bottom row of diamonds is visible, and still looks terrific.
Ideally a thin Plexiglass would give you a template that you can draw around.  Another very easy way of getting this pattern up on the wall or on to furniture is to use an overhead projector.  Black and white is a very attractive choice, because the two colors are opposites.  Two similar shades of the same color such as bright yellow and butter yellow, or olive and hunter green make great choices.  Working in the same color family will always give great results.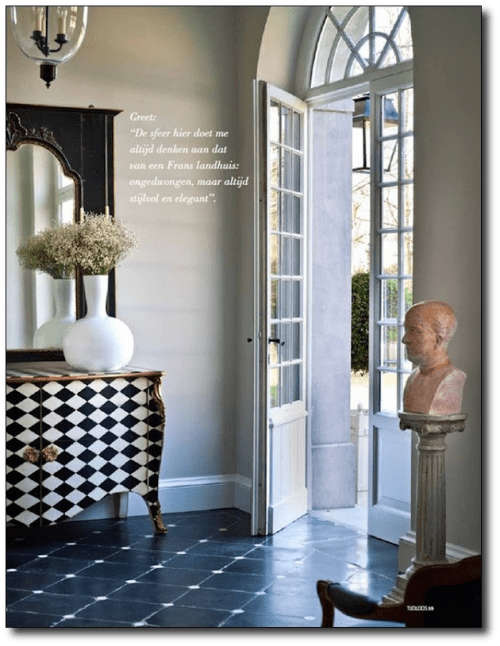 French Chest - Harlequin Painted With Brass / Bronze Hardware