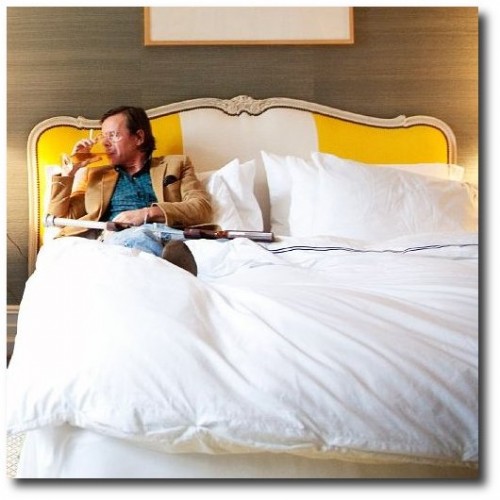 Kate Spade Handbags is known for their stylish bags, sharp good looks and striking colors.  So it should not come as a surprise that their home would be decorated in the same youthful elegance.
Kate and Andy Spade launched their handbags in January 1993, and mainly sold handbags, but as their brand climbed the ranks of international recognition, they expanded out into additional accessories and items for the home.
While Kate and Andy have distinct styles, they come together on some common elements combining both chic color and classic frames.  Their New York apartment landed on the pages of New York Magazine, and designer Steven Sclaroff designed around exquisite furnishings, outstanding antiques and color and lots of it!
In their living room, neutral creams were used through out the room, while the window seat cushions featured a blood red color, working nicely with the delicate orange painting on the wall.  Looking into the adjacent room, the red was continued onto the walls.  The hallways were lined with green stripes and accented with gold frames.
In the bedroom they featured a classic french provincial headboard upholstered in a bright yellow and white stripe.  Unlike classic stripes that feature multiple stripes, this headboard featured one large stripe down the middle giving this bed a touch of color.
The wide stripe first made it's appearance with Gucci, Coach and Louis Vuitton bags, and have become popular with upholstery.
Finding a wide stripe in a fabric big enough to upholster a headboard to the likes of the Spades is tough to find.  On the other hand, if you were to combine two identical fabrics, one being one color and the other another color, all you would need to do is sew them together, and press the seams for a professional appearance.
The utmost importance would be that both fabrics would match perfectly.  A linen with a linen, and silks paired together.