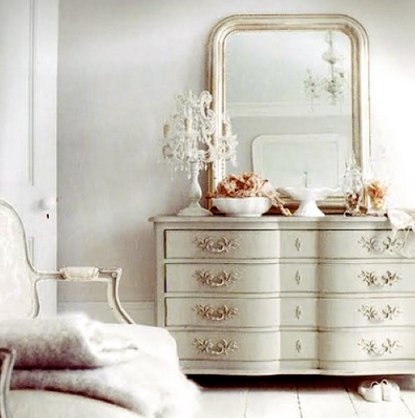 The beauty of the French provincial style is that it can be conformed to a number of different design approaches without looking silly or out of place.  For so many decades we have seen French furniture  presented in a very formal way such as you would see in an elegant refined estate home in the early 1800's.  Soft pink and pastel upholstery would be featured on ornate chair frames often in luxurorous silks and satins.  Silk upholstery was thought of as stately,sophisticated and impressive.  It still has that general appeal today.  Over the past 20 years we have seen Shabby chic force it's way  into the design arena with tremendous success where white became a major trend for many years.   The term "Shabby chic" was coined by The World of Interiors magazine in the 1980's and developed itself through the 90's and still remains popular today.  Chintz and feminine florals were seen everywhere while creamy white slipcovers, painted french furniture with cottage undertones became a staple for many years.  Today we are seeing a trend develop for primitive farmhouse looks as they emerge like never before.  Where once we slaved after the regal monarchical looks (whether we could afford it or not),we have slowly developed a taste for the simple time periods of the Colonial, Swedish peasant country living at its very basic elements. 
(French Provincial Furniture Seen on the Simply Seductive Blog)
There has been a huge trend for natural distressed furniture.  Every company is producing it.  Almost every designer is incorporating the rustic finishes often seen in primitive farmhouses, and implementing natural elements such as bleached wood, concrete, iron and worn paint finishes from long ago.  Restoration Hardware is an example of this trend.  For several seasons, we are seeing European styled antiques make their way into the international spotlight. Refined Louis XV and XVI funiture featured in whitewashed finishes with natural upholstery. Reclaimed pine form trestle, and farmhouse tables.   There has been a huge leap towards using linen for a natural upholstery.  I have found myself to be drawn to the Swedish styles over the years, and now that it has become sooo popular, I am loving it, because many more reproductions are making their way out and at affordable price points.  I often ask myself, how long will this last?  Restoration hardware has reproduced the classic 1950's retro Copenhagen Chair but features it with rustic leather and  is starting up a new design for this season using the classic leather and cowhide traditionally a primitive look instead of using the retro fabrics which tells me this design will go on strong for some time.  
The French Provincial style originated in the 1600s and has always presented itself to be very cozy, rustic, and warm.  The colors are rich, dark, and used rustic reds, grassy greens, bronze and gold. French provincial style during this time paid great attention to detail in every piece.  Adding wrought iron was a common element that originated out of the 17th and 18th century is considered to be truly authentic French provincial.
Furniture was made to last.  Heavy woods such as oak, beech, and walnut, and the thickest of fabrics adorned the furniture during this time.  Highly sought after pieces came from Normandy and Bordeaux, where they are prized because of the unique carvings.
Two things were a staple when it came to French Provincial furniture during this time, and that included the buffets and armories.   Furniture was designed for storage in mind.  Rooms were not built with closets until the 20th century, as armories were used as the primary area to store clothing.  Modern day cabinets were not developed until the 20th century, so buffets were used to store dinnerware, pots and pans.  Over sized Kitchen tables doubled as counter top space to prepare and preserve food, play games, and educate children.  A solid table was used and passed down through generations  These three elements were very popular in French provincial.  
Look at the vintage French Provincial side chests~  Read more about Traditional Homes Issue at
Cote De Texas